This Should Get You Pumped For 'Allegiant'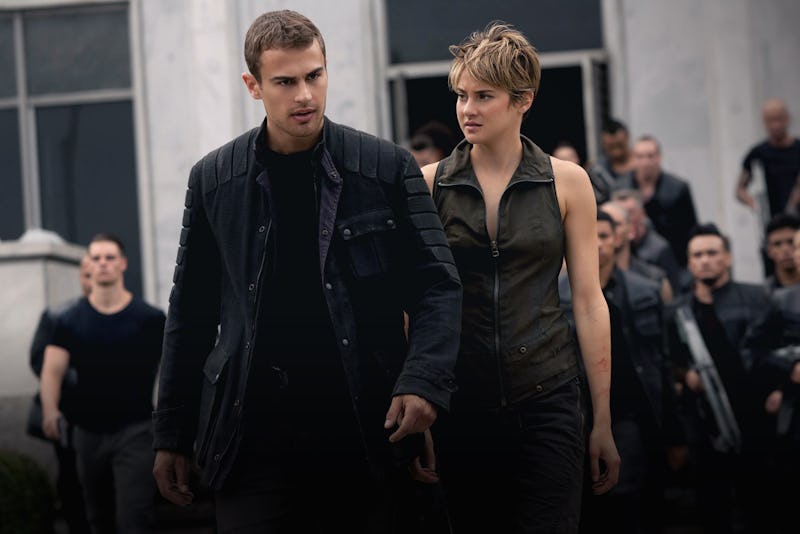 The Divergent Series is coming to an end, or at least, starting to. The first film in the series' two-part finale, Allegiant , hits theaters on March 18, and fans of the YA-trilogy-turned-hit-movie-franchise can barely stand the wait. In the third film, Tris (Shailene Woodley) and her boyfriend Four (Theo James) finally find out what's beyond the wall, outside of their dystopian town. Now, fans of the books already know what happens to Tris, Four, and their friends Christina, Peter and Caleb, but, given the liberties taken in the past two adaptations, it's safe to say that there are still some surprises in store in Allegiant. Plus, there's a difference between reading a book and seeing it on a big screen, especially when eye candy like Woodley and James are involved. With that in mind, here are 14 Divergent memes and GIFs to get you excited for Allegiant .
What began as a young woman's quest to find herself in Divergent escalated into a girl-on-the-run style action movie in Insurgent, and now the third installment of the franchise promises even bigger and better things to come. But, it wouldn't be anything without the moments immortalized in the funny GIF and memes listed below.
1. The Ferris Wheel
The ferris wheel scene is probably the most iconic FourTris scene in Divergent history. There can never be too many viewings/posts/memes/GIFS.
2. The Ferris Wheel Touching
Like I said, never too many GIFs of the ferris wheel scene. This one gets extra points for the practical, but sexy touching.
3. Welcome To Dauntless
Another iconic moment in the film franchise. I'm not sure what exactly it is that makes Four's first words to Tris, "Welcome to Dauntless," so freakin' hot, but I'm pretty sure it has something to do with Theo James' cheekbones.
4. FourTris Trilogy
The evolution of Four and Tris through the three films. OTP status, for sure.
5. Four Valentine
Perfect for the Divergent fan who loves a good sexual pun.
6. TFIOS Meets Divergent
It's still weird for The Fault In Our Stars fans to watch Hazel and Gus (Shailene Woodley and Ansel Elgort) to play brother and sister.
7. All The Boyfriends
Not only did Ansel Elgort play Shailene Woodley's love interest in a movie, but so did Miles Teller, who plays Peter in the Divergent series, making this observation painfully accurate and hilarious.
8. Four + Kids
This GIF from Insurgent is just adorable, and — sorry, I got distracted, what was I saying again?
9. Peter And Christina
At a recent press event, Miles Teller and Zoe Kravitz joked about a possible Peter and Christina romance in The Divergent Series . This GIF from their brief fanfiction acting is proof that it would be amazing.
10. Tris Being A Badass
Over the course of the first two Divergent films, Tris has learned to fight for herself and her friends, and she's damn good at it. If you're in a fight, you want Tris on your side.
11. Damn Daniel
Damn Daniel meets Daniel Dae Kim, who played Candor's Jack Kang in Insurgent. I mean, if this meme doesn't make you thankful for Candor, I don't know what will.
12. Netflix And Chill
Caleb looks pretty determined to get to the "Chill" part of Netflix and Chill in this meme.
13. Four's Fear
Seriously, there's a reason the ferris wheel scene is the best.
14. Allegiant Tease
In a sneak peek from Allegiant, Tris and Four scale a wall and this callback to the ferris wheel scene happens because Divergent fans are #blessed.
OK, now I just want to see Allegiant already!
Images: Summit Entertainment; Giphy (11); youngbreakoutactresses/tumblr; fuckyeahdamose/tumblr (3)