Good News, Ben & Jerry's Fans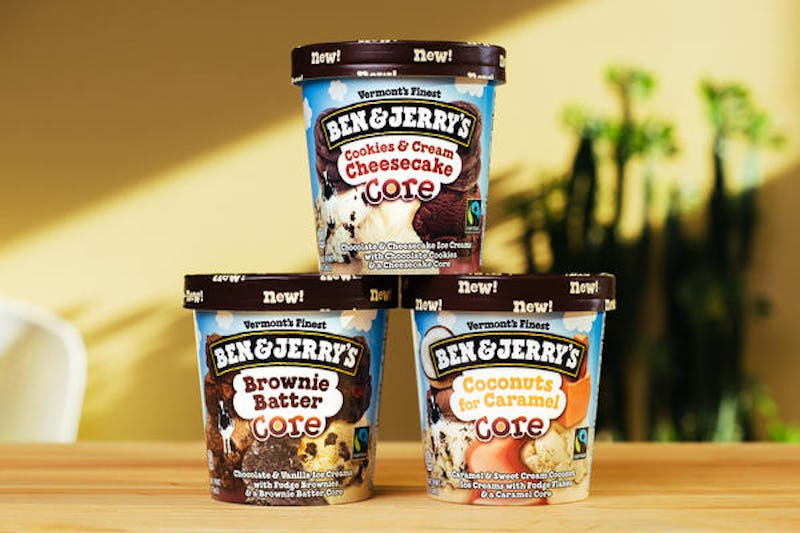 It's a beautiful time to be a Ben & Jerry's fan. Earlier this week, the Vermont-based ice cream brand teased the world with news that it would be unveiling three new Ben & Jerry's Cores flavors one at a time via Snapchat over the course of two days. Well, those two days have come and gone, the secret is out, and the highly anticipated (and ephemeral) announcements are about to disappear into the Snapchat ethosphere. What are the new Ben & Jerry's flavors, and for the love all things ice cream, when can we finally get our hands on them?
First off, let's get one thing straight — all ice cream flavors are exciting, and therefore worth celebrating. But Ben & Jerry's Cores flavors? Honestly, we're on a whole different playing field altogether. And that's exactly the type of swag we're talking about here, people. B&J has dug deep into its vaults of creativity and generosity to bless the world with new pints that come with the gooey, fudgy, caramel-y centers that have made its Ben & Jerry's Cores lineup such a hit among ice cream lovers. All three new flavors will be available in the upcoming weeks, and all are 100 percent Fairtrade and non-GMO, which is industry speak for guilt-free eats, y'all.
So what does this decadent lineup look like, you may be wondering? Introducing Ben & Jerry's three new ice cream flavors (drum roll encouraged, but not necessary):
1. Brownie Batter Core
If you hate chocolate, brownies, or fudge, this may not be the flavor for you. But for the majority of us who thrive off those three ingredients in their infinite variety, this is our newfound purpose in life. The flavor was the first of the three to be revealed on Snapchat, and it set a pretty fab tone for what came next...
2. Cookies and Cream Cheesecake Core
Here's a fun fact: this is the first time in the history of Ben & Jerry's that cheesecake has been used as a core filling. Now, imagine that surrounded by chocolate and cheesecake ice cream. Sound good? Oh yeah, it sounds good.
3. Coconuts for Caramel Core
Ah yes, the last installment of the glorious trifecta. This one may not come loaded with the same dangerous levels of chocolate as the other two, but with fudge flakes and a caramel core, I get the feeling that nobody is going to mind too much.
Ben & Jerry's first rolled out its Cores ice creams in 2014, and expanded the lineup in 2015 to include Spectacular Speculoos, Boom Chocolatta, and Peanut Buttah. My projections for the forthcoming year? The future has never looked sweeter.
Now get out of here and go eat some ice cream.
Images: Ben & Jerry's