D.J. & Steve Should Never Date On 'Fuller House'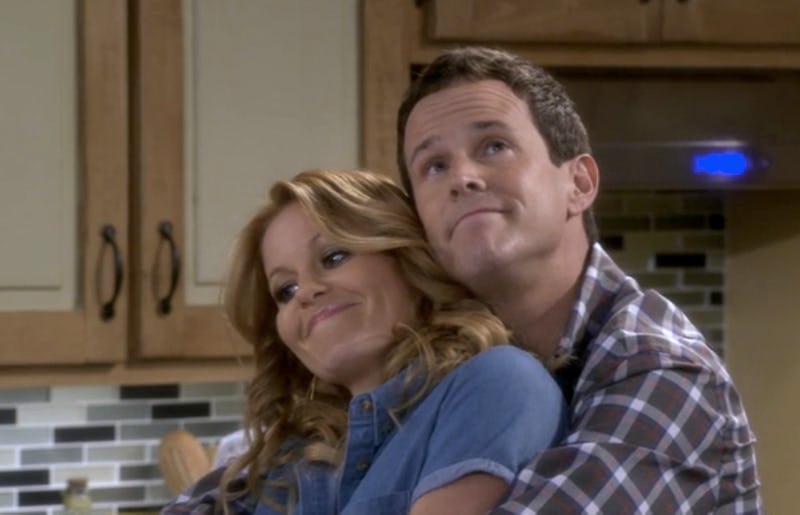 Those of us who grew up watching the Tanners navigate their lives in the late '80s and early '90s on Full House were ecstatic to learn that most of the family would be returning for Netflix's revival of the show, Fuller House. But that wasn't all. Some friends, husbands, and ex-boyfriends also returned — most important among them being Steve Hale, D.J. Tanner's high school boyfriend. The two rekindled their relationship during Season 1, but given the events of the finale, it seems Steve and D.J. won't be able to date in Season 2 of Fuller House .
Why? Well, I'll get to that in a moment, but first, let's recap. Steve was D.J.'s first real love. They dated in high school, and the series finale of Full House showed the two going to prom together, exchanging "I love you"s. In Fuller House, Steve says that he should have asked D.J. to marry him that night. He's now eager to rekindle their relationship, since D.J. is single again (her husband died a year prior to the new show), but he has to fight for her attention with the new man in her life, Dr. Matt Harmon. So why can't D.J. and Steve date in season 2? Here are three very important reasons.
D.J. Needs More Time
In the Season 1 finale of Fuller House, D.J. had to make a choice between pursuing a relationship with Steve or one with Matt. But rather than give a final rose to either man (a hilarious riff on The Bachelorette), D.J. chose herself and her she-wolf pack, while Steve and Matt walked off into the sunset with each other to grab a beer and a sandwich. Since Season 1 was devoted to the love triangle between these three, how about in Season 2, D.J. just focuses on herself?
Steve Doesn't Deserve D.J. Yet
I'll be the first to admit that D.J. rekindling her first love after losing her husband sounds adorable on paper, but the Steve we see in Fuller House isn't what I had in mind for such a romance. Many viewers have thought that Steve comes off as a creep in Fuller House, given the way he pursues D.J. and how he reacts to her burgeoning romance with Matt. Maybe Steve should also take some time to focus on himself.
Their Time May Have Passed
Again, D.J. and Steve getting back together sounds great at first, but maybe these two just aren't meant to be together. Obviously, there must have been a reason they didn't get married after prom, and a reason D.J. fell in love with Tommy Fuller. Perhaps they were great first loves, and that's all they were meant to be. There's something to be said about D.J. and Steve not ever seeming to get the timing right — maybe it's because their time has passed.
So some Fuller House fans might be fully onboard Team Steve, but I am Team D.J. I think she needs a break from her high school BF — at least for Season 2 — so that she can figure out what will make her most happy, even if that means permanently moving on from Steve.
Images: Michael Yarish/Netflix; stydixa, mindykalings/Tumblr;