ColourPop x Jaime King Have Something Fun In Store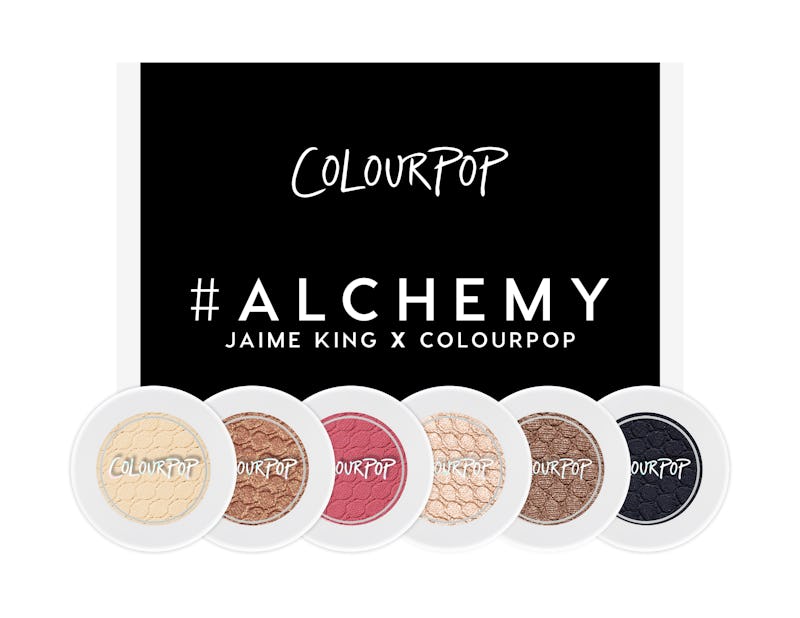 The Jamie King has teamed up with ColourPop Cosmetics for a new collection that has everything anyone could ever need in their makeup collection. It's a 12-piece range filled with tried and true formulas — as well as something never been done before. When does the ColourPop Alchemy collection come out? It'll be here before you know it, so it's time to get excited.
Every time I think that ColourPop can't get any better, the brand starts adding even more awesome products to the line up. On top of its first ever range of brow products coming out this month, the online-only company teamed up with Jaime King for an an inclusive three piece collection that's been in the works since late last year. The line includes three Super Shock Shadows, two highlighters, two all-new Lippie Stix with matching Lippie Pencils, one blush, and two Sculpting Stix. It will also include one completely new eye product that can instantly change any eyeshadow color from matte to shimmer in seconds.
If you're as excited about the line as I am, you'll be happy to know that it'll be here on Mar. 24. You can buy each piece on its own for $5 to $8 a piece, or buy everything together as a set for $30. You really can't beat that price. Because the brand is online only, there's no telling how fast the new products could sell out. Considering half of the new Ultra Satin Lips sold out on the first day, you should be by your computer waiting on the launch date.
There's something for everyone in this range, which is exactly what King was aiming for. "With Alchemy, I wanted to create my dream collection that never existed before. A perfectly edited collection of lipsticks, liners, shadows, blush, contour and highlighters that would be literally the ONLY collection a person would need," says King in a press release. "It was vitally important that each color looked amazing on every race and color of skin. My mantra was that if it didn't look and make every person feel beautiful — it wasn't Alchemy."
The Alchemy Collection was designed to achieve three different looks — bare, daybreak, and night. The company wanted to inspire fans to express themselves through individuality, which makes sense since they'll have all the products they need right at their fingertips.
To top it all off, each of the products is vegan and cruelty-free. It doesn't get much better than this!
Want more fashion and beauty tips? Check out the video below and subscribe to Bustle on YouTube!
Image: ColourPop Cosmetics (3)