Get Ready To Say Goodbye To 'Divergent's Four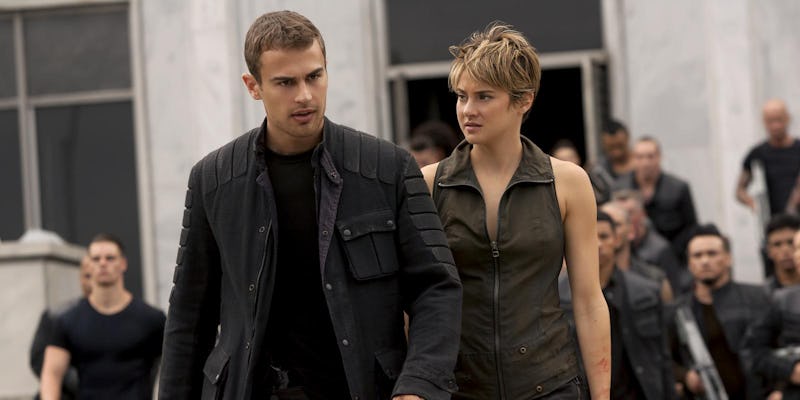 Anyone who's ever applied the "the book was better" philosophy to the Divergent series clearly doesn't "get" Theo James. As Tobias Eaton aka Four aka the love interest of primary protagonist Tris Prior, James is the stuff that Teen Choice Awards are made of. The final chapter of the Divergent film adaptation franchise is coming in hot this month, so it's the perfect time to celebrate this handsome and tortured hero by looking at some of the best Theo James memes and gifs out there. Allegiant hits theaters on Mar 18; and, as far as I know, this will be the last time to catch Theo James on screen as one of the Dauntless faction's finest. Fortunately, the internet has immortalized Four and Theo James in a plethora of memes and animated gifs.
For your viewing pleasure, I've collected some of the dreamiest, funniest gifs and memes of the English actor from the first two films, Divergent and Insurgent. Allegiant ought to provide a lot more Theo James material for fans to work with. But since Allegiant's release will mean the end of the series, I'm inclined not to wish it sooner. These 11 Divergent series memes and gifs will speak straight to your Four obsession and remind you that Theo James is just one of the gifts these movies gave to audiences who love post-apocalyptic YA fiction.
1. The Only Kind Of Math I Like
Besides adding to my bank account, that is.
2. Um, I Think I'm Gonna Like It Here
Yep, made the right choice, Tris. Well done. 10,000 points to Dauntless. Or is that the wrong book?
3. The Smoothest
I want to give a shout-out to Tris Prior and also everyone who's able to actually form words in Four's presence.
4. The Most Adorable, Incredulous Blink
I can't remember what he's confused about here, but he looks so good I hope he never figures it out.
5. Never Forget Those Tattoos
Have you ever seen anything so beautiful? The sunset's nice too.
6. Vulnerability Is Hot
I've never been so happy about my own deathly fear of heights. Four hates them too. Could I be in better company?
7. Silence Is Golden
Who needs an "OK"? Unspoken communication is Tris and Four's thing. They're all tuned in to each other and stuff.
8. Everybody Has Their Type
Sometimes that type is a very handsome numeral. Don't judge.
9. "Wait, I Don't Think I Quite Have It. Could You Show Me Again?"
Best training ever.
10. *Pet Pet Pet*
So gentle. Also, their height difference is a constant source of my pain.
11. Your Hairdresser Wishes
Four isn't one of those wise-cracking hero-types. He's measured, confident, and stoic. He's exactly the kind of guy you want fighting by your side. And he's not bad to look at either.
I'm not ready to say goodbye to Four either. But remember, kids: the internet is forever.
Images: Lionsgate; psychotic-warrior, foursfears, wuna, f***yeahdamose, alynorman, jaicortneys, the-divergentseries, winterfel/Tumblr