'I Saw The Light' Will Be Your New Fave Love Story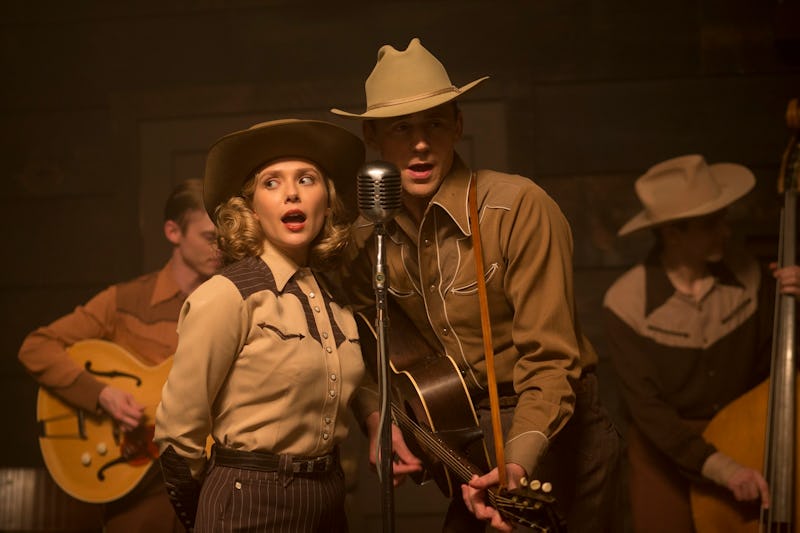 "Going for a bronco ride" is about to be your new favorite euphemism for sex, and you have Tom Hiddleston in I Saw the Light to thank for that. Hiddleston is at peak sultriness along with his equally wonderful costar Elizabeth Olsen in Vulture's exclusive I Saw the Light clip. The movie adapts the real-life romance between singer Hank Williams and his wife Audrey, as well as the ups and downs of Williams' all-too-short country music career. And now, this latest clip makes it more than clear this movie is all about the heartfelt, but tragic love story between Hank and Audrey. Trust me, even if you're not a major Hiddleston fangirl, you are going to love every minute of it.
The chemistry between Hiddleston and Olsen is off the charts. The scene itself feels incredibly natural, and "natural" is not a word you can usually apply to a Hollywood love scene. The pair are in bed, laughing and teasing one another just like a married couple would as they contemplate their "bronco ride." Hiddleston as Hank bemoans his aching back for a moment, before diving in for another kiss, while Olsen as Audrey is quick to tell her husband to "come on board." Yes, the moment is every bit as hot as it sounds, but it is also sweet, tender, and loving. The intimacy between the two characters is enough to make you blush, but Hiddleston and Olsen play off of each other with such ease you won't be able to look away.
Hank and Audrey's real-life love wasn't easy, but it was powerful and it played out in song as much as it did in their home. As beautiful and romantic as the scene is, it's tinged with sadness as well: Hank battled alcoholism his whole life, and Audrey asks Hank in the scene if he has been drinking. He doesn't deny that he has, and she's not angry about it because they are sharing such a quiet, loving moment — but, as an audience member, knowing Hank will die at the age of 29 due to his addiction adds a layer of pathos to the scene.
Watching Hiddleston and Olsen bring these two icons back to life on the big screen is going to be the best reason to head to the theater on March 25 to see I Saw the Light . This movie is destined to be your new favorite love story, and you have Hiddleston and Olsen to thank for that. Let them captivate you in the scene below and then imagine a full two hours of these two building each other up and then breaking your heart. Yep — you definitely want to go to there.
Images: Sony Pictures Classics; Giphy