11 Steps Your Beauty Routine Might Be Missing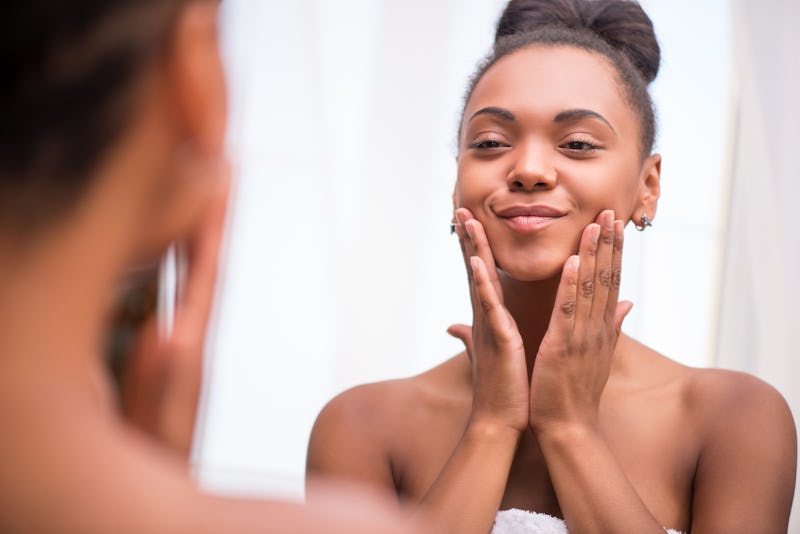 One of the things I've discovered about being a beauty writer is that you have to come to terms with the fact that no matter how much you think you know, there are always experts who incorporate more important beauty steps into their routines than you do.
Most of the time, I try to ignore this fact. After all, everyone has different hair, skin, nail, and makeup preferences, and when it comes down to it, we're all just experimenting, trying to find the right combination. When someone tells me I absolutely must add a step to my routine, I always take it with a grain of salt: Do I really need to, or is this just another gimmick slash semi-successful hack that will take up more time (not to mention money) than it's worth? That being said, there are some particular beauty routine steps that allow me to admit I stand corrected. I'd heard about their powers for years, but only when I actually tried them all did I realize what I'd been missing.
It's important to understand that these suggestions are coming from a place of sincerity and flexibility. While I can definitely attest to their effectiveness, there's also always room for error when it comes to applying a beauty trick across the board. Still, these are some often-overlooked steps that you might want to check out, especially if you're feeling like your routine needs a little boost. If you dig them, your beauty regime could be vast improved. If not, well, like all beauty experiments gone slightly askew: At least you can say you tried.
1. Brow Gel
Anastasia Beverly Hills Brow Gel, $21, Amazon
Most beauty-lovers have surrendered to the fleek-seeking brow trend of the last year or so, and that means we spend plenty of time drawing on, filling in, and otherwise shaping our perfectly groomed brows. But if you don't do something to preserve all of your hard work, what's the point? That's why following up your eyebrow fill-in is so important: Clear brow gel will keep them in place all day, and prevent the color from smearing onto your temples and brow bone.
2. Mist Before Masking
Boots Botanics Rosewater Toning Spritz, $15, Amazon
Your skin tends to receive the products you apply more efficiently if it's a little bit moist. That's why before I apply a mask (or moisturizer, or primer), I make sure to mist my skin with a bit of my favorite spray essence or toning spritz. The Boots Botanics Rosewater Toning Spritz is super light and smells amazing, plus the nozzle produces a stream that's more misty than spray.
3. Moisture Boost
Acure Organics Argan Oil, $10.79, Amazon
This frequently overlooked beauty step requires a little bit of experimentation, but once you get it right it's so, so worth it. Apply one or two drops of oil to your shampoo or conditioner. Depending on your hair type, you can choose from things like avocado oil (light and non-greasy), or coconut oil (which tends to be a little bit heavy). If your hair is on the oily side, try incorporating a drop of argan oil into your shampoo. If it's dry, test it out with conditioner. No matter what the perfect formula is for you, adding the right oil to the right step of your hair cleansing routine can make all the difference.
4. Oil Cleansing
The Face Shop Rice Water Bright Cleansing Light Oil, $7, Amazon
Because if you're not double-cleansing by now, it's about time you started. I've noticed a dramatic difference in my skin since I learned to add a preliminary oil cleanse to my routine, and once you start, washing your face just once will seem like a thing of the past.
5. Exfoliation Before Shaving
LUSH Buffy Body Butter, $23.95, lush.com
Exfoliating your legs before you shave is a surefire way to remove all of those dead skin cells that can jam up your razor. The result? An insanely smooth, close shave that will have you feeling like a goddess. Some people prefer dry brushing as a pre-shave exfoliation method, but the LUSH Buffy Body Butter does the job like no other from my experiences. Though a little pricey, the bar contains rice and almond powder as well as shea and cocoa butters. In other words, it exfoliates and deeply moisturizes at the same time.
6. Primer Before Makeup
Benefit The Porefessional Face Primer, $31, sephora.com
Also consider: NYX Pore Filler Primer, $13, Amazon
My friend gave me an apt description of why we should always use primers (specifically silicone-based ones like Benefit's Porefessional) before applying a face full of foundation, and it's so apt that I thought I'd share it here. "It's like spackle for your face," she said. "It literally fills in your pores." To get the smoothest possible finish to your full face of makeup, definitely don't skip this important step.
7. Taking All Your Vitamins
Murad Pure Skin Clarifying Dietary Supplement, $37, Amazon
Because we all know that beauty starts from the inside. In addition to drinking plenty of water, sleeping eight hours a night, and eating nutrient-dense food, vitamins can be instrumental to your beauty routine. Identify which part of your overall aesthetic needs assistance (hair, skin, or nails), and investigate a beauty supplement that's right for you. If you want to save some cash and time, make sure to get your multi-vitamin in every day. My advice is to keep it on your vanity or sink so you remember to pop one while you're beautifying.
8. Air Drying
There's not always a lot of extra time to let your hair air dry, but the less time your locks spend under heat, the better. One solution for busy mornings? Shower first, towel dry, then let your hair air dry while you get dressed, make coffee, and prepare for your day. Leaving heat styling to the last possible minute means that your hair will air dry even more, and ultimately stay healthier in the long run.
9. Lip Exfoliation
Fresh Sugar Lip Polish, $24, sephora.com
Also consider: Diva Stuff Cake Batter Lip Scrub, $8.49, Amazon
An absolute must for those who like to wear a bold lip. Exfoliating your lips before applying any kind of lip product ensures that it will go on smoothly, and there's less likelihood that the color will crack and flake after a short amount of time.
10. Essence
Missha Time Revolution The First Treatment Essence, $29, Amazon
Essence is one of those Korean beauty tricks that I didn't want to believe to be true: It's not a serum, it's not a toner, it's not a moisturizer, so it has to be a gimmick to get us to buy more products, right? Wrong. Essences function to prepare skin for things like serum and moisturizer, meaning that they are an all-face pre-treatment that enriches the skin while setting the scene for oncoming products. The most important aspect of essence is that it be patted gently into the face (not swiped or rubbed).
11. Facial Massage
If it seems like a lot of overlooked steps on this list come from Korean beauty practices, that's because they do — and they're also ridiculously effective. Massaging your skin daily (try it while you're watching Netflix in bed at night) can help stimulate blood flow and cell production, making your face look more youthful than ever. An added bonus? It feels really damn good. For additional info, you can check out this GIF-heavy primer on how to do a Korean facial massage.
Have you been missing any of these crucial steps in your daily beauty routine? When it comes to beauty, it's all about the details. Incorporating these few easy tricks will hopefully have you looking and feeling your absolute best.
Want more fashion and beauty tips? Check out the playlist below, and be sure to subscribe to Bustle's YouTube page for more hacks and tricks!
Images: Fotolia; Courtesy Brands