Alert: Dairy Queen Free Cone Day 2016 Is Soon!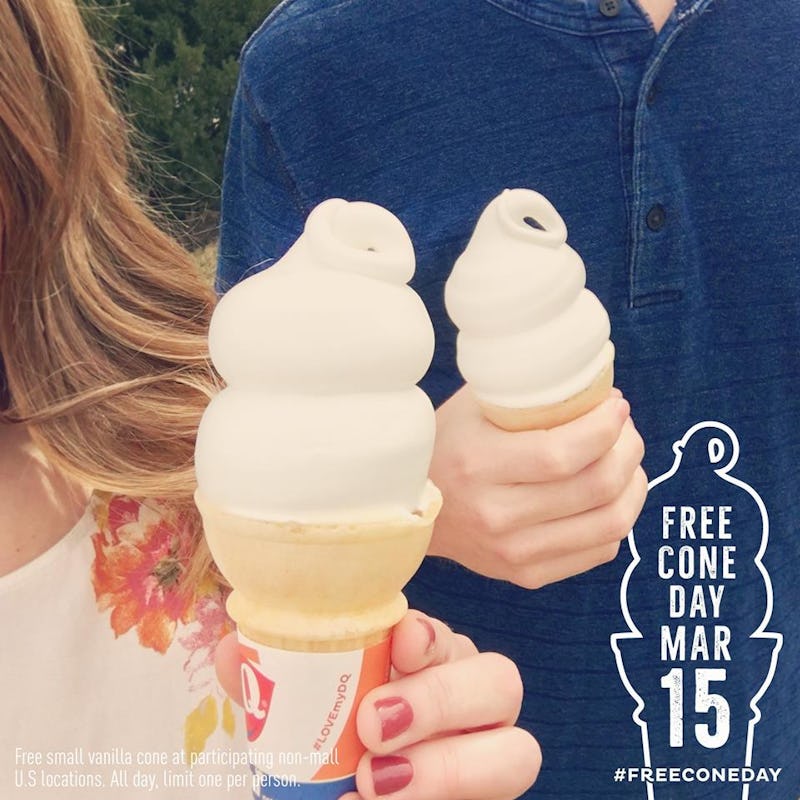 Ice cream lovers, you're in luck! Dairy Queen Free Cone Day 2016 is happening on Tuesday, March 15, and yes, it's exactly what it sounds like. For one day only, Dairy Queen is giving customers free ice cream, no other purchase required. The offer is limited to one small vanilla soft serve cone per customer at U.S. Dairy Queen locations, so if you're in love with some of their more decadent desserts, you're going to have to pay the normal price to indulge. Another provision of the offer is that it excludes Dairy Queens located in malls. Given that the American mall is on a steady decline, I'm not sure how many people this actually affects, but if you're planning to spend a day reliving 90's nostalgia for shopping and food court snacks, plan to grab your free DQ cone outside of mall territory.
Admittedly, I don't think I've ever actually eaten at a Dairy Queen. In fact, I can't remember a single one in my area growing up, but I definitely remember feeling some intense envy when I'd see the advertisements for their ice cream. And aside from warming the heart of customers, this year's free cone promotion is giving back to charity in a more tangible way, too: Dairy Queen Free Cone Day 2016 is part of a fundraiser for Children's Miracle Network Hospitals, so you're welcome to make a donation when you get your free cone.
You can stay up to date with the Dairy Queen Free Cone Day details by following them on Facebook and Instagram. Given the recent heat wave and love for all things nostalgic, I have a feeling there will be some long lines for free cones on March 15.
Images: Dairy Queen/Facebook