18 Unique Planters For A Green Touch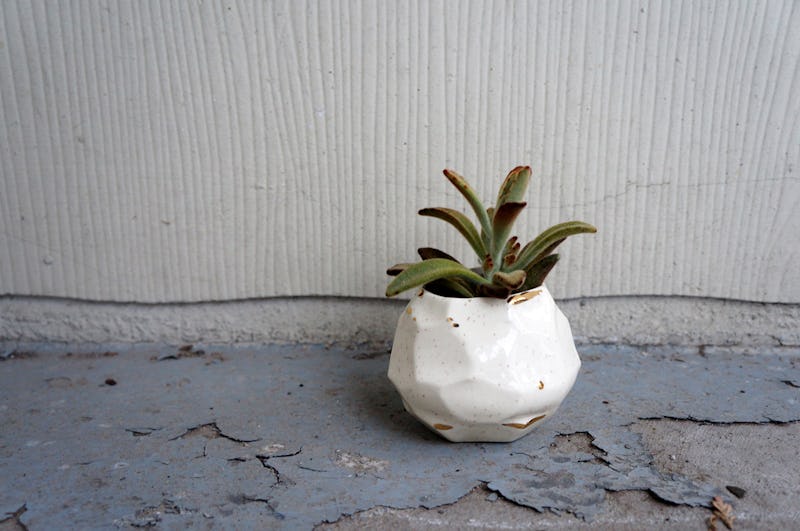 Gone are the days of blizzards, winter coats, and unbearably freezing temperatures, and that means it's time to start embracing spring — and what better way to celebrate the change of seasons than with some plants? With some unique indoor planters, you don't need a flourishing backyard or even a humble vegetable patch to bring a little bit of springtime to your home. Transforming your tiny apartment into a burgeoning jungle just got a lot easier.
Now, taking care of indoor plants can be a challenge. Succulents get overwatered. Ferns get under-watered. Orchids may always remain an undecipherable mystery. And finding that perfect patch of sunlight inside your cramped space can prove a seemingly unconquerable challenge. But with a little hope and some indoor gardening tips, you can learn how to keep that cactus alive.
From hanging planters to air plant holders, the number of indoor gardening ideas is virtually endless, but if there's one fact that always stands, it's that an interesting planter can make even a slightly droopy plant look cool. These 18 vessels are eye-catching on their own, but when outfitted with a flourishing fern, cactus, or plant of any kind, they make it clear: spring is coming.
1. Mid-Century Turned Leg Planters
Vibrant yellow and turquoise planters act as an instant room face-lift. Inspired by the '50s and '60s, these planters are the perfect vessel for an easy-to-care-for spider plant.
Mid-century turned leg planters, from $169, westelm.com
2. Stoneware Hat Planter
Is that an errant hat laying around in the living room? Nope, it's a planter. Give your green thumb a bit of a weird edge with this creation.
Stoneware hat planter, $109, cb2.com
3. Geoflora Planter
Bright, charming, and totally affordable, there's nothing not to love about this sweet turquoise planter. Pop a cactus inside and it makes a great springtime gift.
Geoflora planter, $8, anthropologie.com
4. Speckled + Gold Facet Vessel
A lush off-white planter seems simple, but when it's handmade, it feels extra special. A bit of gold luster makes it a little more fancy.
Speckled + gold facet vessel, $34, theobjectenthusiast.com
5. Large Ball Planter
Take your patio (or porch or hey, even your living room) to a new level of modern elegance with this architectural sphere. Bonus: it's made with a textured organic finish.
Large ball planter, $149, crateandbarrel.com
6. Sagaform Project Multi Planter
Looking to add just a little green to your tiny apartment? Now you can have your own mini herb garden in your kitchen with the help of this multi planter.
Sagaform Project multi planter, $29.99, urbanoutfitters.com
7. Boskke Cube Clear Planter
A clear planter adds a natural touch without adding to visual clutter. Consider this the (literally) transparent way to freshen up your space.
Boskke cube clear planter, $29.95, store.dwell.com
8. Oasis Desktop Planter
Sad cubicle no more. A small place for succulents ensures that your desktop is always in bloom — even as your energy levels are wilting.
Oasis desktop planter, $65, dotandbo.com
9. Ceramic Skull Planter
Walking the line between macabre and minimalist, this skull planter makes a statement. Suddenly, your cactus just got a little spookier.
Ceramic skull planter, $42, etsy.com
10. Ceramic Hedgehog Planter
Why relegate your succulent to a boring clay pot when it looks infinitely cooler in a gold hedgehog planter? Caring for a plant isn't too different from caring for a pet, after all.
Ceramic hedgehog planter, $14, westelm.com
11. Sonny Large Grey Hanging Planter
The delicate terrarium trend is certainly cute, but sometimes bigger really is better — at least, when it comes to levitating succulent collections.
Sonny large grey hanging planter, $59.95, cb2.com
12. Tree Trunk Planter
If you love the idea of the great outdoors more than the great outdoors itself, then this is the nifty little planter for you. It's natural without being overly rustic.
Tree trunk planter, $16, anthropologie.com
13. Black Polka Dot Stoneware Planter
For a more substantially sized plant, try this elevated version of a classic clay pot. A simple silhouette feels totally contemporary.
Black polka dot stoneware planter, $50, theobjectenthusiast.com
14. Carnivale Kiwi Mini Planter
The neutral-neon combination of this planter makes for a major interior design statement. Consider this a breath of fresh air.
Carnivale kiwi mini planter, $5.95, crateandbarrel.com
15. Magical Thinking Crescent Planter
Your dreamy bohemian nest won't be complete without a little moon magic.
Magical Thinking crescent planter, $24, urbanoutfitters.com
16. Skultuna Brushed Brass Flower Pot
There's nothing like a little bit of the Midas touch. A brass pot makes any plant instantly regal.
Skultuna brushed brass flower pot, $125, store.dwell.com
17. Mod Sauce Planter In Orange
Don't quite have a green thumb? You can still have fun with this mod planter — just pop in a low-maintenance air plant.
Mod sauce planter in orange, $20, dotandbo.com
18. Three-Legged Planter
Not ready to commit to a real cat? Just want to express your love of felines? This is the succulent holder for you.
Three-legged planter, $28.43, etsy.com
Images: The Object Enthusiast (3); West Elm (2); CB2 (2); Anthropologie (2) Crate and Barrel (2); Urban Outfitters (2); Dwell (2); Dot and Bo (2); Etsy (2)