Here's Why We Still Don't Know 2016's Bachelorette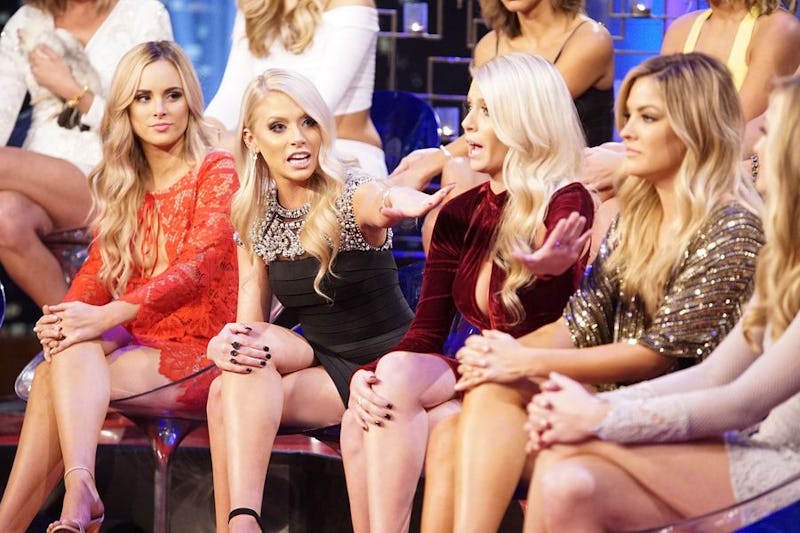 There's only one good thing about The Bachelor coming to an end for the season: It means The Bachelorette isn't too far behind. Very soon, the chosen woman — who is very likely from Ben Higgins' season — will be meeting her men and going through that crazy process of group dates and rose ceremonies, and most Bach fans are dying to find out who she is... and the official announcement should come out ASAP. And if you're wondering why ABC didn't announce the next Bachelorette at Women Tell All on Monday night, you're definitely not alone. After all, it would have been the perfect time, right?
I mean, think about it: All the Bachelor fans are tuning in, so the audience is there. And if ABC really did decide on Caila Quinn as their next leading lady, as Us Weekly reports, she was at WTA, too, and she's already been eliminated, so it's not like it would spoil the finale. Why not make her debut then? There could be all kinds of reasons the network is holding out on us — maybe they haven't made a final decision on who it will be yet; maybe they decided it's better to wait for the huge viewership that always turns out for the finale. Maybe they want us to suffer in suspense.
But right now, it seems the most likely explanation is that those kind of announcements don't typically happen on Women Tell All, no matter how perfect an opportunity it might be.
As you've probably already noticed, The Bachelor is a franchise of habit, and Chris Harrison & co. sure love their traditions. The Bachelor and The Bachelorette have a set formula, and it works: Limo arrivals, cocktail parties, dates, rose ceremonies, and then hometown dates followed by fantasy suite dates followed by that coveted final rose. Slap a shiny Neil Lane diamond on that finger, and we're done. So it makes sense that they tend to stick with the familiar when it comes to big announcements, too. Some people think it's boring, but I find it kind of comforting. No matter what crazy things happen in this world, we can always count on one thing: The Bachelor. Nobody can take that away from me!
Last year, Kaitlyn Bristowe and Britt Nilsson's joint Bachelorette venture wasn't announced until After The Final Rose, and before that, Andi Dorfman's debut happened the same way. This pattern hasn't changed in the last few years — not since Emily Maynard was proclaimed the Bachelorette on Good Morning America in 2012. So if you're really looking forward to an end to all of the rumors and debate, you can safely expect to find out who's about to date a couple dozen guys on national television next Monday night, after the season finale.
And now that the wait is finally (almost) over, I'm really looking forward to finding out who's up next. Whoever it is, I'm sure it'll be an awesome season.
Image: Kelsey McNeal/ABC, Giphy