Zara's New Gymwear Line Is Super Affordable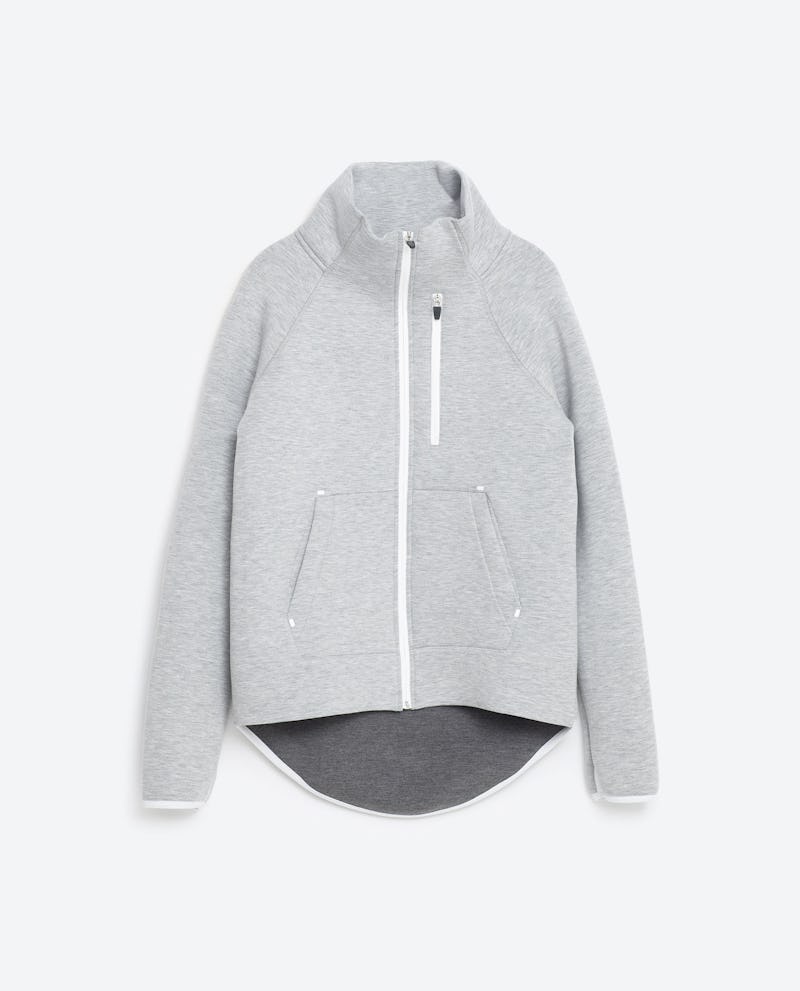 Athleisure enthusiasts, rejoice! Yet another major brand has hopped on the activewear bandwagon — Zara has launched a gymwear collection, following the example of Forever21, H&M, and Urban Outfitters who have all launched sportswear lines as well. If you're looking for some motivation to hit the gym, you're in luck, because these stylish clothes are so pretty, you'll be counting down the minutes until your next sweat session. So just how much does Zara's gymwear line cost exactly? You may be wondering. Fortunately, these gorgeous styles won't break the bank.
The popular fast fashion retailer is notorious for bringing stylish, on-trend designs to the masses for an affordable price, and that is just what they have done with their new line of gym apparel. The collection includes everything from sports bras, stretchy leggings, and racerback tanks, to sweatshirts, bodysuits, socks, and even sneakers. There's really something for everyone.
The sweetest part of the line, though, has definitely got to be the budget-friendly price points. According to the brand's website, the entire range falls between $7.90 and $69.90, with the most expensive pieces being a sporty raincoat, braided kicks, and a pair of mixed material sneakers.
While many of the pieces are not yet available for purchase, you can sign up to receive email notifications for when they do go on sale.
Feast your eyes on the fashion-y goodness that is about to take your athleisure game to the next level.
1. Sporty Co-ords
Neon Top, $22.90, Sporty Neon Shorts, $25.90, zara.com
Matching separates aren't just for skater skirts and crop tops.
2. Neon Windbreaker
Neon Windbreaker, $35.90, zara.com
This bright cheerful hue is so perfect for Spring.
3. Colorful Hair Ties
Pack of Hair Elastics, $7.90, zara.com
How freaking cute are these little guys?!
4. Knotted Sweatshirt
Knotted Yoga Sweatshirt, $25.90, zara.com
Athleisure meets ballerina-chic.
5. Yoga Mat Case
Yoga Mat Bag, $29.90, zara.com
I'm slightly obsessed with this adorable yoga mat carrier.
6. Mixed Material Sneakers
Combined Sneakers, $69.90, zara.com
This combination of leather, felt, and suede is impeccable.
7. Fingerless Gloves
Gym Gloves, $19.90, zara.com
Perfect for lifting heavy weights in style.
Want more fashion and beauty tips? Check out the video below and subscribe to Bustle on YouTube!
Images: Zara (8)