Chris Evans May Have Said Too Much About 'Cap 3'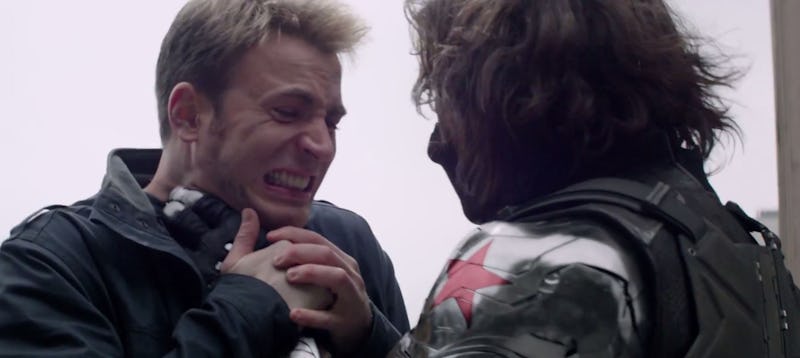 Fans of Chris Evans as Captain America, there is still hope. Beware of the spoilers ahead. Despite rumors that Marvel may actually kill off Steve Rogers in the ultimate Iron Man versus Captain America showdown that is Captain America: Civil War — due to the fact that this was the ending of the arc in the comic books — a new interview promoting the film may have proven otherwise. On Thursday, the cast of the latest Avengers franchise installment sat down with Buzzfeed to answer fan questions, and one specific question was asked that should put your Chris Evans-loving minds at ease.
A fan wanted to know if Steve ever called his friend Bucky Barnes (aka the Winter Soldier) "Buckaroo." And, while that question may not seem like much, it actually reveals so much more than you might imagine, because Chris Evans answered with, "He does NOT. Maybe in the next one?" As in, Chris Evans may have just confirmed that he will be back for more Captain America films. In March 2014, it was said that Chris Evans signed on for six films with Marvel in which he played a major character. Although not all known at the time, those films would include Captain America: The First Avenger, The Avengers, Captain America: The Winter Soldier, The Avengers: Age Of Ultron, and Captain America: Civil War.
However, while Chris Evans also appeared briefly in Thor: The Dark World, it doesn't seem as if that counted as his sixth film with the superhero giant. Instead, The Avengers: Infinity War Part 1 and/or Part 2 could be what seals his deal. Or, the Captain America independent saga could be running longer than we thought. Which means only one thing: there's still one more major Chris Evans-starring film on the way. In fact, aside from all of Chris Evans' recent interviews, it's not even totally impossible. The actor has said that Marvel can use him in their films as much as they want.
So, what does this mean for the original Civil War arc where Captain America dies and Bucky Barnes takes his place? Well, if things are continuing with Steve Rogers like Chris Evans alluded to, then actor Sebastian Stan is just going to have to wait a little bit longer to receive his shot at putting on the red, white, and blue suit. Or, as another possibility, perhaps some flashback sequences will bring the actor back instead. At this point, it's hard to tell. But, comic book fans, there may be a chance that things may be drifting from what Marvel comics originally intended. Right now, it's all up in the air.
All fans can do is sit back, grab popcorn, and be sure to be the first ones in the theater for the May 6 release of Captain America: Civil War. And I'll have my shield out to protect myself from whatever Marvel is throwing our way.
Images: Marvel Entertainment; Giphy