The "Damn Daniel" Kids Are In A Weezer Music Video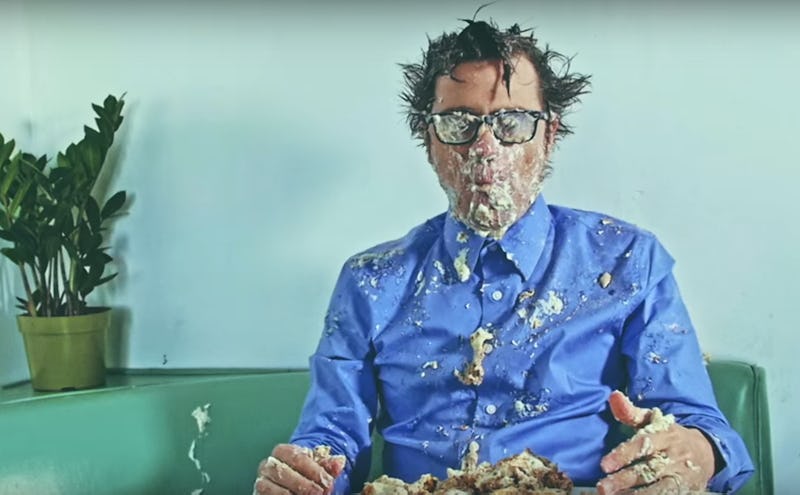 Damn, Weezer. Back at it again with the viral video stars. (If you sighed and/or rolled your eyes at that one, I understand. Nay, I encourage it. I will do my best to keep the corny jokes at a minimum from here on out.) On Wednesday, alt-pop stalwarts Weezer released a video for "California Kids," track number one on their to-be-released tenth studio album. Not only does the clip for the latest single from Weezer/The White Album reference the band's "L.A. Girlz" vid, reference the band's "Thank God for Girls" lyric video, reference the band's "King of the World" vid, and pit humans against a daunting platter of cannoli (what a dream!), it also references A Very Popular Internet Thing. And that V.P.I.T. is the "Damn, Daniel" viral video.
At the end of the "California Kids" clip, frontman Rivers Cuomo meets up with the California kids responsible for the "Damn, Daniel" meme that ruled the web just last month. (Ready for a twist? Daniel is sans Vans.) As Rivers, Daniel Lara, and Joshua Volz walk across the sand, the "Damn, Daniel" narrator/cameraman modifies his now-famous catchphrase to compliment the "Say It Ain't So" rocker's eyewear game. The "Damn, Daniel" cameo is so meme, many relevance, very zeitgeist, such 2016. I assume Doge is much proud of the "California Kids" vid.
As my cheesy opening line implied, this is not the first time the rock quartet enlisted the help of e-celebs: The Grammy Award-winning music video for 2008's "Pork and Beans" includes cameos by Internet personalities like Liam Kyle "Kelly" Sullivan, Chris "Leave Britney Alone" Crocker, and Tay "Chocolate Rain" Zonday.
I wonder how the white Vans (aka the breakout stars of the "Damn, Daniel" vid) feel about this. I know if I were that pair of white Vans, I would feel extremely jilted. "How dare you not include me," I'd murmur at my computer screen. "Without me, you are nothing. Nothing." And then I'd eat at least a dozen cannoli because if there is anything that can fix a pair of shoes' broken heart (hearts?), it's cannoli.
Image: weezer/YouTube