The One Thing To Never Do When Using Highlighter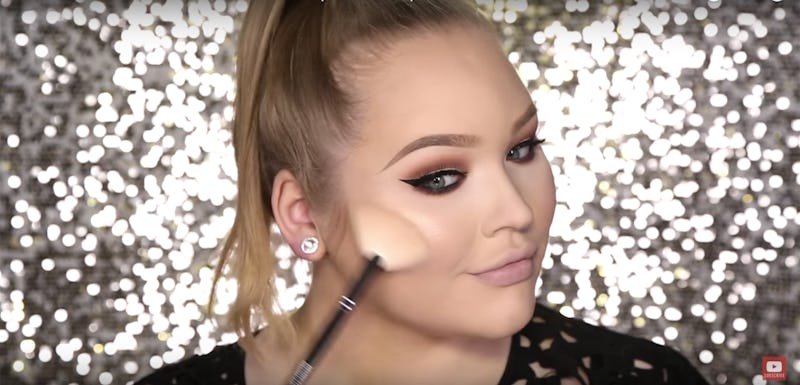 It's March, and that means that it's time to start gearing up for all the gorgeous looks that spring can offer. From brilliant shadows to vibrant blushes, warmer weather makeup offers gorgeous color options. It also means glowing skin, but there's one thing to never do when using highlighter to get that dewy look. If you've ever used a highlight before, you may already know, but applying your product to dry or blemished skin is the real no-no of application. Well, that and forgetting to blend, of course.
Highlighters have become one of the most sought after products in the cosmetics world thanks to the gorgeous glowing skin of celebrities like Jennifer Lopez and Demi Lovato. Plus, the surge in popularity of strobing means that the need for highlighters has risen astronomically. And, let's be honest, while the matte look is gorgeous — just take a peak at the popularity of Kylie Jenner's signature look on Instagram — staying matte throughout the spring and summer may not be impossible, but it's certainly difficult, especially for girls rocking oily skin. Why not embrace the glowing look this spring by going dewy with some gorgeous highlight? The product options are practically endless, and if you've never rocked the product before, you need to turn to the magical world of YouTube gurus on the Internet.
While there are tons of incredible highlight products, there are also, unfortunately, lots of ways to create a big mess of highlight. Whether it's not blending or wearing too much, highlight is a tricky game, but the one thing you should never do when using highlight is, like I mentioned earlier, applying the product over blemished or dry portions of your face.
Here's the thing about highlighters, particularly those of the powder variety: They give you an insanely gorgeous glow, but they're designed to emphasize. FYI: They emphasize everything. Whether it's a couple of blemishes on your skin or some patches of dryness, slapping some highlighter over them in order to camouflage it is going to look ten times worse than your au natural face — which is probably perfect to begin with, by the way.
That doesn't mean that those who have highly textured or mature skin shouldn't rock highlight, though. Instead, opt for a liquid highlight like Becca's Shimmering Skin Perfector. Liquids are much more likely to blend with you skin, making them less obvious that a pressed powder.
Becca Shimmer Skin Perfector, $41, Sephora
Fresh, glowing skin is sure to be just as popular this year as last. While the one thing to never do when using highlighter is apply it directly over texture — a mistake I learned first hand trying to cover up my dry skin — the things to always remember? Use what's best for you. If that's a powder or a liquid, go for it. In the words of the great Jaclyn Hill, "You do you, boo."
Want more fashion and beauty tips? Check out the video below and subscribe to Bustle on YouTube!
Images: NikkieTutorials/YouTube (1)