Big, Big News, Marvel Fans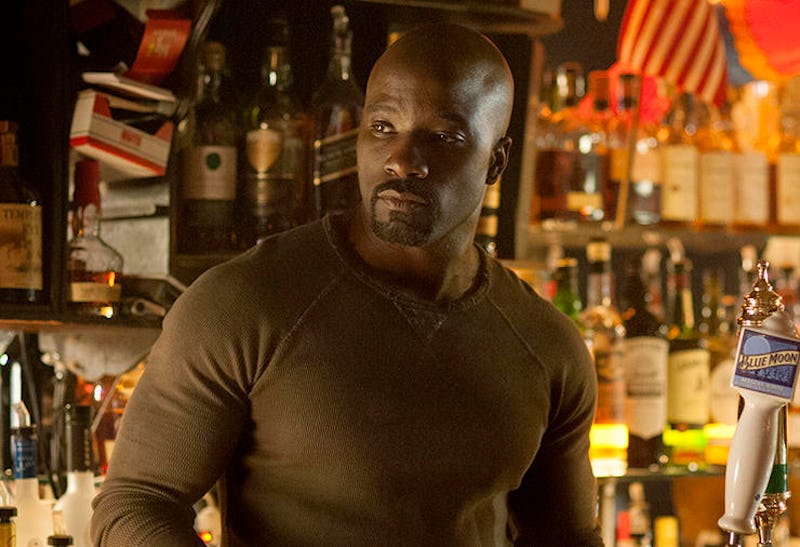 If you've been waiting to hear more about Luke Cage's premiere date ever since you heard that show was happening, you are not alone. The whole Marvel fandom has been anxiously preparing to see what the franchise is going to do with Luke's story arc, how it's going to differ from its predecessors, and most importantly, when the hell we're going to be able to see all of it go down. Thankfully, we now have our answer.
So, when does Marvel and Netflix's Luke Cage premiere? The show's star, Mike Colter, has finally given us a date. "Well, I'll just say this. It's going to be action-packed from the beginning to the very end. Trust me," Colter told Marvel.com's Lorraine Cink at the premiere of Daredevil Season 2. He continued "Daredevil premieres March 18, and I will see the fans on September 30." That's right: Sept. 30.
As Colter said, Daredevil Season 2 will arrive on March 18, and Jessica Jones Season 2 will mostly likely premiere sometime in 2017, so Luke Cage fits snugly right in between these two. But what else does Marvel have up its sleeve? Not surprisingly, a lot. The lineup from now until 2019 is pretty packed. Here's what's coming out, and where Luke Cage fits in.
2016
March 18: Daredevil
Matt Murdock will be back sooner than you think, and this time, both Elektra and The Punisher will be there to shake things up.
May 6: Captain America: Civil War
With a trailer that set the Internet ablaze in March, the newest Captain America is all about the conflict between Captain and Iron Man. Oh, and Spider-Man will be there too.
Sept. 30: Luke Cage
See above. YAAAAAAAS.
Nov. 4: Doctor Strange
Benedict Cumberbatch as Doctor Strange will combine magic, mysticism, and superhero in a way that Marvel hasn't yet explored.
2017
May 5: Guardians of the Galaxy, Vol. 2
The gang's back all here — Star-Lord, Gamora, Drax, Rocket, and Groot.
July 7: Spider-Man
Following his long-awaited debut in Captain America: Civil War, Spider-Man will get a solo movie in 2017. Get ready to see up-and-coming actor, Tom Holland jump into the role.
Nov. 3: Thor: Ragnarok
The third installment of Thor will come out in the fall, and according to Marvel's President, Kevin Feige, it will "impact everything that comes after [it]" in the Marvel Universe. What could this mean?!
2018
Feb. 16: Black Panther
Black Panther will make his debut Marvel appearance in Captain America: Civil War, but unfortunately, we'll have to wait two years for his spinoff.
May 4: Avengers: Infinity War Part I
The Avengers will come together to take on the alien warlord, Thanos.
July 6: Ant-Man And The Wasp
As a follow up to 2015's Ant-Man, this time, the titular character will have a female counterpart — the Wasp, played by Evangeline Lily.
2019
May 3: Avengers: Infinity War Part II
Avengers: Infinity War won't be released until a year after part one.
March 8: Captain Marvel
And finally, Marvel's first big screen, female-led film will make its debut.
July 12: Inhumans
We don't know much about the plot of Inhumans yet, or who will file the roles.
TBD
Jessica Jones, Iron Fist, and The Defenders
Jessica Jones will come back for Season 2, Iron Fist just cast its lead, and talks of The Defenders being in the works have been rumbling for quite some time. Unfortunately, we don't have dates for any of these projects yet — but since Netflix has said it's only unveiling two projects per year, it's safe to say we can't expect them until at least 2017 or 2018.
Let's do this, Marvel.
Images: Netflix; Giphy (5)