Dream's "This Is Me" Music Vid Is Life-Changing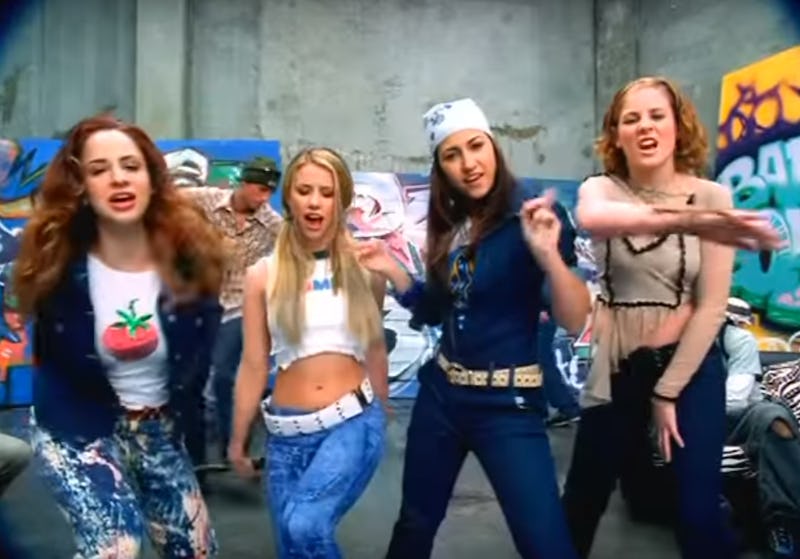 In the year 2000 (or Miss Y2k, if you're nasty), pop quartet Dream dropped "He Loves U Not," the first single off of debut album It Was All A Dream. The record was a bonafide smash, and the music video, which was directed by prolific auteur Marcus Raboy (O-Town's "All Or Nothing," "Smooth" by Santana featuring Rob Thomas, LFO's "Summer Girls," "Naked Eye" by Luscious Jackson, "O.P.P." by Naughty by Nature), quickly became an MTV favorite. The Dream gals were off to a great start.
When it was time to unleash single number two, Holly Blake-Arnstein, Diana Ortiz, Ashley Poole, and Melissa Schuman made it clear that they were not going to be a one-hit wonder: In 2001, Dream released "This Is Me," a bubbling dance-pop track that was penned by the music writer dream team of Steve Kipner, David Frank, and Pamela Sheyne (the same trio behind "He Loves U Not"). And as for music video number two? The group enlisted Raboy's help yet again. The rest, as they say, is the fantastic vid for "This Is Me."
The music video for "This Is Me" premiered in spring of '01, and it would go on to nab the top spot on the Total Request Live chart. Oh, and it also nabbed a permanent place in my heart. Why do I love this video so? Let me count the ways!
1. This Hat
Bury me in that hat!
2. These Glittery Gold Walls
Bury me in those walls!
3. This Bubble Swing
Bury me in that chair!
4. This Dog Chauffeur
How paw-lite!
5. This Crimp Situation
Magnificent. Just magnificent.
6. This Dance Battle Move
BYE, DUDE.
8. This Comfy Looking Chair
Is that a stereo back there? A round up applause for this A+ lounge setup.
9. This Cape
This cape is the picture of elegance.
10. This Corset + Button-Down + Tie Combo
Wow. Wowowowowowow.
That, my friend, is the cutting edge of fashion.
11. This DJ + Dog DJ Assistant Duo
Excuse me, a DJing dog? A dream!
Oh, who am I kidding? This entire video is a dream.
Images: DREAMVEVO/YouTube (13); Kristie Rohwedder/Bustle (12)