Here's How Spray On Nail Polish Works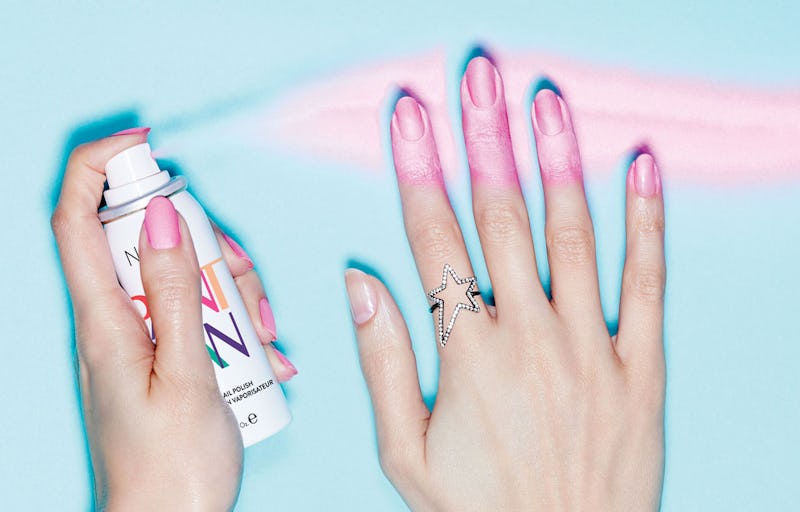 Nails Inc.'s latest innovation arrives in the U.S. shortly. The Nails Inc. Paint Can is slated to land stateside this month, after a successful UK launch last fall. Nail art addicts were encouraged to sign up for the Nails Inc. Paint Can polish waiting list in order to be the first to shop this genius product. I got my hands on a sample of Mayfair Lane and already did my first practice run. I will have a full rundown next week, after I further play with and develop my expertise regarding the usage of this product. But I figured now is as good a time as any to give you quick tips and the basic explanation on how to use this brilliant polish. I know I was curious about the 1-2-3 of the Paint Can before it landed on my desk.
Overall, the Paint Can polish is super pigmented, beyond any color payoff you can ever hope to get with regular ol' nail polish or even the ever-popular gel lacquers. It's also pretty fun to blast your nails with spray paint. I felt like a graffiti artist in the utility room of my house.
That said, you have to be prepared for the cleanup. If you cover nearby surfaces with a towel, you will be fine. But you do need to carefully wipe off the excess product from skin and that takes a minute.
Here's how it works.
1. Base & Top Coats
Nails Inc. 2 in 1 Base and Top Coat, $8, NailsInc.com
Apply a base coat. Nails Inc.'s 2 in 1 Base and Top Coat is your best bet, especially since it can serve as the top coat, too. It's a two-fer, yo! Allow the base coat to dry. DO NOT SKIP THIS STEP!
2. Shake & Spray
Lay down a towel to protect surrounding surfaces. Shake the can. Hold it about 3 to 5 inches away from your hand. Spray it evenly on nails. It's totally OK if you get the paint polish on your skin.
This photo is a quick teaser of what my hand and fingers looked like after blasting them with the polish. I love the metallic, shimmery look... even on my hands! It wasn't as messy as you might think. More to come...
3. Dry & Clean
Let the Paint Can polish dry fully. Add the top coat. Allow it to dry. DO NOT SKIP THIS STEP.
Then, clean up the fallout on cuticles and skin surrounding the nail with soap and water, Q-tips, and/or with a baby wipe.
Nail art is always fun. But the good times are elevated with the Paint Can. Bustle has reached out to Nails Inc. reps to confirm the exact release date, the price, and purchase locations for the Nails Inc. Paint Can.
Images: Nails Inc. (2); Amy Sciarretto (1); Nails Inc./Instagram (1)