John Oliver Is Our Dream Drumpf Model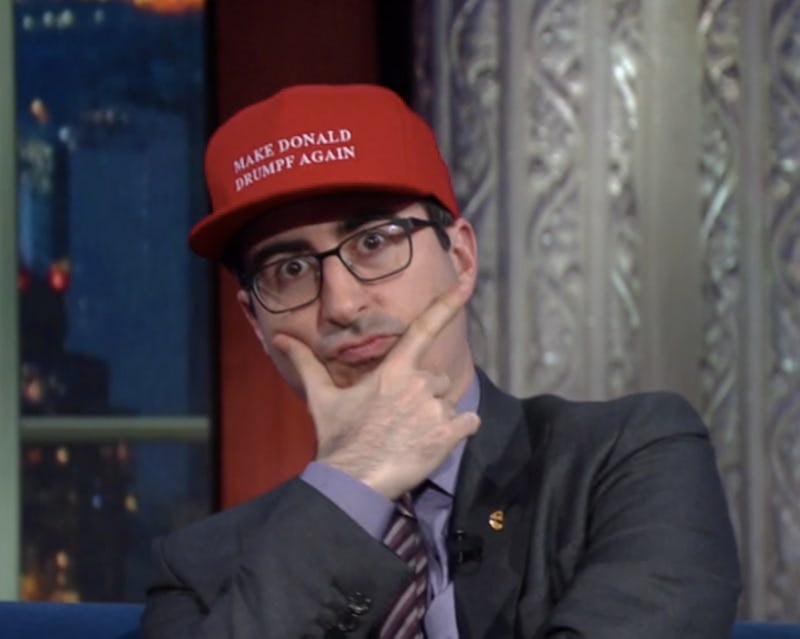 "Make Donald Drumpf Again" has become a bona fide cultural movement, and even A-listers like Jay Z are reportedly clamoring to snag a coveted cap, according to Last Week Tonight host John Oliver. On Monday's episode of The Late Show With Stephen Colbert, Oliver wore a Drumpf hat just to show how hot of a commodity they've become. And man, making Donald Drumpf again has never looked so good.
Oliver revealed that HBO, which is selling the Drumpf hats at cost ("because we know nothing would irritate him more than someone choosing not to make a profit," according to the product description), has already sold 35,000 units. But as the final hats were being shipped out, HBO apparently received a special request from one particular rapper/business mogul. Oliver told Colbert he warned the HBO bosses that if Jay Z got behind the Make Donald Drumpf Again campaign, then demand would skyrocket. "I said, 'Well, be careful, because if he puts that on his head in public, you're gonna need more hats,'" Oliver said. "'And if his wife puts it on in public, we're no longer a TV show. We're a hat manufacturing company.'"
Oliver doubted that his star power, or Colbert's for that matter, would have the same kind product pull as Queen Bey, and to prove it, he donned a red hat himself. Cue the side tilt, pose, and hearts melting.
Sorry, Oliver, I'm going to have to disagree with you on that one. These hats are clearly hot, so hot that they're currently sold out in HBO's online store. One eBay seller has put up the HBO-made hat for nearly three times its cost. And that's all because of you, Oliver, the creator of Make Donald Drumpf Again — Jay Z or nah.
Image: The Late Show With Stephen Colbert/CBS