Claire & Matt Better Be Endgame On 'Daredevil'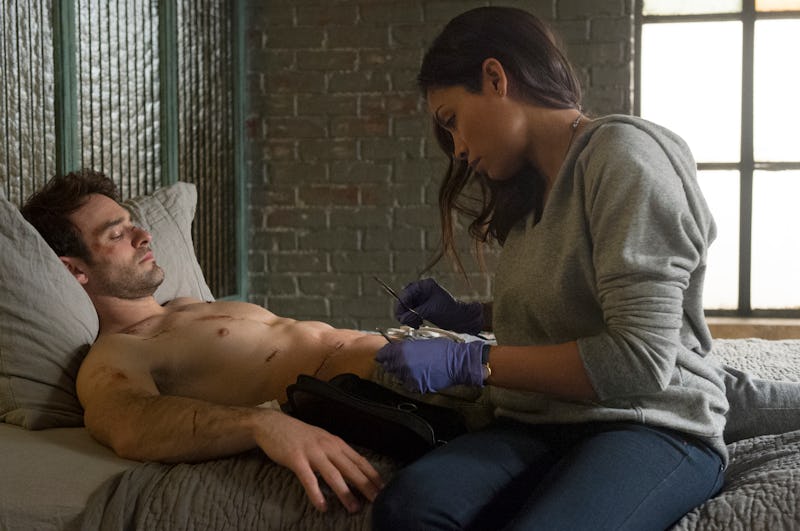 Daredevil Season 1 introduced several conspiracies and some harrowing villains, but it also gave us one of the most grounded and realistic romantic relationships I've ever seen between a superhero and a civilian. Will Matt Murdock and Claire Temple get together on Daredevil ? While this is the paring that I 'ship the most on these series, I'm worried that it might take a while the two of them to really get it together.
First, Claire left him — and after Luke Cage and Jessica Jones disappeared on her too, I don't think she'll be that willing to step into the ring with the "Devil of Hell's Kitchen" any time soon. Second, while they were giving other major mixed messages in Season 1, there seems to be a spark between Karen and Matt in the trailers for Season 2. Plus, Rosario Dawson is revising her role on the Netflix series Luke Cage, which doesn't necessarily indicate anything, but it could mean that she's moved on from Matt Murdock. Claire Temple and Luke Cage are love interests in Marvel comics, as much as we might 'ship both of them with other characters.
There's also the tiny point that Matt Murdock's infamous comic book love interest, Elektra, is joining Daredevil in Season 2, played by Elodie Yung. We know from Season 1 that they have a romantic history, and it seems likely that sparks will fly when she comes back into his life.
All that said, when Marvel announced that Rosario Dawson would be in Daredevil Season 2, Jeff Loeb, executive producer and head of Marvel TV, assured us that "Claire Temple proved a fan favorite in Season 1, and we can't wait for fans to see all the plans we have for her next." That could be referring to Luke Cage, Iron Fist, and The Defenders, but hopefully it means a reunion with Matt Murdock.
Honestly, I'm starting to worry that when all of these Netflix heroes finally meet up for Sunday brunch in Hell's Kitchen during The Defenders, they are going to spend a lot of time bickering over who's dated who. Daredevil has his long list of beaus. Jessica Jones and Luke Cage are #relationshipgoals — and Luke Cage also dates both Claire Temple, as I said before, and Misty Knight in Marvel comics. Misty Knight, who will be played by Simone Missick starting in Luke Cage , and Iron Fist, who will be played by Finn Jones from Game of Thrones, are also an item in the comics. This is going to be one complicated team. Maybe I love it!
Images: Barry Wetcher, Patrick Harbron (2)/Netflix