Get Pumped For The Final Divergent Movie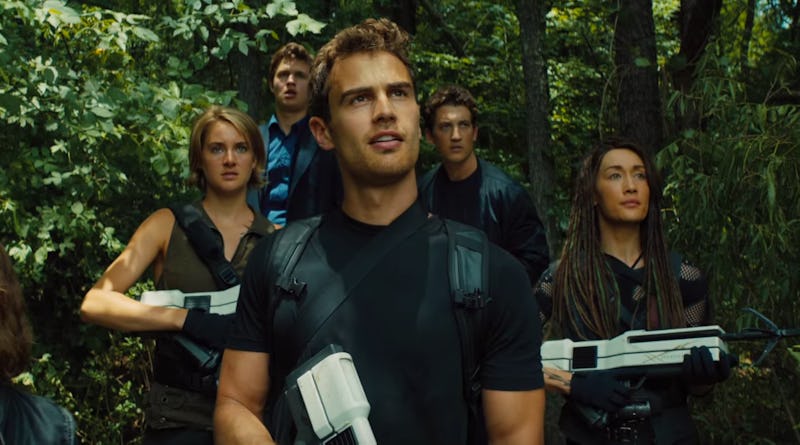 Shailene Woodley and Theo James are back to tease your poor, FourTris shipper hearts in The Divergent Series: Allegiant. As the third film in the series adapted from the trilogy of books by Veronica Roth, it makes sense that some fans are worried that Allegiant is the final film in the franchise. Rest assured, that is not the case. Despite being named Allegiant, which is the title of the third and last book in the original series, the film is not the final installment. Filmmakers decided to split up the final book into two movies, not uncommon for Young Adult adaptations. Still, ending one movie mid-way through a story can be tricky, but one thing that can help bridge the gap between two linked films is a post-credits scene. So, is there a post-credits scene in Allegiant ?
Despite the trend of post-credit sequences, sadly there is no post-credits scene at the end of Allegiant. And fans still don't know where in the story the film will end, or how much of the original narrative will be left to the second film. The final entry in The Divergent Series, titled Ascendant, won't be released for another year. With no post-credit scene to make the wait less daunting, here are 13 behind the scenes Divergent moments to ease the pain, and give your FourTris hearts something to obsess over.
1. When Shailene Woodley Tried To Read Theo James' Mind...
#FourTris forever.
2. ...And Then Succeeded
The interview asked them their fondest memories of filming the series, and THEY HAD THE SAME ANSWER: the Ferris Wheel scene.
3. When FourTris Trained Together
A couple that trains together stays together.
4. When Miles Teller Crashed Jai Courtney's On-Set Interview
Such a Peter move, am I right?
5. When Miles Teller Was So Peter, It Hurt
Peter, I hate you, but I love you.
6. When Woodley And James Did The Name Swap...
They are so proud of themselves right now.
7. ...And Then Made This Dorky Joke
Who knew FourTris could be so adorkable?
8. When Miles Teller And Zoe Kravitz Wrote Fanfiction
Any Christina/Peter shippers out there?
9. When This Happened On The Red Carpet
'Cause it's no fun if he doesn't believe it at least a little.
10. When Theo James Made This Face On Set
Theo James for Sexiest Man Alive.
11. When Theo James Revealed Shailene Woodley Is A Belieber
I bet James likes some Bieber too.
12. When Woodley Admired James' Hair
Same, girl, same.
13. When The Cast Looked Dreamy AF On Set Of Allegiant
Aw, just look at how happy they are.
It seems kind of silly to complain about not having a post-credits scene when you've got these beautiful GIFS, now doesn't it?
Images: Lionsgate; cryinqwby/tumblr; fuckyeahdamose/tumblr (11); missroxelot/tumblr; youngbreakoutactresses/tumblr; fictionsonmymind/tumblr; officialshailenewoodley/tumblr