Logan's Father Returns To 'Gilmore Girls'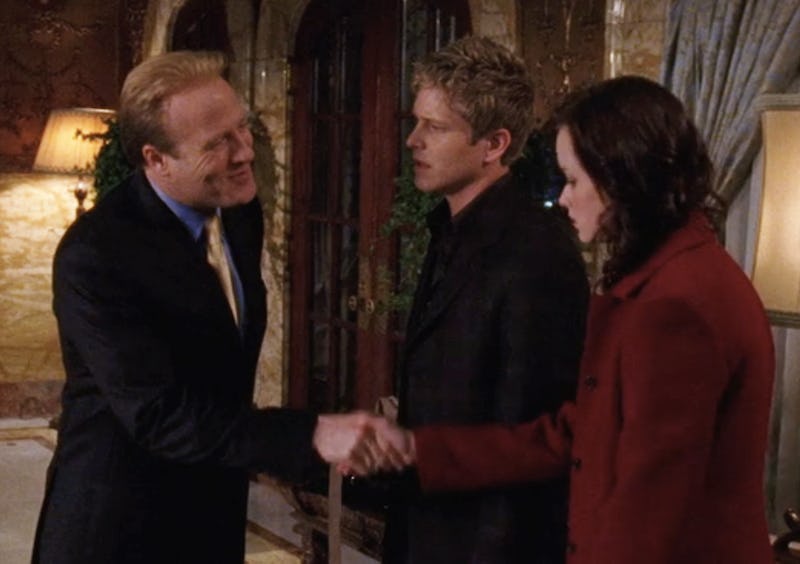 Hold onto your poodles, friends, because there is even more news coming out of the Gilmore Girls revival, and this juicy confirmation could be just the thing fans need to figure out what role Logan Huntzberger will play in the four-part series on Netflix. It was announced on Wednesday that Gregg Henry would be returning to the Gilmore Girls revival for "an appearance" as Mitchum Huntzberger. So, of course, this news immediately sent me into a tailspin because what it could it mean that Logan's father is returning to the series? Does that mean that Logan will be playing a bigger role in the series and — just maybe — a bigger role in Rory's life?
Of course, nothing has been confirmed just yet as to why Mitchum Huntzberger is returning to the series, but there are a couple of reasons why he might be. For one, he might be returning in a professional capacity. Maybe wherever Rory is working these days — please say The New York Times, please say The New York Times! — may be somehow connected with Mitchum, since he is such a bigwig in the world of journalism. He could make an appearance as an old boss who's come back to haunt Rory, or he could come back in a way that would leave Rory vindicated.
Because we all remember the last time Mitchum and Rory worked together, and how he told her that she lacked talent and would never make it as a journalist. What fan of the show wouldn't want to see Mitchum come back to eat his words as he faces Rory, who has since become a world-renowned journalist? This is all in my dreams, of course, because where Rory is in her life and what she is doing has yet to be confirmed.
The other reason why Mitchum might be back for the revival is that Logan Huntzberger may play a bigger role in the series, and in Rory's life, than fans had previously thought. If Mitchum isn't returning in a professional capacity, then he's likely returning in a personal one, which could mean that there is more to Logan and Rory's relationship than has been let on.
It could be that the rumored wedding is actually Rory and Logan's, or that Rory and Logan are still together, and Mitchum, therefore, is still in the Gilmore girls' lives, or it could be that Logan is still struggling to separate his own life goals from his father's.
Whatever the reason for Mitchum's return to Stars Hollow, it does seem to hint at the fact that Logan will play a larger role in the revival than just a bit part. If his father is making an appearance, then I think it's pretty likely Logan will have a sizable part in this four-part series. Brace yourselves, Gilmore Girls fans, because the news out of Stars Hollow these days just keeps getting juicier and juicier.
Image: Warner Bros. Television; Giphy (2)