Neon Moon Does Away With Numbers For Sizing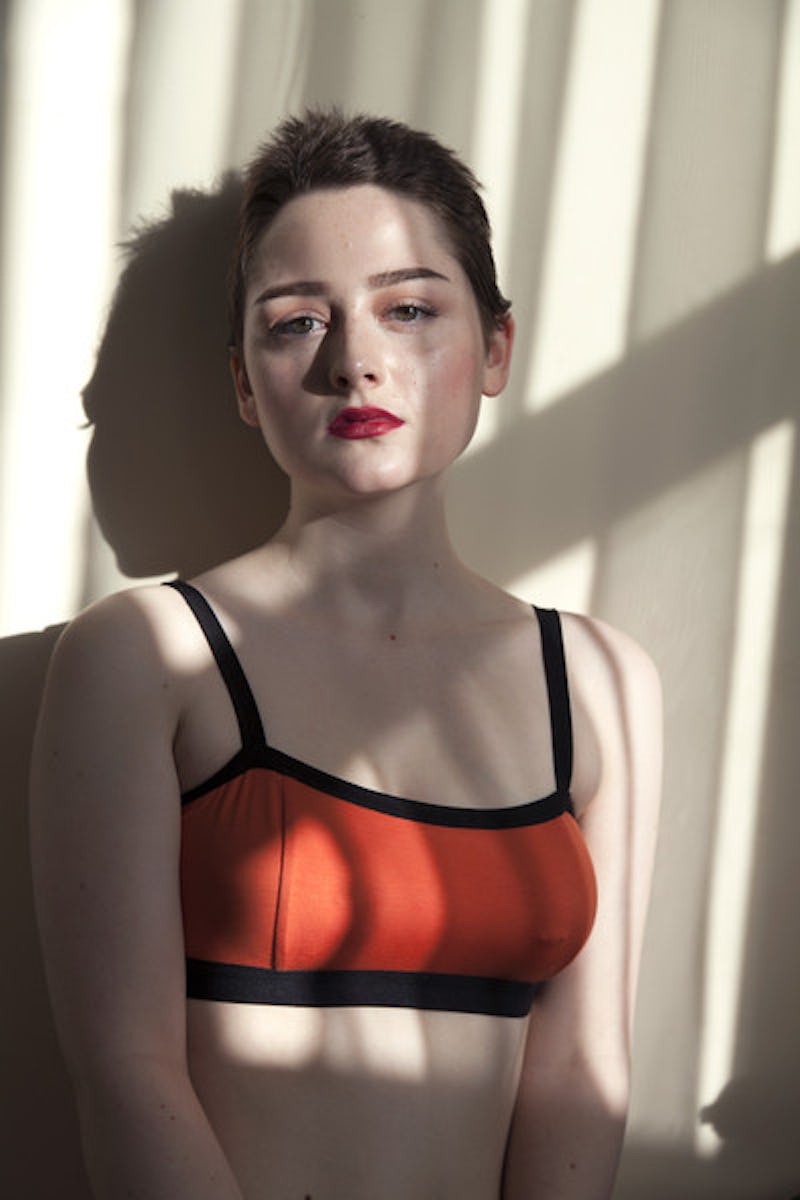 Even though it can sometimes seem like facets of body positivism have been co-opted by the mainstream, it isn't very common for brands to actually facilitate and be committed to aspects of the movement on a profound level. That's why I love feminist lingerie brand Neon Moon, which has strong roots in radical self acceptance and is committed to helping us love ourselves: Stretch marks, lines, and all.
Between its ad campaigns that depict many types of bodies and the way founder Hayat Rachi has shut down the trolls who body shame her diverse models, it's clear that Neon Moon takes self-love very seriously. But my most recent discovery about the brand — brought to my attention via a customer's tweet — was the unique way Neon Moon sizes its clothing to make the process of buying its products an act of self love in and of itself.
The site asks that you measure your waist and bust to determine your size. Instead of numbers, however, all items are labeled with non-size-specific words like "lovely," "gorgeous," and "beautiful." The sizes available are pretty limited (the largest being for a 40-inch bust and 33-inch waist). However, the brand acknowledges this lack of size inclusivity on its size guide page, offering a "more sizing options survey" that customers can fill out to help lead the brand in the right direction as the start-up grows.
"Although we are still learning and working on incorporating a larger range of sizes and styles, we rely heavily on the voices of our community to engender change and encourage positivity," founder and CEO Rachi tells me in an email. "We always endeavor to listen carefully to what the Neon Moon community has to say, and we love doing it."
Taking the tweets and feedback of its customers and fans seriously is what led Neon Moon to the idea of its sizing system in the first place. Within 10 minutes of receiving these requests over Twitter, the brand changed the name of its sizes from numbers to compliments.
"Most of the time people are reduced down to a mere number on a measuring tape, and at Neon Moon we recognize that so much pressure is placed on people to fit a certain size, a certain norm," Rachi says. "But why not compliment yourself and say, 'Hell yeah I'm a size beautiful!' rather than judge yourself on whether you've gained or lost inches — it's about having fun in a body positive way."
Charteuse Yellow Lingerie, $85 for bra and $42 for panties, neonmoon.co
The idea of not being reduced to a number resonated with me, as it has with many of Neon Moon's supporters. In this body shaming world of ours, the very act of shopping and choosing a size off a rack can be stressful, if not entirely triggering. As a person who often felt insecure about the size they were and blushed at sharing the numerical details of their waist and boobs, this feels important. For folks who constantly deal with the bare minimum of options and the stigma that larger sizes are often accompanied with, this kind of sizing option feels necessary.
Neon Moon has sufferers of eating disorders in mind as well, along with anyone who might find these numbers triggering. That's why the site includes this kind reminder in its sizing guide: "Measuring your body is a mindful and body positive process. Your self worth is not defined by any number on a measuring tape. You are beautiful whatever size you are below, and you will make our lingerie look amazing!"
White Lingerie Non! Triangle Bra, $99, neonmoon.co
The brand also includes a note that encourages customers to email Rashi herself if they find the measuring process to be triggering. This incredibly hands-on and compassionate gesture speaks volumes about Neon Moon's level of commitment to instilling positive body image.
"We have had people suffering from EDs email in, but also transgender and non-binary people who have been affected and need that personal touch," she tells me. "Our emails are a safe space for everyone, [where you can] get the dedicated help and time from our amazing Neon Moon team. We treat every person individually [...] So far, everyone who has emailed in we have helped, and they have placed an order that they've loved."
It's that personal touch and passion for creating safe spaces for customers that makes Neon Moon a brand to watch out for. The genuine efforts made by the brand and its founder to cultivate a retail experience of inclusion and support is undoubtedly needed.
Want more fashion and beauty tips? Check out the playlist below, and be sure to subscribe to Bustle's YouTube page for more hacks and tricks!
Images: Courtesy Photographer Yasmin Benamar/Neon Moon