Elizabeth Olsen Has A Surprising Talent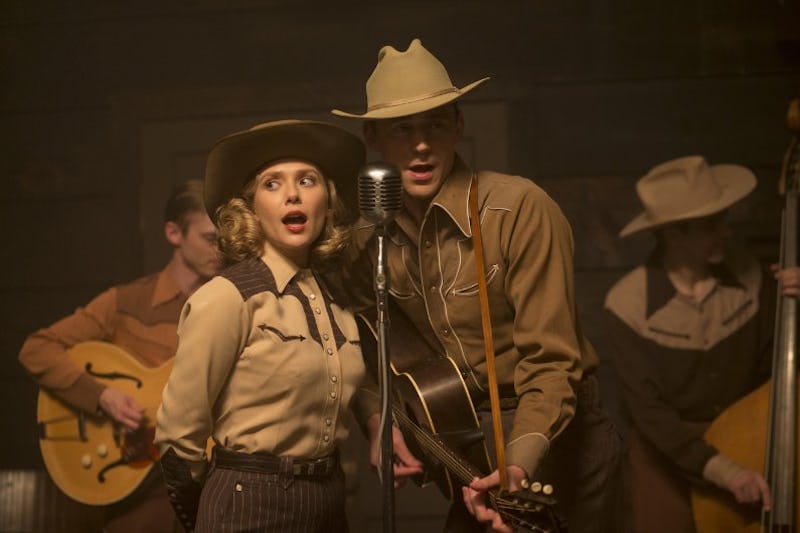 Academy of Motion Picture Arts and Sciences, take note: There is a new musician biopic headed to theaters. Following in the footsteps of critically acclaimed films like Walk the Line and Ray comes the new film I Saw the Light, which tells the story of country music legend Hank Williams. Tom Hiddleston portrays the crooner, but his co-star Elizabeth Olsen threatens to steal the spotlight with her turn as Audrey Williams, who was a country singer and musician in her own right in addition to being Hank's wife. With the character's unique vocals in the film, a number of fans are wondering if it's really Elizabeth Olsen singing in I Saw the Light , or if she's just lip syncing. So which is it?
Olsen does indeed do her own singing in the film, as does Hiddleston. Not only that, but she actually sings worse than she's capable of on purpose. That's because Audrey was never known for having a great voice, and she struggled in her career as a solo artist. Olsen told The Boot about how she practiced with country star Rodney Crowell to get the right vocals down for the character:
"I'm not saying I sing great. I do have vocal control. I know what flat is, I know what sharp is, and I do know how to crack my voice. Those techniques, you learn. So it was a really fun play with Rodney, and to try to figure out to the astute musical ear what sounds bad enough, but maybe to the everyday man, it's not that bad. Because you can't make her look like an insane person for thinking that she can [sing], and you don't want to make him look like an insane person [for thinking she can't], so you try to strike a balance there."
It's certainly a different approach, and not one that most actors would dare to try. However, Olsen is definitely not the first actor to portray a real life singer and then do her own singing in the role. Here are some other films where the actors put their singing voices on the line.
Walk The Line
Joaquin Phoenix played Johnny Cash and Reese Witherspoon portrayed June Carter in this film, and both stars did all their own singing to critical acclaim; particularly Witherspoon, who won an Oscar for the role.
Ray
Jamie Foxx also won an Oscar for his portrayal as Ray Charles, and the film even spawned a successful music career for the actor. His album Unpredictable debuted the year after the movie, and reached the top of the Billboard 200 chart.
Straight Outta Compton
The actors portraying the members of rap group NWA in last year's blockbuster: Corey Hawkins, Jason Mitchell, and O'Shea Jackson Jr., recorded their own version of NWA's album Straight Outta Compton, and the film mixes their tracks with the originals.
The Doors
Val Kilmer was widely praised for his performance as the late Jim Morrison, and both his own voice and Morrison's made it into the movie's final cut.
Beyond The Sea
A passion project for actor Kevin Spacey, the actor not only starred as Bobby Darin, he also directed, co-wrote, co-produced, and yes, did all his own singing in the film.
Coal Miner's Daughter
Sissy Spacek won an Oscar while doing all her own vocals as the lead in this story about country star Loretta Lynn, and co-star Beverly D'Angelo also did all her own singing as Patsy Cline in the film.
Jersey Boys
This film about Frankie Valli and the Four Seasons was based upon the Broadway musical of the same name, and starred much of the same cast, including John Lloyd Young as Valli. So not surprisingly, they did their own singing, even singing live on set.
Elizabeth Olsen will be joining the rest of these actors who did their own singing in music biopics when I Saw the Light hits theaters on March 25, and judging from the praise she's receiving so far, it looks like her performance will be just as memorable as the others on this list.
Images: Sony Pictures Classics