We Know Where Season 7 Of 'PLL' Will Pick Up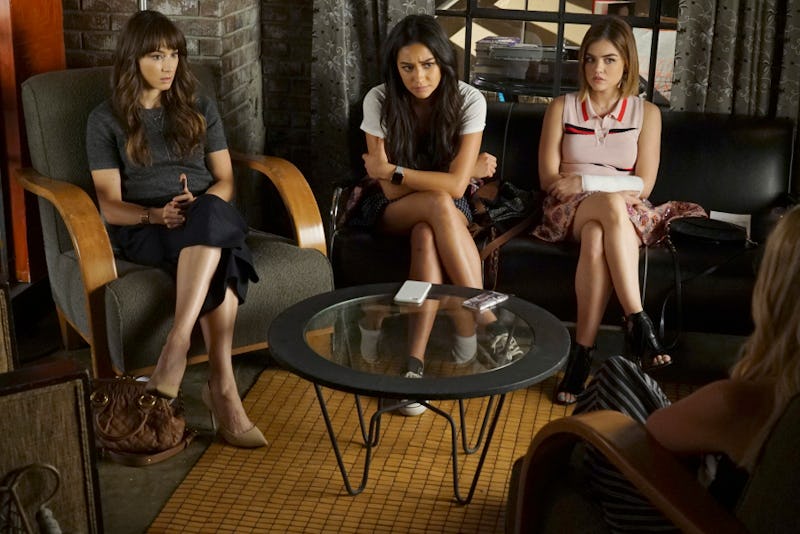 The Season 6 finale of Pretty Little Liars blew fans' minds and made them question absolutely everything that they thought they knew about this twisted mystery series. We finally met the highly anticipated PLL twin, and she's as evil as expected. Jessica DiLaurentis' identical twin Mary Drake has teamed up with Ali's husband Dr. Rollins in order to take over the Carissimi Group, further explaining why everyone in Rosewood has serious trust issues. The Season 7 premiere of Pretty Little Liars can't come soon enough, and fortunately we already know a little bit about what's in store. We know that Andrea Parker will be a series regular when the show returns, so expect plenty of face time with Mary and/or Jessica, and that the season premiere will be titled "Tic Tock, Bitches." Now, showrunner I. Marlene King has revealed how the Season 7 premiere of PLL will open — and it's up to fans to speculate what the could mean.
King loves giving fans the subtlest of clues via her Twitter account (a must follow for fans who want the inside scoop on PLL!) and on Monday she tweeted what is seemingly the opening lines from the Season 7 premiere:
If this really is the opening to Season 7, it's worth asking: who is in the forest? While the tease is fascinating, it's unclear as to whether the event depicted in the opening line is something from the past or something from the present. Considering that the Liars (minus Hanna), their love interests, and Mona are at the Lost Woods Resort, there's a real chance that this opener could depict a flashback — one that may give us a little bit of insight on the show's brand-new character.
We may have finally seen Mary's face, but this character is still cloaked in mystery. King hinted in her recent Season 7 spoiler video that fans would be getting major reveals in nearly every episode of Season 7. Starting the series off with a killer flashback of Mary would be one way to hook fans right from the get-go. We know that Mary has always been lurking in the shadows, and this forest scene could depict a familiar PLL moment from an entirely different perspective. Maybe Mary was there the night of lodge fire, or when Charlotte shot Wilden. It could open up the story to include Mary in a way that many fans would never expect.
Let's hope that Season 7 of PLL takes us on one insane journey, because after that insane Season 6 finale, fans' standards are crazy high.
Eric McCandless/Freeform