Lex Luthor In 'BvS' Is No Typical Supervillain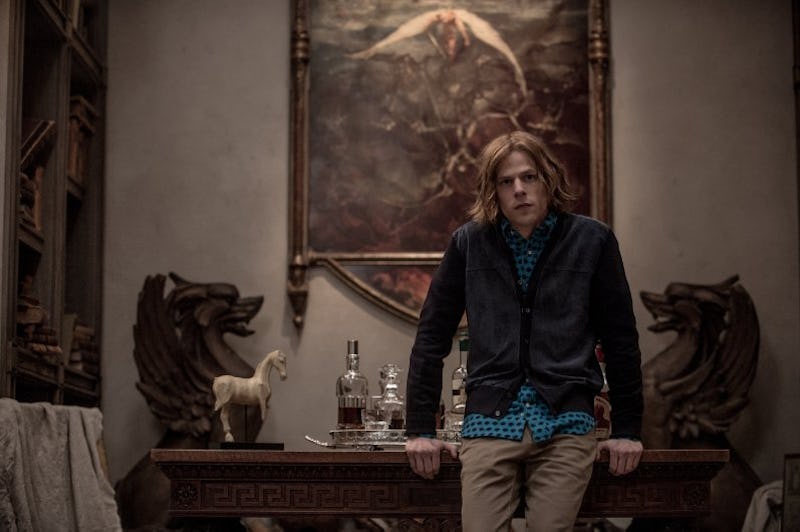 Batman v Superman: Dawn of Justice is almost here, and although many aspects of the film have been revealed already, one detail that is still largely mysterious is what role its major super villain will play exactly. What fans know about Lex Luthor in Batman v Superman is minimal, to say the least. Obviously, Luthor is an iconic character, nearly as recognizable as Batman and Superman themselves. He has been around in the comics since 1940 and has been Superman's greatest villain for nearly as long. But the new movie appears to be taking the character in a different direction, because of all the portrayals of Lex Luthor of the years, there has never been one quite like Jesse Eisenberg's in Batman v Superman.
Eisenberg's Luthor is only 31, and is a much younger antagonist than fans are used to seeing for Superman (the last actor to inhabit the role on the big screen was a 46-year-old Kevin Spacey in 2006's Superman Returns). The reason why Luthor is so much younger in the new film is because he's actually Lex Luthor Jr., while Lex Luthor Sr. is the character with whom most fans are familiar. This also explains why Eisenberg's Luthor has long luxurious hair in the movie, rather than the trademark bald head of Luthor Sr. (though he will lose his hair at some point in the film).
Going along with Luthor being a young heir with a full head of hair, he also has a new type of business. His company LexCorp in the comics has been involved with practically everything, from aerospace engineering to fossil fuels to weapons manufacturing, but the LexCorp in Batman v Superman is a Silicon Valley-like tech giant. Luthor Jr. inherited the company after his father's death, and transformed it from the industrial corporation his father had founded into its current state. This revelation has led some fans to compare Eisenberg's Luthor to the actor's iconic role of Facebook founder Mark Zuckerberg in The Social Network .
So other than Luthor being a young, long-haired, tech billionaire whose dad was also named Lex Luthor, what else is known about the character? Well, the big detail that's been revealed is that Luthor somehow uses the corpse of General Zod to create the villain Doomsday, who showed up in the film's first trailer. It's expected that Doomsday appears near the end of the film, after Batman and Superman have already waged their war against each other (a war that Luthor is rumored to instigate). It's also worth noting that Luthor is seen with what appears to be Kryptonite at some point in the film, and that he is present at the first meeting between Clark Kent and Bruce Wayne.
Other than that, Lex Luthor's role in the film is pretty mysterious. He is expected to be the main antagonist, but just how much focus he'll receive with everything else going on (don't forget that Wonder Woman also has a sizable role in this movie) in the film remains to be seen.
Images: Warner Bros. Pictures; giphy.com