Nyle DiMarco Is So Inspiring On 'DWTS'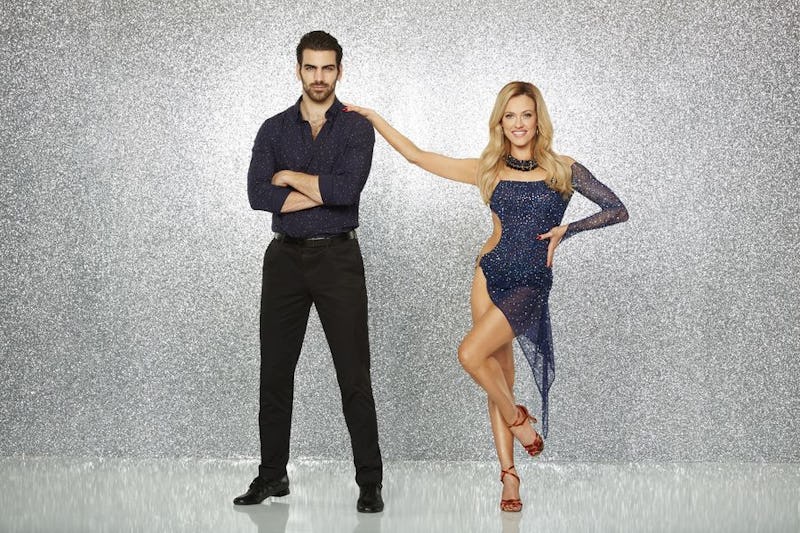 Have you guys seen Dancing With The Stars contestant Nyle DiMarco? No, I mean really, look at this beautiful man. That is a hunk right there. He may the first deaf winner of America's Next Model, but Nyle DiMarco is also inspiring a whole nation while he's on television. Interestingly enough, I think his deafness is going to mean that he and Peta form a stronger relationship than any of the other contestants.
Peta was not told that Nyle was deaf when she first met him, so she was kind of blindsided when the two were introduced. Not in a bad way, but she was definitely surprised, and she had to figure out how to actually teach him the dance. She's used to being able to tell her partner to change his steps, and now she has to come up with a whole new way of training. Nyle can't hear any vibrations or anything, either — it's just total silence. This intense communication is going to bring them so much closer because one will be able to anticipate what the other wants before they know it. It helps that Nyle is actually a pretty decent dancer in his own right. He's a model, so you know the guy can move.
Nyle actually comes from a deaf family — his parents, both of his brothers, and his grandparents were all born deaf. He's used to communicating in a world in which he cannot hear, so I think he'll be totally inspiring both to the hearing and deaf communities alike. He's normalizing deafness for a large amount of people watching. Nyle can dance and perform and model just like a hearing person can, and the judges agreed — Nyle got great scores. Will he win the Mirrorball trophy? I think he's got a decent shot, but we have to wait and see.
Images: Craig Sjodin/ABC