Surprise! Kristen & James Argue On 'Pump' Reunion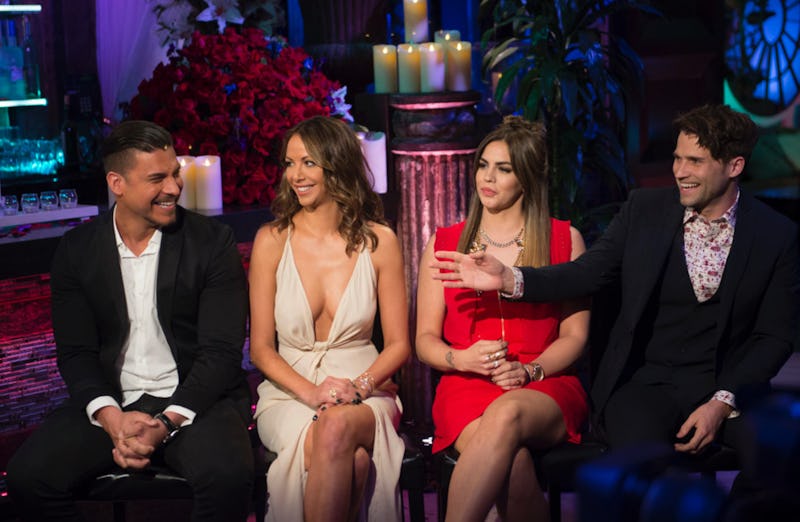 At the top of the Vanderpump Rules reunion, host Andy Cohen said the fourth season of the reality show about Lisa Vanderpump's Sexy Unique Waitstaff was "as twisty and unpredictable as ever." And dude wasn't kidding. It was A Season To Remember, to say the least, and the first installment of the three-part reunion followed suit: On Monday night's episode, exes Kristen and and James basically admitted that neither of them were in the relationship for, to use the parlance of another reality show, the right reasons.
When Andy brought up one of The Great Kristen and James Uber Receipt Debacle of 2015, the cast argued about infidelity, e-snooping, and the word "boning." After Lisa took a firm stance against the word "boning," the show's emcee asked Jax if he believes James only used Kristen to get on the show.
"That's what I think," Jax replied. "It's a little bit of both. He was trying to get on the show, and she was trying to get back at Tom."
Kristen signed off on this theory. "I used [James] to get over [Tom Sandoval]," the ex-SURver said, "and [James] used me to get on the show." She reiterated that she didn't hook up with James, Tom Sandoval's friend, to get back at Tom Sandoval, but to get over him.
If anyone tried to hold their breath until James interjected to say that their love for one another was pure and their intentions good, that person would've passed out by now; while the DJ didn't explicitly say he used to Kristen to land a spot on the reality show, he did seem to think he was a pawn in her post-Sandoval scheme. And then, he added he was more into Kristen's financial status than her involvement with the series. Yeah. Dude said that.
"There's a reason I was dating a cougar," shrugged James. "I wanted a bit of a sugar mama."
Aaaaand if there was anyone who still shipped Kristen and James before the reunion began, they most certainly abandoned the relaysh watercraft after that mess of a scene.
Image: Nicole Weingart/Bravo; bricesander/tumblr