The One Thing Not To Surprise Your Partner With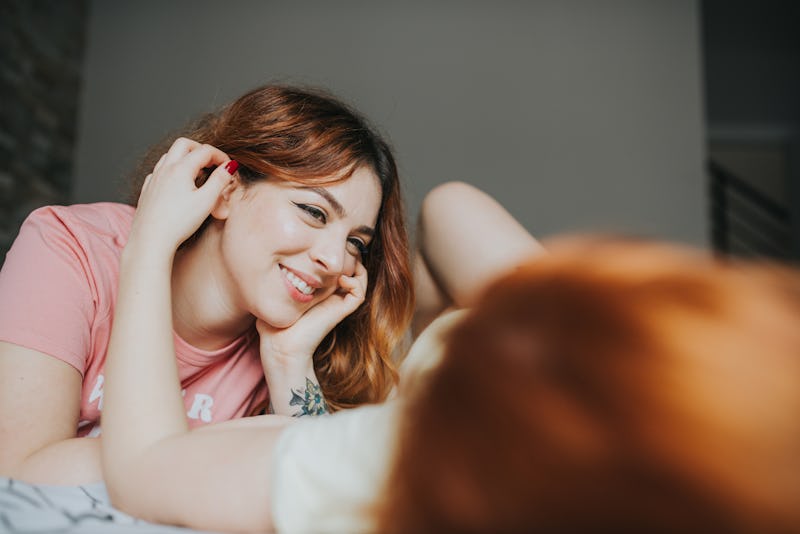 Addictive Stock / MUR/Addictive Stock/Getty Images
I spend a lot of time reading about sex, thinking about sex, and listening to sex-positive podcasts and I've noticed one question that seems to cross all three of those mediums: How can I go about surprising my partner with a threesome? A lot of people seem to think that a birthday or Valentine's Day or an anniversary is a great time to spring a threesome on their partner. Best gift ever, right? Maybe they've been fantasizing about it for a while or they just think that any guy, for example, would be DTF in an MFF threeway.
Well, my friends, I'm here to say you may want to rethink that. No matter how much dirty talking you've done about it or how much porn you've watched together, I don't think it's a good idea to surprise your partner with a threesome. A well-executed threesome is tricky, delicate dance above approximately eight million landmines; you need to be Misty Copeland-level before you do that ballet together.
Which isn't to say that having a threesome is generally a bad idea. I'm totally pro-threesomes and other group sex activities, as long as everyone involved is informed, consenting, and into it. It's the surprise element of the surprise threesome that is a no-go. The only time that I think it might be OK is if you and your partner have already had threesomes or group sex, have worked out all of your parameters and boundaries, and both know and like your special guest star. In that case, it's more like, "Surprise! Here's our special friend celebrate with us!" and less like, "Surprise! We're going to do this really intense thing that we've been fantasizing about with this person you may or may not have the hots for!" But even in that very particular situation, always make sure your partner has a graceful way to bow out if they want to. (And if you're the kind of couple who has a regular special guest star, you're probably already well-versed in how to make that happen.)
Still thinking that a surprise threesome just might be the best birthday gift ever? These six reasons why you may want to reconsider.
1. Your Partner Might Not Be Into Your Special Guest Star
Just like sex between two people, sex between three people should be prefaced with a getting-to-know-you period. No matter how hot your special guest is, your partner might not feel that spark with them — and there's no way to know if that chemistry is there other than spending a bit of time together.
Instead of introing your partner to your chosen third by meeting them in your underwear in the bedroom, go out first! Have dinner! Have a couple drinks! And then decide — together — whether you want to take the relationship further, preferably on a different night.
2. Your Special Guest Star Might Not Be Into Your Partner
On the flip side, there's always a chance that your chosen guest star might not be into your partner. There's only so much you can learn from pics, right? You owe it to both your partner and your special guest star to make sure that they're mutually into each other before it's time for everyone to get naked.
3. People Aren't Objects That Can Be Given As "Gifts"
But for real though. When you spring a surprise threesome on your parter as a "gift," you're kind of saying that your guest star is an object that can be "given." And that's just… Icky. A certain level of objectification and dehumanization comes out of thinking of your special guest star as a "gift" and it's that kind of attitude that leads to previously happy thirds being treated like a tissue — by which I mean used up and thrown away after everyone has come. No one wants that, right?
4. Your Partner May Not Actually Want To Have A Threesome
No matter how much you've fantasized together about having a threesome and no matter how hot that dirty talk was, there's a chance that your partner doesn't actually want to have a threesome. Some fantasies are meant to stay fantasy and never actually come into real life. So if you surprise your partner with a threesome and it turns out that they're actually not into it at all? Welp, that's awkward.
5. You Need To Set Boundaries Beforehand
A successful threesome that includes a couple (as opposed to three single people, which is a whole other ballgame) necessarily includes a lot of discussion beforehand about what is and isn't OK when you're in the act. Adding another person to the mix can trigger insecurities and jealousies and you as a couple really need to think and talk about ways to minimize the likelihood of that happening. You also need to make sure you're on the same page about what's about to go down before lust takes over your brains and you're not thinking so clearly anymore.
So, for example, I knew a couple that included a bi woman and a straight guy and their rule was that she could have sex with their female thirds but it wasn't OK for him to have PIV sex with them. That was something they'd worked out and negotiated through a lot of conversations over more than one occasion, not something that could ever have been worked out in the heat of the moment. The result? They have a really happy long-term relationship that includes a lot of super hot sex.
6. It Puts Too Much Pressure On The Experience
The final reason for not springing a surprise threesome on your partner is that it puts a lot of pressure on that one experience and, as anyone who has ever celebrated New Year's Eve knows, pressure is a wicked killer of fun. If you're both going into the threesome like, "OMG WE HAVE TO DO ALL THE THINGS IT HAS TO BE PERFECT AH AH AH AH!" then your threesome is going to suck. A better idea? Work out all of the things I've outlined here and start making plans for regular threesomes in your life, rather than thinking about it like a one-off treat. Trust me: You'll have much more fun that way.
Want more of Bustle's Sex and Relationships coverage? Check out our video on sex positions to help him last longer:
Images: Giphy (6); Addictive Stock / MUR/Addictive Stock/Getty Images