6 Ways To Have A Sex-Positive Threesome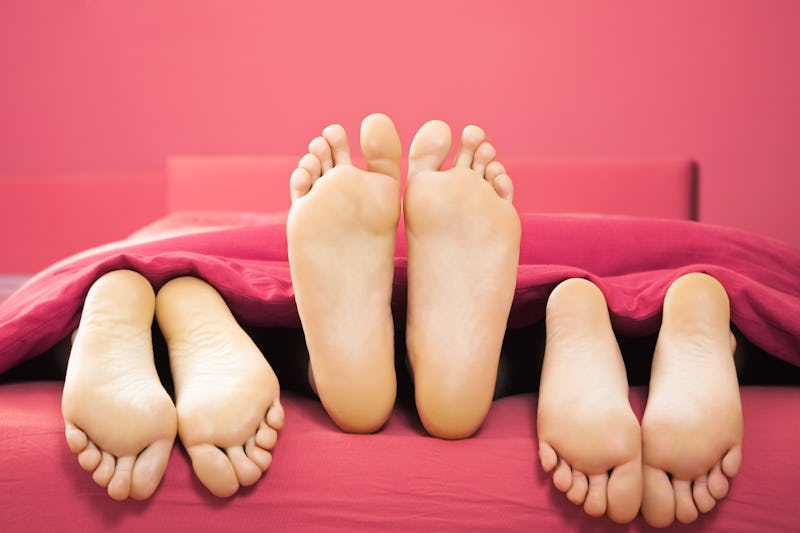 Ah, the menage a trois. Whether having a threesome tops your sexual To-Do list or it's just what you get up to on an average Friday night, there's no denying the act holds a certain degree of cultural capital. Everyone has an opinion about threesomes, and in a recent interview with Cosmo, even feminist icon Gloria Steinem weighed in. She said, "Sometimes I think a threesome is the two women are really in love with each other and they need the guy for permission. The question of who really wants to be there is a fundamental question. Who genuinely wants to be there? Who feels they have to do it for approval or to keep their partner?"
Steinem definitely has a point, which is that no sexual act should be undertaken without asking yourself first and foremost if you're doing it for your or your partner's pleasure. Sometimes the mood strikes and you have no time to analyze your actions, but if the opportunity arises and you can squeeze in a little emotional pre-gaming, all the better. For those planning on engaging with multiple people in a sexual situation for the first time, here are six ways to keep your threesome sex-positive.
1. Do Your Research
While it sounds like the unsexiest thing in the world, research can mean anything from checking out weighty tomes detailing the cultural history of the threesome to reading articles like this one, or just talking with friends who are schooled in the art of multi-person sex.
2. Prepare Yourself Emotionally
If your threesome involves your partner, it's vital to be emotionally prepared to see him/her with someone else. In a way, you can't really know how you'll feel until it happens, but you can at least talk through a variety of possible outcomes ahead of time. If one of you feels jealous afterwards, will you feel safe discussing it? To what level have either of you been able to navigate casual sex without investing emotionally? These are just some of the questions you might want to ask each other.
3. Prepare Yourself Physically
Are you planning on using protection? Hopefully that answer is a resounding, "YES!" but to be fair, you can still be exposed to an STD no matter how safe you are. If you're cognizant of this fact and have discussed your status with everyone involved, then you're golden.
4. Ask Yourself Why You're Doing It
Like Steinem said, it's important to ask yourself why you want to have a threesome at all. Is it because they are taboo and cool, or because your partner wants you to do it, or because it will make you more sex positive? FYI, sex positivity actually has nothing to do with what sex acts you have or haven't personally indulged in. And doing something sexual you're not so sure about can have disastrous outcomes.
5. Outline Your Expectations
Do you want a killer orgasm in the company of two pals? Do you want to go down on a woman for the first time? Do you want to see your partner (if they are male) penetrate a woman in front of you? Do you want to see what feels good in the moment and forget any expectations you might have? Beginning your menage with even a foggy idea of what your "goals" are is useful, because you're less likely to be disappointed afterwards if you do.
6. Know It's OK To Be Disappointed
The best way to enter into a threesome is with an open heart, mind, and legs, because honestly, it's not always going to be the best night of your life. The menage a trois is rarely like porn depicts them to be. Sometimes two people have chemistry and the third just can't get it going. Sometimes all three people devolve into giggle fits and have to put their clothes back on. You never know what you're going to get — which is also part of the fun.
Want more of Bustle's Sex and Relationships coverage? Check out our video on sex postions to make h
Images: diego cervo/Fotolia; Giphy (3)