12 Novels To Make Spring Break Last Forever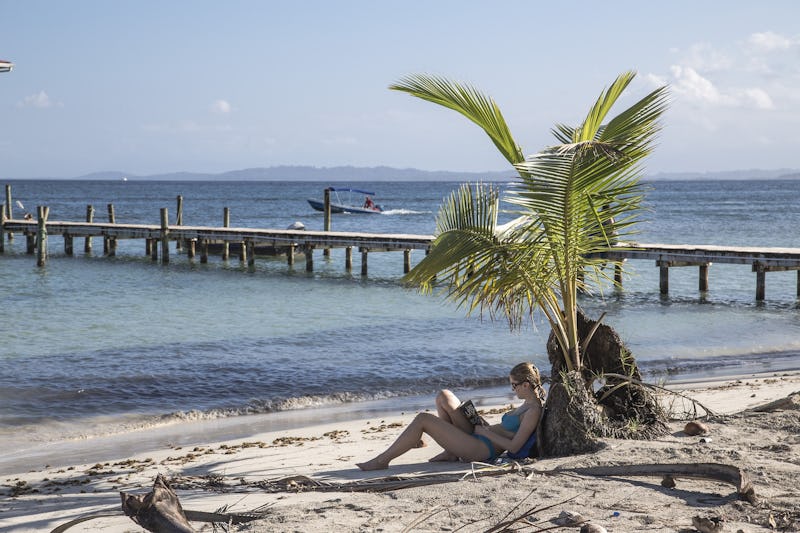 For most people, the words "spring break" summon up pictures of partying, sunbathing, day-drinking, and regrettable tattoos — but not you. No, for you spring break is all about how much reading you can get done. Instead of wet t-shirt contests and sweet holiday romances, you fully intend to spend your entire break with a book in your hand (and a mimosa in the other, of course).
But the choice of book is very important. Spring break is your chance to escape all the stress of your normal life — and you definitely don't want to feel like you're doing homework. So, even if you're a serious Jane Austen nerd (in which case, I feel ya girl), I'm officially banishing Sense and Sensibility from your spring break suitcase. For a true spring break escape, you need a serious page-turner; you need something that will have you so totally absorbed that it feels like spring break might never end. You need scandal, romance, wanderlust — all wrapped up together.
Sense and Sensibility, $5, Amazon
And I've got the perfect list for you right here. These are exactly the books you'll want to sprawl out with on a sunny beach. Read these, and you'll feel a million miles away from any of life's little worries.
American exchange students Brooke and Sophie meet while studying abroad in France, and are soon drawn into an obsessive relationship with the city, each other — and with the impossibly sexy and decadent cousins Alex and Veronique. They are drawn into a dangerous and exciting love triangle, and only one of them will make it home...
Sisters Brooke and Natalie were separated when they were just four years old, and have lived entirely different lives ever since. But 35 years later, a chance encounter leads to an emotional reunion. Lucky you'll be wearing oversized sunglasses to hide your tears behind, am I right?
Caroline Kepnes' You was the thriller of the summer last year. Now, Kepnes is back with another terrifyingly seductive page-turner for your spring break travels. The worryingly likable Joe Goldberg is on a quest for love, and nothing's going to stand in his way — even if it means murder.
Brie Baggio is just about ready to settle down: her job's going well; marriage and kids are on the horizon; what more could she want? Well, as it turns out — a lot more fun . So she tears her plans apart, and composes a sexual bucket list. Yeah, this is such a great spring break novel.
We've all heard those inspiring success stories about the high school underdogs who made it big — but what about those of us who feel our life's gone the other way round? Marjorie Plum was Queen Bee at her high school, but 10 years later, her life isn't turning out quite as she hoped. Will You Won't You Want Me is a cute and funny novel by Elle magazine writer Nora Zelevansky.
Why should you have to wait for a baby before you can take time off work? That's what magazine editor Liz Buckley asks herself — and so she ends up staging a pregnancy to get some paid leave and figure out her life. But how long can she keep that up?
Bronte fans with a dark side will adore this Gothic retelling of Jane Eyre — beginning with the almost recognizable line, "Reader, I murdered him."
Tracy McMillan is a super-successful TV writer (including on Mad Men!), so there was never any doubt her novel was going to be great. Multiple Listings is a hilarious and sweet novel about a realtor whose life is just getting on track — when her estranged ex-con father is released from prison and decides to move in with her.
The Friends We Keep follows the separate but intertwined stories of three friends Gabby, Hayley and Nicole — all against the beautiful backdrop of Mischief Bay.
This is an emotional but dreamy novel that, even when spring break is drawing to a close, will transport you far, far away from your next dreary Monday morning. In a blizzard in 1947 Brooklyn, two babies are born in a two-family brownstone to two sisters-in-law — and for reasons they can't understand, their deep friendship begins to unravel. You may do a lot of sobbing, but don't worry, you'll be smiling by the end.
Stephanie Evanovich is already a beach-read fave — and The Total Package is a love story that doesn't disappoint. Hot quarterback Tyson Palmer is adored by almost everybody, except sports commentator Dani Carr, who's got a ton of negative things to say about him and a pretty big following of her own. Oh yeah, and they slept together back in college — only Tyson doesn't remember that. Awkward.
The Nest by Cynthia D'Aprix Sweeney
The Plumb family are pretty much the definition of dysfunctional. The four siblings have been counting on their inheritance to solve their many problems — until Leo had a drunken car accident, was sent to rehab, and endangered the status of their trust fund. The Nest is all about families, how we let each other down, and more importantly, how we raise each other up.
Image: milivanily/Pixabay