What Does The New 'Bridget Jones' Trailer Reveal?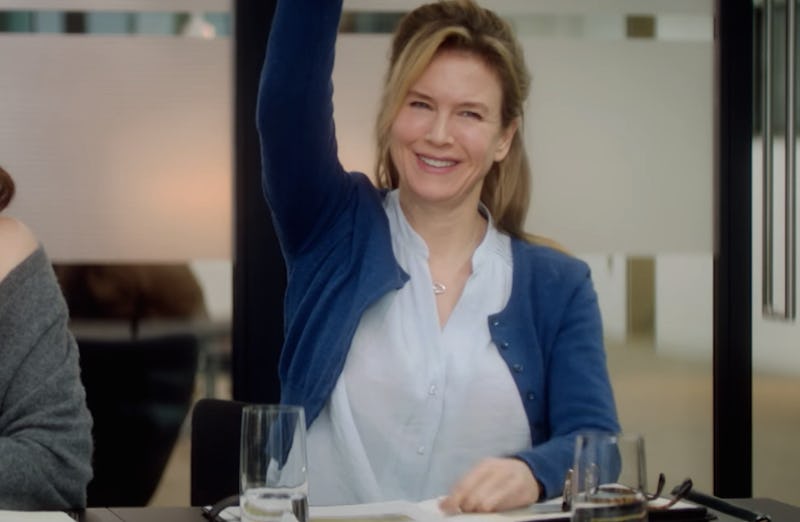 Get excited, Anglophiles, because your favorite British singleton is officially back. The exclusive trailer for Bridget Jones's Baby was released Wednesday, and in it, there were a ton of spoilers about Bridget Jones as a mother. I mean, I guess that's kind of the point of any trailer, to give you a small peek at what you can expect from the movie. But, given the nature of Bridget's life and the love triangles she always seems to find herself in, this trailer in particular revealed a lot more about the upcoming sequel than fans had already known. Because, when it comes to Bridget Jones, you can always expect the unexpected.
So, if you were expecting a movie about Bridget Jones and Mark Darcy blissfully procreating in the English countryside somewhere, think again — because this trailer has just proven that this baby story is full of twists that could only happen to someone like Bridget Jones. Besides, what would a Bridget Jones movie be without excessive drinking, great shots of London, and super dreamy men?
Lucky for all of us, this trailer reveals all of that and so much more about Bridget Jones's Baby. Just look at all of the juicy spoilers revealed in the first full-length trailer.
1. Bridget Is Still A Dreamer At Heart
The trailer opens with a clip of her getting married, but it's totally in her head. Not that that's abnormal. Some of us have really big imaginations.
2. The Gang's All Back
All three of Bridget's besties are back for the third movie.
3. But Wait... She's Still The Single Girl You Know And Love
If you thought that this movie would be one long continuation of Bridget's happy relationship with Mark, you thought wrong. It's clear from the trailer that Bridget finds herself single again, which just makes the whole pregnant thing all the more entertaining.
4. Bridget's Still Living In London
London's Southwark Bridge hasn't changed much, and neither, it seems, has Bridget.
5. There Are Going To Be Some Really Great Cameos
Remember Salman Rushdie in the first film? This time around, there are some other super famous British faces making a welcome appearance — like Ed Sheeran!
6. She's Still Working In Television
And still a total mess at it.
7. When It Comes To Mark, Things Are Complicated
In fact, he may just be the father of her child. The jury's still out on that bit though.
8. This Movie Might Be Referencing Other Famous Texts
If Bridget Jones's Diary was a sort of allusion to Pride and Prejudice, then it seems like Bridget Jones's Baby might be a modern-day retelling of Cinderella.
9. This Time, The Love Triangle Is Even More Tangled
Not only will Bridget most likely have to choose between Mark and this other mysterious bachelor, but one of them is also the father of her baby.
10. There's A Love, Actually Moment You'll Love
Emma Thompson showing up as Bridget's OB/GYN in a scene with Colin Firth after they both starred in Love, Actually is enough to make this Anglophile very happy.
11. No Daniel Cleaver In Sight
I mean, we all kind of knew this from the fact that Hugh Grant isn't on the cast list — but I was hoping for at least a surprise cameo. Sorry, folks.
See what I mean? This sequel looks even juicier than I ever could have imagined, and I, for one, can't wait to see it.
Image: TheEllenShow/YouTube (12)