18 Easter Desserts To Make At Home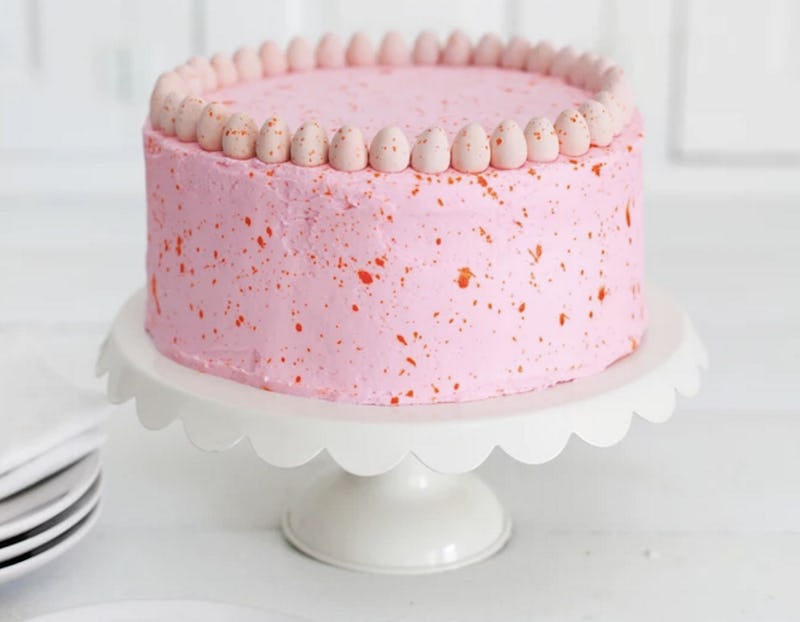 As a holiday that's known for its abundance of treats (think chocolate bunnies, jellybeans, Peeps, and Cadbury eggs), Easter is a pretty sweet holiday. After an afternoon of scouting for eggs and hanging out with friends and family, there is no better way to end the day than by making the most of some Easter dessert recipes. Whether you've got an appetite for chocolate or you prefer nomming on marshmallows, there is no lack of delicious things to eat.
People may be divided on the brightly colored marshmallows that come into popularity every spring, but you've got to admit, putting Peeps in dessert is a pretty good idea. But if you're not completely sold on the idea, no worries. There are plenty of other seasonally festive desserts you can try on Easter, like carrot cake and cheesecake. However your tastes dictate your dessert menu, a couple of sweets are sure to help you throw an Easter party that everyone will love.
You don't need an Easter basket to get your fill of tasty treats this year. These 18 uniquely delicious desserts will help you to make the most of this springtime holiday. So, why not start stocking up on some more of those chocolate-covered eggs? You're bound to find plenty of yummy uses for them.
1. Easter Candy Bars
Who needs a chocolate bunny when you can have some homemade candy bars, topped with mini Cadbury eggs? A Beautiful Mess makes chocolate that's as pretty as it is tasty.
2. Easter Basket Cake Pops
They may take a fair amount of effort to make, but Bakerella's Easter basket cake pops are more impressive than any store-bought candy can be.
3. Honey Lavender Panna Cotta
Need a break from all that chocolate? The Kitchn's silky panna cotta with fragrant lavender is totally refreshing. Serve it with plenty of vibrant berries.
4. Unbelievable Carrot Cafe
It's hard to tell what's the best part of Mel's Kitchen Cafe's carrot cake: the smooth cream cheese frosting or the lush cake. Either way, this makes for one comforting final course.
5. Peanut Butter Easter Chicks
Creamy peanut butter cream tastes even better than your favorite candy bar. Inside BruCrew Life coats it in a layer of thin chocolate and tops it with some added touches to create one sweet chick.
6. Coconut Cream Marshmallow Eggs
A mix between Almond Joy and chocolate-covered marshmallows, A Farmgirl's Dabbles's candies are incredibly easy to make — and totally addictive.
7. Chocolate Peanut Butter Peeps Skillet S'mores
The best way to eat Peeps is with plenty of chocolate, peanut butter, and graham crackers. How Sweet Eats makes what may be the best s'mores ever — no campfire necessary.
8. Mini Cheesecake Nests
A little bit of toasted coconut placed on top of a mini cheesecake makes for the cutest dessert. Table For Two Blog uses speckled chocolate eggs as a final touch.
9. Six-Layer Coconut-Covered Chocolate Peeps Cake
With moist chocolate cake, a layer of sweet coconut flakes, and a filling of marshmallow merengue butter cream, coconut caramel, and chocolate ganache, it's easy to see why Half Baked Harvest's cake is an instant crowd-pleaser.
10. Speckled Easter Egg Cake
With a jam-y strawberry filling, A Beautiful Mess' Easter cake is already a treat. But with speckled frosting and mini eggs for decoration? That's, well, the icing on top of the cake.
11. Chocolate Easter Bunnies
If you want to go traditional, you can make your own Easter bunnies, too! Bakerella shows that working with chocolate isn't too hard, as long as you have the correct molds.
12. Rice Krispies Easter Eggs
These aren't your elementary Rice Krispies treats. The Kitchn makes adorable egg-shaped treats in three flavors — strawberry, chocolate, and peanut butter.
13. Homemade Chocolate Marshmallow Eggs
Making homemade chocolate-covered marshmallows is an impressive way to expand your culinary repertoire. Good thing Mel's Kitchen Cafe explains it perfectly step-by-step.
14. Nutella Cream Eggs
Want something even richer? There's an even creamier alternative to plain marshmallow eggs in Inside BruCrew Life's Nutella cream eggs. Marshmallow cream mixes with the chocolate hazelnut spread for the tastiest filling.
15. Chocolate Chip Angel Food Cupcakes
These lighter-than-air cupcakes from A Farmgirl's Dabbles are speckled with just the right amount of chocolate. Add some vanilla cream frosting and candy eggs, and you're all set.
16. Confetti Coconut Bunny Cake
With sprightly ears and a bow tie, this cake by How Sweet Eats is easily the cutest bunny around. A coconut cream cheese frosting and pastel M&Ms make it pretty delicious, too.
17. Easter Egg Sugar Cookies
You can never go wrong with a classic sugar cookie. Brown Eyed Baker uses a combination of pastel colors to make these treats especially seasonal.
18. Double Chocolate Nutella Carrot Cake
If you make one dessert this Easter, let this be it. With Nutella, chocolate, carrot cake, and a malted cream cheese frosting, Half Baked Harvest's adorably festive mini cakes are as good as it gets.
For more ideas, check out Bustle on YouTube.
Images: How Sweet Eats (3); A Beautiful Mess (2); Bakerella (2); The Kitchn (2); Mel's Kitchen Cafe (2); Inside BruCrew Life (2); A Farmgirl's Dabbles (2); How Sweet Eats (2); Table for Two; Brown Eyed Baker; Half Baked Harvest (2)