New 'Gilmore Girls' Picture Reveals Possible Groom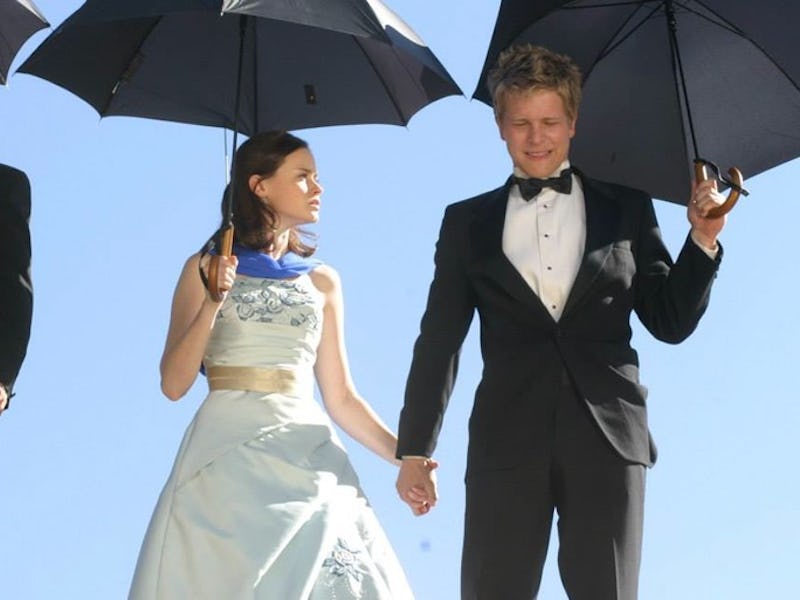 It's another day of filming in Stars Hollow, which means another day of social media posts that might give away important details about the Gilmore Girls revival. In this episode of "What Does This Picture Mean?" we'll be discussing a photo recently posted to Instagram by Tanc Sade (aka Finn from the Life and Death Brigade, for those of your who speak the language). On Tuesday, Sade posted a picture of himself posing proudly with Matt Czurchy (aka, Logan Huntzberger) — and, more than anything, the photo has me wondering some very important things about the episode that they are filming, like does it mean that Logan gets married in the Gilmore Girls revival?
Follow my stream of thought here for a second.
First of all, the time between this photo being posted and proof that the last episode of the series, "Fall," is being filmed is basically zilch. Just this past weekend, video and photo proof of Stars Hollow decked out in fall regalia surfaced on the Internet — most significantly, the Batman v. Superman: Dawn Of Justice promotional video, which features Milo Ventimiglia (Jess) and Jared Padalecki (Dean) discussing who would win in a fight: Batman or Superman. Behind the actors in the video, one can see familiar Stars Hollow landmarks decked out in harvest wreaths and fall colors. This could totally indicate that "Fall" was the episode being filmed at the time this video was shot.
So, let's take that one step further: If the cast is, in fact, filming the final episode of the series, why would Finn of the Life and Death Brigade be in it too? Is it possible that these former college friends are reuniting in this last episode because there is a very big occasion for which they would reunite? Like — oh, I don't know — say, Logan's wedding?
Remember: A photo from the prop room on set surfaced on Instagram recently, showing a set piece that looks like some sort of chandelier or centerpiece labeled "Wedding." It also had a pull date on it of March 18, just five days ago. That all in mind, I wouldn't be surprised if this rumored "wedding" was happening during the fall episode.
With all of these decorative hints and the reunion of the Life and Death Brigade in this photo, I have to wonder if the person who is really getting married in the Gilmore Girls revival is Logan. And if he is the one getting married in the final episode, the bigger question becomes who exactly is he marrying? A final episode means something big is going to happen with the Gilmores — so it definitely makes me wonder if Rory is somehow involved in this whole wedding thing... like, as the bride.
Of course, nothing has been confirmed yet — but it's definitely a theory worth exploring.
Image: Warner Bros. Television