9 Ways To Add Poetry To Your Life This Month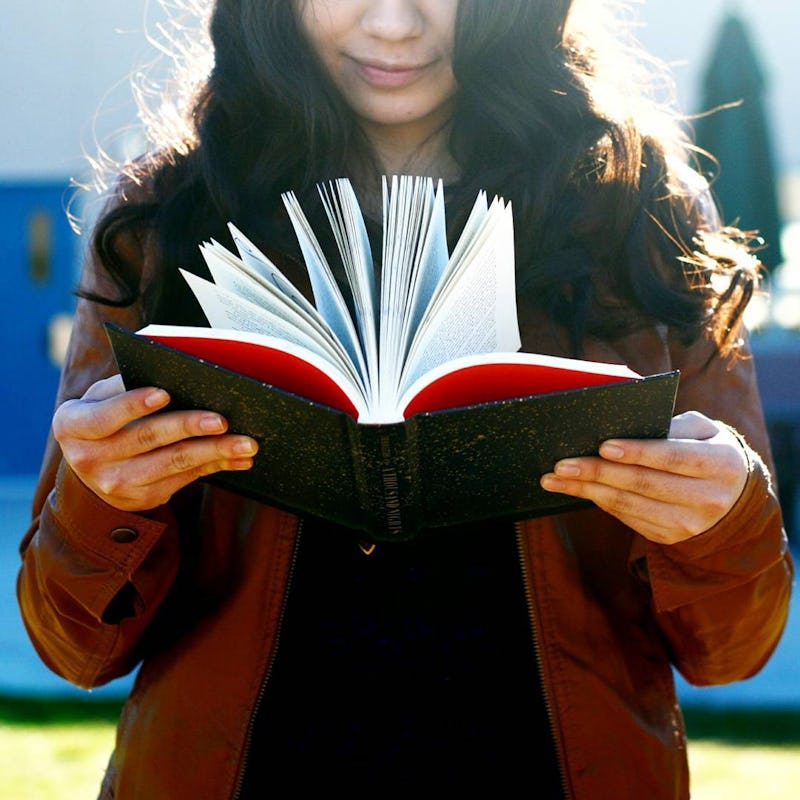 National Poetry Month is here again, and whether this April will be your first venture into the poetic form, or you're a long-time poetry lover who's looking for ways to add more poetry to your life, there's no denying that this — 30 whole days dedicated to celebrating poems and the people who write them — is the best time of year to get your verse on. And since this April marks the 20th anniversary of National Poetry Month — founded by the Academy of American Poets back in 1996 — you'll be joining a yearly tradition that has quickly become the largest literary celebration in the world.
Personally, I've been a lover of poetry since Allen Ginsberg taught me to howl and Emily Dickinson taught me that hope had feathers, but even if you don't consider yourself a poetry aficionado, National Poetry Month offers tons of fun and easy ways to add a little poetic flair to an otherwise prose-filled day. From celebrating Poem In Your Pocket Day (April 21) to picking up a local poet's latest collection the next time you're browsing your favorite bookstore, this list will help get you started.
Here are nine ways to add more poetry to your life this National Poetry Month.
1. Participate in Poem In Your Pocket Day
Perhaps my favorite of all the National Poetry Month traditions, Poem In Your Pocket Day celebrates poetry by inviting you to carry one of your favorite poems in your pocket all day long, sharing it with others throughout the day — friends, family, co-workers, cafe baristas, people on the subway… pretty much anyone you want. This year's Poem In Your Pocket Day will be held on April 21.
2. Support local poets in your area
No matter where you live, there are tons of great ways to celebrate poetry and support local poets in your area. Join a poetry writing group (or start your own!), add a book of poetry to your book club's reading list, attend a poetry reading, or pick up a poetry collection published by a writer in your hometown during your next trip to the bookstore. Need some more ideas? Head over to Poets.org and check out their Poetry Near You page, which helps you find poetry events within up to 200 miles of wherever you are.
3. Visit a poetic place
As a part of their 2004 National Poetry Almanac project, The Academy of American Poets designated 31 'round-the-country sites as National Poetry Landmarks — so exercise those road-tripping muscles and visit a few during National Poetry Month. From the Addison Street Poetry Walk in Berkeley, California, to the American Poets' Corner, in New York City's Cathedral Church of St. John the Divine, there's something for every poetry lover, coast-to-coast.
4. Enter the Library Hotel and Aria Hotel Budapest 4th Annual Haiku Challenge
From April 1st to April 30th, connect with The Library Hotel or the Aria Hotel Budapest on social media, for a change to win one of the brand's two Annual Haiku Challenge grand prizes. Enter two original haiku about music or literature on Facebook, Instagram, or via email; and be sure to tag @LibraryHotel, @AriaBudapest and #haiku. For more information, visit either account on social media.
5. Write some poetry of your own
Whether you've been composing verse since you first learned how to write the alphabet, or you reserve your poetry skills for constructing goofy magnetic haiku on your BFF's refrigerator — it all counts — this month is a great time to get those poetic juices flowing. Check out The Time Is Now, a series of weekly writing prompts from Poets & Writers Magazine, which offers unique prompts for poetry, fiction, and nonfiction.
6. Sign up for Poem-a-Day
One of the easiest ways to add more poetry to your life? Have it delivered directly to your inbox, every single day. Run by Poets.org, Poem-a-Day is a daily digital poetry series that features over 200 new, previously unpublished poems, written by contemporary poets (and sends you work by your favorite classic poets on the weekend.) Best of all, it's free!
7. Read more poetry!
From 13 Poetry Collections To Read For National Poetry Month to 7 Poems You Didn't Know Were About Sex, and everything in between, there are endless articles and round ups to help you get your poetry on this month. Consider adding some diversity to your bookshelves with these 9 Latino Poets You Should Be Reading, or these 31 Contemporary Poets You Need To Read. Hate poetry? (Then National Poetry Month might not be your thing.) But don't give up until you've checked out a few of these Poetry Collections For People Who Think They Don't Like Poetry. See what I mean? We've got you covered.
8. Check out Twitter Poetry Club
National Poetry month is the perfect time to share your love of poetry with Twitter Poetry Club, an online community of poetry lovers who are using the hashtag #TwitterPoetryClub to share and discuss their favorite poems on Twitter. Here's how it works: Twitter Poetry Club meets on Twitter, on alternating Monday evenings from 7 p.m. to 10 p.m. EST. Members share their fave poems by Tweeting the title and author, hashtagging #TwitterPoetryClub, and including an image of the poem and/or a link to the full text. You definitely want to check it out.
9. Tweet National Poetry Month using #npm16
No matter how you decide to celebrate National Poetry Month, be sure to share all your poetic adventures on social media, using the hashtag #npm16. Can't wait to see you there!
Images: readsleepfangirl(2), mybookbath(3)/Instagram