Why You Should Rewatch 'Sabrina Goes To Rome' Now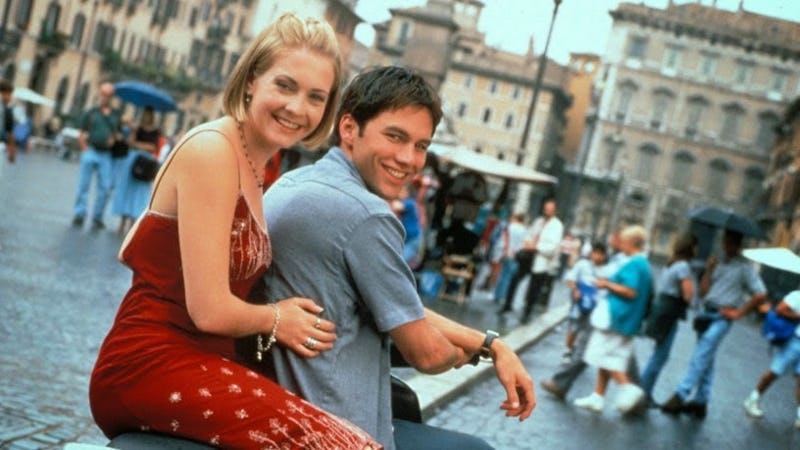 True story: until today I'd never watched Sabrina Goes To Rome . I know. I am a disgrace to my generation and my community of fellow Melissa Joan Hart enthusiasts. You guys, if you haven't watched it, ignore the Rotten Tomatoes rating. Two stars?! Pfft. I laugh in the face of your most popular rating system, entertainment industry. Sure, if by two stars you mean "La Dolce Vita meets Roman Holiday with all the boring stuff left out." It boasts: Salem striking up an unlikely friendship with a guinea pig, stunning shots of Rome, some late' 90s Madonna songs I'd never even heard from her underrated Ray of Light album, some wonderfully terrible special effects, and way too many pairs of pedal pushers to count.
If you're a longtime Sabrina fan, you'll know that no story, no matter how full of capers, came without a moral message for the viewers. This one was a little hazy. It was either "love is more important than magic" or "love is more important than money" or "never have a best friend, because he'll try and mess up your love life since he's a greedy capitalist" or "don't turn your crush into a pigeon." I guess it also could have been "give Madonna's mid-late catalogue a second chance," depending on how you look at it. They're all important, LBR.
Whatever the case, the movie is worth a watch (or a rewatch), and here's proof. Here, I have Sabrina Goes To Rome in chronologically ordered perfect moments.
1. We Are Definitely In 1998
Those stack rings. Zero smart phones. Even email's still a little new, thus the whole plot being conveyed in letter rather than digital form.
2. Happiest Terrible Driver In The World
I love this taxi driver's look. It's like Venice Beach meets backing dancer for a Sisqo track.
3. The Special FX Are Like, Whoa
Sabrina The Teenage Witch: Making James Cameron insecure about his special effects skills since 1996.
4. The Woman Who Runs Her Hotel Looks Like Sophia Loren
No new shops have opened in Italy since the 1950s.
5. Also, Sabrina Hates European Customs
Those "is it going to be two cheek kisses or three?" cold sweats? Same.
6. She's Sharing Her Room With A Girl From An Enid Blyton Novel
This picture: Italian Sophia Loren lookalike, late '90s Sabrina bringing sexy back, and the English girl from the Malory Towers boarding school novels. Sure, whatever works.
7. Getting The Hiccups Is A Really Big Deal When You're A Witch
Like, a really big deal. Like objects floating big deal.
8. Especially If You're Sharing A Room...
And have to keep on distracting your roomie so they're not like, why are objects in our room resisting the basic laws of physics?
9. Sometimes It's Fun Though. Like Playing Twister By Yourself?
Everything's completely normal here. No big deal. Just chilling out playing Twister with floating objects by myself.
10. Sabrina Wears A Crop Top To Bed
Because '90s.
10. This Is Like When You're Sharing A Hostel Room With Someone Younger And They're Like "Are You Tired? Want To Go Out And Do Shots All Night?"
And you're like, sure, screw that 10 a.m. walking tour.
11. Potential Love Interest number one
Sophia Loren's son! She goes full-on embarrassing mom: "Hey, I want my son to marry a witch! How about you, Sabrina?"
12. But Sabrina's Like...
"How do I swipe left in this pre-Tinder world?"
13. Best/Worst Outfits
Sabrina's cheer/cringe posture says what we're all thinking.
14. Love Interest number two
There are no words.
15. FYI: This Is His Best Friend
Shotgun, you guys. Shotgun. I called him first.
16. He's Like The Sabrina Version Of Jake Gyllenhaal In Nightcrawler
Exit Sabrina. Cue camera. Snap snap snap! I want to enlarge my pictures of you and get them tattooed on my chest.
17. Then This Happens And It's Important You Know About It
'90s burn: "You got cheese in your goatee."
18. Sabrina Ensures Someone Will Use The Adjective "Statuesque" About Her Looks
I went there.
19. British Girl Finds Innovative Solution To Lack Of Suitable Men In Rome
Gaze beseechingly at statue while trying to cast spell. Magic up dude giving you the glad eye behind you.
20. This Is How People Ask Other People On Dates In A Pre-Smartphone Age
Guys, you had to check outside your window a lot.
21. So Then Sabrina Proposes Wearing Culottes On Her Date And British Girl Is Like, Maybe Something More Mysterious?
This is an actual line in the movie. Culottes. Are. Not. Mysterious. Enough.
22. So Sabrina Joke-Tries Out This Outfit
Fox.
23. And Then Joke Tries Out Being A Sexy Sophia Loren Type
Because Rome.
24. But No. None Of These Outfits Are As Sexy As This Final Date Outfit
Riiight? Powder blue pedal pushers with matching cardigan?
25. Coffee In Europe Makes You Make This Face
True story.
26. Has Italian Cuisine Been Overhyped?
Seriously now questioning the whole Mediterranean diet/long-life connection.
27. But Life's OK Because Sabrina Owns These Sunglasses
Hey, Sabrina. Anastacia called, and she wants her glasses back.
28. Casting Spells And Being At Burning Man Seem Kind Of Similar
"It's just a really life-changing experience, you couldn't possibly understand."
29. Italian Fashion Is Pretty OK, I Guess
I bow down to the power of the dress. Sure, she looks like a bumblebee. But a sexy bumblebee.
30. "OK, OK. That's It. I'm Giving Up On Pursuing Romance With My Own Species"
Sometimes, it's OK to forget Mr. Right and go for Mr. Right Now.
31. Meanwhile, Against An Iron Gate Nearby...
It's pretty racy, but Sabrina was all geared up for it in scarlet.
32. Does Sabrina Have A Problem?
Not-so-secret pedal pusher addiction.
33. When You Go To A Party And Your Best Friend Shows Up In Basically The Same Thing
Not again!
34. And She's Like, Go Home And Change. I Bought This First
But seriously.
35. And You Talk Her Round
I'm in pink, you're in blue! They're totally different outfits!
36. The Saddest Party In The World
Awkward dancing, what appears to be orange juice, tables in the middle of the dancefloor. Rome, I know you can do better.
37. Sabrina Magics Her Lover Into Meeting His Family For The First Time
I'm not ashamed to tell you I cried a bit at this point. Further proof Sabrina Goes To Rome outranks La Dolce Vita.
38. This Is So Carrie In Sex And The City, I Can't Even
That irresistible whiff of romantic despair and white female privilege.
39. Don't Worry, Everything's Going To Be Fine. Your Lover Is Going To Give You This Horrible Awkward Platonic Hug
Cradle her head as if it's your child.
40. Ahh – That's Better
Scenic backdrop? Check. Taxi ready to speed you away to the airport if things get too "real"? Check.
41. The People Who Made Sabrina Goes To Rome Are Good People
The entertainment industry! Doing their bit for international diplomacy.
Images: Viacom Productions/Paramount Domestic Television (43)