Wait For More 'Fosters' With These TV Families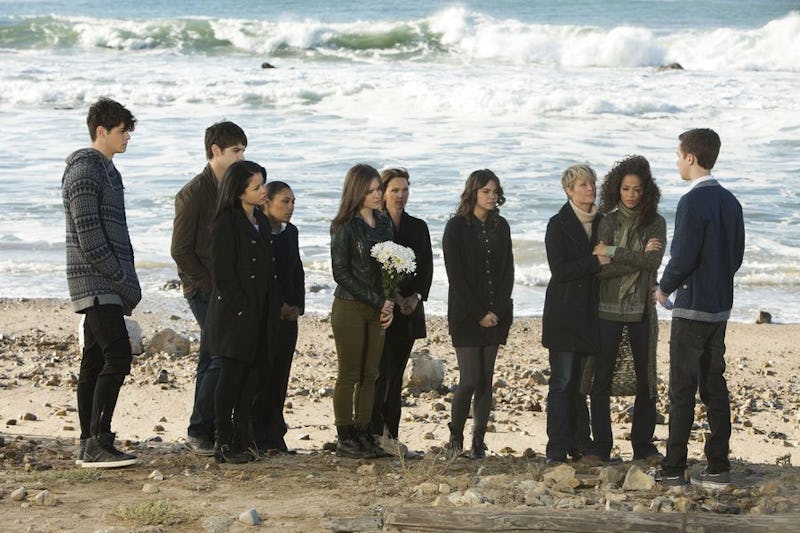 The penultimate episode of Season 3 of The Fosters was a doozy. (And if you haven't seen it yet, there are going to be some MAJOR SPOILERS ahead, so avert your eyes now if you don't like that sort of thing.) Last Monday's episode of The Fosters featured romance, death, and singing! I don't know what else the Freeform drama can throw at us before Season 3 is over, but we'll all just have to tune in to the Season 3 finale airing Monday at 8 p.m. ET to find out. But of course, that's a much easier question to get an answer to than when Season 4 of The Fosters will premiere.
As news of network TV renewals continues to pour in these days, we've thankfully already known for months that Freeform has renewed The Fosters for Season 4, Deadline reported in November 2015. Unfortunately, the news of the show's renewal wasn't accompanied by the reveal of a Season 4 premiere date. But don't worry, because that's pretty standard, as far as these types of announcements go.
Though we don't have an official premiere date for Season 4 of The Fosters just yet, we can always look to when the show's seasons have premiered in the past to give us an idea of when we can expect new episodes to air on Freeform once again. Freeform, which up until January 2016 had been known as ABC Family, tends to split up the seasons of its series into two parts with a good hiatus of a few months in between. All three seasons of The Fosters so far have premiered the first part of the season in June, run through part of August, and then the second part of the season has premiered in January and run through March, according to TV Guide.
So it's likely that Season 4 of The Fosters will follow the same pattern and premiere in June 2016. That's only about two-and-a-half months away, so let's hope The Fosters takes only that little break before it returns to Freeform.
One of the reasons why I (and I suspect many of you as well) hope The Fosters returns to TV soon is because of its refreshingly diverse point-of-view on family with the series revolving around the trials and tribulations of a multiracial family of biological and foster children raised by two moms.
But no matter what your family looks like, there's always a lot of drama in it, which is why so many TV dramas are about these unique relationships. The Fosters is one of the best family dramas on TV right now, but in its forthcoming absence, you might want to check out these exceptional recent family dramas that you can find on TV now, recently ended, or will be coming back soon to experience all of the love and heartache that only the interaction among relatives brings.
Parenthood
We said goodbye to Parenthood only a little more than a year ago on Jan. 29, 2015, but because this family drama was so satisfying, it feels like the Bravermans have been out of our lives for much longer than that. Luckily, you can still stream the entire series on Netflix to relive or experience for the first time all of the joy and pain that being a parent, child, and spouse brings.
Jane the Virgin
Like The Fosters, Jane the Virgin, which airs Monday nights at 9 p.m. ET on The CW, also focuses on a non-traditional family unit, thanks to main protagonist Jane Villanueva becoming accidentally artificially inseminated with a former crush's sperm. Throughout the series, Jane deals with how her family grows (in more ways than one) and the ever-evolving meaning of family, as well as all of the shenanigans that a series riffing off of over-the-top telenovelas brings. But all in all, you'd be hard-pressed to find a series on TV today that's more heartwarming than this one.
Gilmore Girls
A second TV series starring Lauren Graham (she also played Sarah Braverman in Parenthood) makes it on this list, as it should. I know, I know. Gilmore Girls has been off the air for some time. Its series finale aired on The CW on May 15, 2007, according to TV Guide. But have we ever forgotten about this family drama about a delightful mother-daughter duo that sometimes reverses roles and the eccentric inhabitants of a quaint town in Connecticut? I don't think so. Plus, with the upcoming Gilmore Girls revival on Netflix, there's no time like the present to return to Stars Hollow.
Shameless
Shameless returned to Showtime for Season 6 in January 2016, Variety reported, and it's easy to see why this family dramedy keeps on coming back. The series follows the not-so-responsible single dad Frank Gallagher as he raises (or doesn't raise) his six children. But he's not the only one in this family with his demons. Shameless wouldn't be nearly as interesting if he was.
Downton Abbey
Downton Abbey ended its run in the U.S. on March 6, and Sunday nights haven't been the same since. You might think that a series about a family of English aristocrats might be too straight-laced and refined to get really juicy. But when things like status, reputation, pride, and love are at stake, it can be an all-out war among the Crawleys and whoever stands in the way of their ambitions.
Bloodline
Families always have their secrets, and the Rayburn clan in Bloodline is no different. This family's secret just happens to be much worse than most. With that as a starting point and some fine acting from the likes of Kyle Chandler, Linda Cardellini, and Sissy Spacek, how could you not give Bloodline a try? The series returns to Netflix for Season 2 on May 27, according to Deadline, so you have plenty of time to catch up before then.
You can't pick your family, but you can pick what TV shows you watch. Hopefully, you find one or two family dramas within this bunch to keep you entertained until The Fosters finally returns for Season 4.
Images: Adam Rose/Freeform; Giphy (6)