Who's At The Tower Of Joy In The 'GOT' Teaser?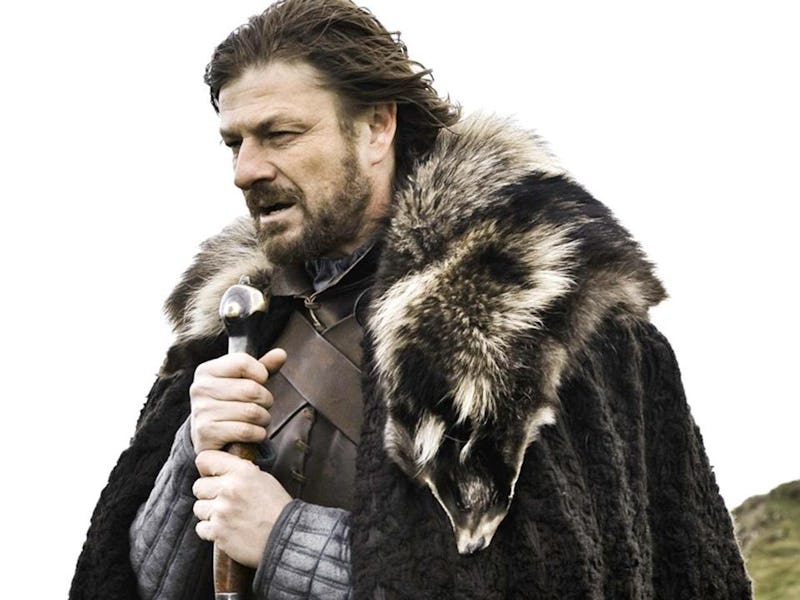 There's no basketball in Westeros, but that doesn't mean HBO didn't hop on the March Madness marketing train: on Friday, the network released another Game of Thrones teaser trailer ahead of the April 24 Season 6 premiere on network television, and as per usual, packed enough in the thirty second time-slot to elicit furtive speculation (though no nudity since it was on cable). While the full-length trailer released a few weeks ago was tinged with gloom and sorrow, this new thirty second spot is all about terror, because winter is here. And there's also a particular glimpse of the scene at the Tower of Joy with a suspiciously familiar looking face in it. (Spoilers ahead, which you should know by now.)
Winter Is Coming noted that in the scene from the flashback to the Tower Of Joy, there's a figure that looks quite like someone who died a long, long time ago: Lord Eddard Stark himself, with that signature half-up half-down hair, for a millisecond before cutting away. And although the new teaser shows no trace of Jon Snow — unlike the previous trailer, which had tons of shots of the Lord Commander's corpse — this scene could be a hint that viewers will finally get to see Lyanna Stark, who's suspected to be Jon Snow's real mother per the R + L = J theory.
Fans of George R.R. Martin's A Song Of Ice And Fire series know that the Tower of Joy scene is one of the series' most important flashbacks. In the beginning of the first book Ned Stark reflects back onto the battle at the Tower during Robert's rebellion, in which he and six other men take on the men of the Kingsguard standing watch over the Tower, where Ned's sister Lyanna has been supposedly kidnapped and held captive by the mad king's son Rhaegar. Ned and his fellow swordsman Howland Reed (father of Jojen and Meera) survive the battle, but it's too late — when Ned comes across Lyanna, she's already dying, and makes Ned promise to "protect her."
Fans assume that the yet-unknown (but hopefully soon to be revealed) final wish from Lyanna was for her brother to protect the identity of her son with Rhaegar, Jon Snow — which would make him a dragon. The Tower Of Joy snippet in the new teaser will only add fuel to the fire of the R + L = J theory; there's an intense swordfight by men in Kingsguard armor with what looks like Ned and his men.
The Tower of Joy scene, filmed at the stunning Castillo de Zafra in Guadalajara, Spain, could be the missing piece in the puzzle of Jon Snow's past. Sean Bean swore up and down that he would never be returning to Game Of Thrones, though, so who is that Ned-ish figure in the teaser? Don't forget that Sebastian Croft was cast as a young Ned Stark to appear in a flashback. There's been no news on who will play Lyanna Stark in the HBO show, or if she will even be in season six, but there's suspicion that she will be. Will the flashback to the Tower of Joy finally reveal what it was that Ned promised his sister all those years ago?
Images: Helen Sloan/HBO, HBO/YouTube