Watch The 'Lights Out' Trailer With The Lights Out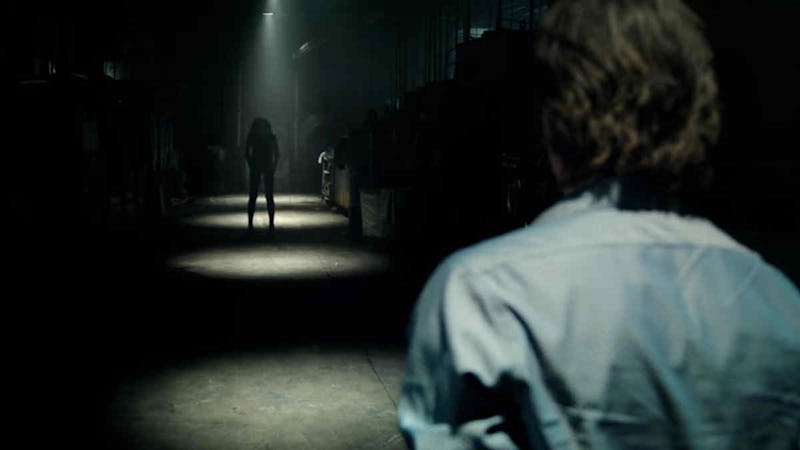 More isn't always necessarily better. DC unveiled their newest feature film this weekend, Batman V Superman, with a patience-testing 2.5+ hour runtime to decidedly mixed results. On the other end of the spectrum, there's the two-and-a-half minute short horror film Lights Out , which wastes no time in ratcheting up the tension with one location, one character — and one terrifying ghoul. That short film so memorably terrorized viewers when it was released three years ago that it has now had the honor of being turned into a feature-length film. And you can watch the first official Lights Out trailer now… if you dare.
David F. Sandberg, the director of the short, got the enviable chance to helm a feature version of his creation when prolific horror producer James Wan — the man behind such successful franchises as The Conjuring, Insidious, and Saw — saw the original Lights Out and loved its concept. For the uninitiated, that concept involves a creepy figure that can only be seen in shadow when the lights go out. For the upcoming feature, that concept has been expanded to include several different characters, played by the likes of Teresa Palmer (Warm Bodies) and Maria Bello (A History Of Violence), being stalked by the same shadowy apparition; but Sandberg's original vision is almost shocking in its simplicity. Behold:
Of course, Lights Out is far from the first short film to be turned into a feature. This transition can happen for several reasons: a producer can see a promising concept and bankroll an adaptation, like Wan did here; an aspiring feature director can make a short film as proof-of-concept in order to secure funding, like Damien Chazelle did with his Oscar-nominated Whiplash; or a filmmaker can even be inspired by a short decades later to create their own project.
Here are a handful of other horror/sci-fi movies that began their existence as short films:
1. The Evil Dead (1981)
Back in the late '70s, an unknown budding filmmaker by the name of Sam Raimi scraped together a couple thousand bucks, headed into the woods with his buddies — including an unknown budding actor by the name of Bruce Campbell — and made a short titled Within The Woods in order to attract the attention of potential producers. Three years later, the cult phenomenon known as The Evil Dead was born.
2. 12 Monkeys (1995)
When Universal Studios bought the rights to the bizarre 1962 French short La Jetée , they approached director Terry Gilliam to helm a feature-length adaptation of the time-travel story. The resulting sci-fi film, 12 Monkeys, is now considered a classic; it landed a young Brad Pitt his first Oscar nomination; and, a couple of decades later, it launched a Syfy original series of the same name.
3. Darkness Falls (2003)
What would happen if the Tooth Fairy was real — but instead of being a benign pixie, it was a vengeful, child-murdering spirit? That's the question that Joe Harris asked with his short film The Tooth Fairy , which would be turned into the 2003 campy horror flick Darkness Falls. Although Harris returned to write the screenplay, the director's chair was handed over to Jonathan Liebesman (now of MTV's The Shannara Chronicles).
4. The Grudge (2004)
Before Hollywood adapted the original Japanese horror film Ju-on as a vehicle for Sarah Michelle Gellar, that film itself was adapted from the original original short film, Katasumi . Together with a second short film featuring pale ghosts with long black hair, titled 4444444444, this short would go on to spawn nine Japanese films, three American films, seven novelizations, three comics series, one graphic novel, and one video game.
5. Saw (2004)
Turning a short into a feature is a process that James Wan knows well, since it's how he made his own debut film, the 2004 horror sensation Saw. Together with screenwriter Leigh Whannell, Wan made a low-budget version of one scene of their screenplay — the infamous "reverse bear trap" scene — and the pair was almost immediately rewarded with funding to produce their full script.
6. District 9 (2009)
In 2006, novice director Neill Blomkamp made a five-minute short called Alive In Joburg , a mockumentary about extraterrestrial refugees in Johannesburg. A year later, Peter Jackson hand-picked Blomkamp to make his feature-film debut with the live-action adaptation of the video game Halo, which Jackson was to produce. When that project fell apart, Jackson found other source material for the two of them to adapt together — Blomkamp's own short, which became the Oscar-nominated District 9.
7. Mama (2013)
In 2012, filmmaker Guillermo del Toro lauded short film Mama as "one of the scariest little scenes I've ever seen." So he took it upon himself to make sure the three-minute spook-fest would make the transition to the big screen, personally producing the adaptation and allowing untested Argentine director Andrés Muschietti to remain at the helm. Thanks to the association with del Toro's high-profile name, Muschietti was able to attract top-tier talent like Jessica Chastain and Nikolaj Coster-Waldau (Game Of Thrones).
8. The Babadook (2014)
As a female director making her feature-film debut in the often male-skewing horror genre, Aussie filmmaker Jennifer Kent decided the best first step would be to prove her mettle by making a short. And so Monster was born, a story about a mother and her young son terrorized by a ghoul in their home. After earning great acclaim on the festival circuit, Kent transformed her original effort into the sublime 2014 feature The Babadook.
9. Oculus (2014)
One man. A bare white room. A camcorder. And a (supposedly) haunted mirror. That's the bare-bones set-up of the 2006 short film Oculus Chapter 3: The Man With The Plan . (And no, there was never a Chapter 1 or 2.) Almost a decade later, writer/director Mike Flanagan got the opportunity to put his short on the silver screen thanks to Blumhouse Productions — the company behind such low-budget smash hits as Paranormal Activity, The Purge, and Sinister. And so we were gifted with perhaps one of the trippiest horror movies ever put to film.
Like those nine former short films before it, Lights Out will scare its way into darkened movie theaters on July 22. In the meantime, turn off the lights and watch the trailer right here — I dare you.
Images: Warner Bros. Pictures