Jane & Michael Took A Big Step On 'JTV'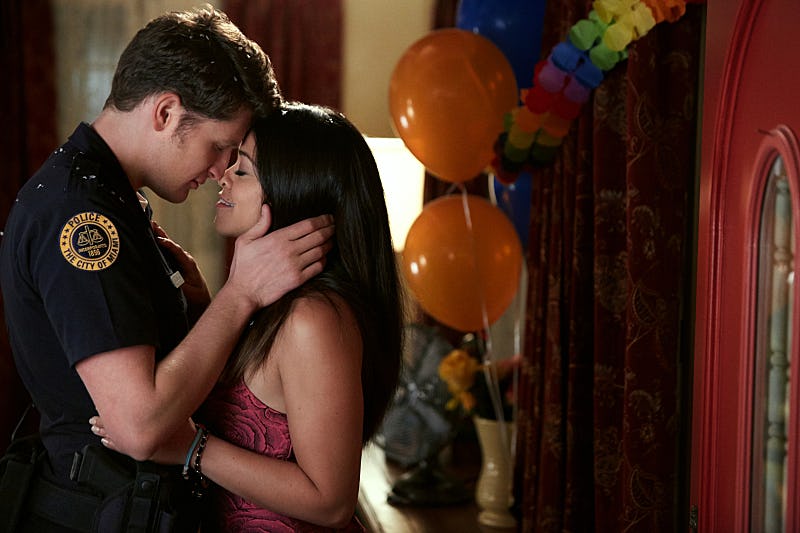 We've seen Jane tackle some major life hurdles throughout the past two seasons, but Monday night's episode marked yet another significant turning point in her ascension to adulthood. Jane and Michael bought a house on Jane the Virgin , a fact that is bound to make all Team Michel 'shipper hearts soar. So just in case you had any doubts whatsoever on the seriousness of their relationship, this more than proves that these two are endgame. Buying a house is a huge deal and commits you to one another long before any "I dos" are spoken. But most importantly, it's house that they really seem to love and one that doesn't take them too far away from everyone they love.
You see, originally, the house that they had their eye on was a 39-minute commute away from their current location, which means that Rafael would be far away from Matteo and potential miss some major moments of his life. Naturally, Rafael hated the idea and was about to refuse that they take the place — that is until Petra gave him a bit of perspective on the matter. But, in the end, it was Jane who decided to find someplace closer, knowing that it would be better for Mateo to have both of his parents close at hand. But the important thing was that Jane made the decision herself, not Rafael.
Either way, though, the nearby house they selected (courtesy of Petra) seems to be everything that they wanted and more. Granted, it'll be weird for Jane to no longer be living with Alba and Xo, but it's all apart of the growing up process. Plus, Jane has already proven time and time again that she's more than ready to take on the world outside of the nest. Welcome to the wonderful world of real estate!
Image: Tyler Golden/The CW