Brittany Addresses That Stinky 'Pump Rules' Scene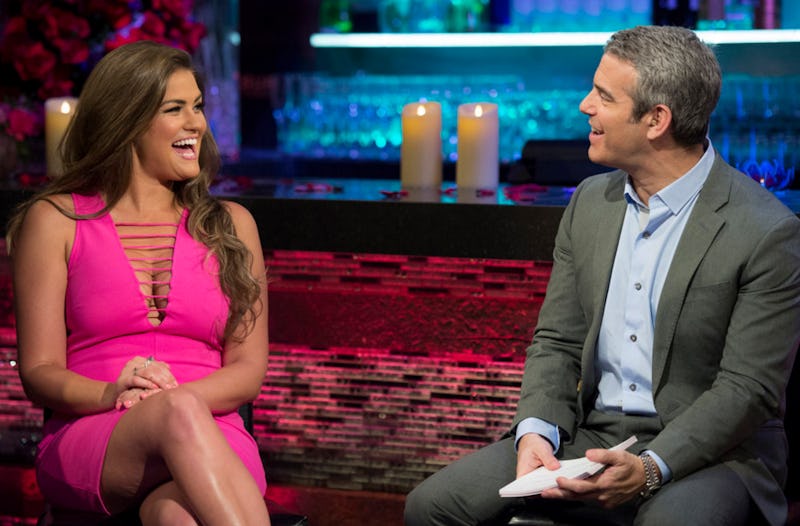 On Monday night's installment of the three-part Vanderpump Rules Season 4 reunion, Brittany, Jax's girlfriend, stopped by the melee for a bit. While the Pump Rules newcomer sat in the hot seat, host/hero Andy Cohen brought up the sunglass thievery, the Lala flirtation, the implants, and whether or not Brittany Googled Jax at the beginning of their courtship (she didn't). To crap, er, cap off the Jax and Brittany relationship segment, Andy referred to one of the big talking points of the season: The moment when Jax took a number two while the bathroom door was wide open. While Brittany was home. And while a film crew was in his studio apartment. It was a small scene, yes. A mere sliver of the jam-packed, 20-episode season. And yet, the scene wafted in the breeze, caught the attention of our noses, er, minds, and latched onto our subconsciouses. May we never flush this scene away.
"Does it bother you that he poops with the door open?" Andy asked the reformed philanderer's beyond endearing significant other. And sweet, sweet Brittany smiled a sweet smile and laughed a sweet laugh. She seemed relatively unfazed by it, shrugging at the countless times they've had conversations where he's sitting on the can and his voice "sounds clear." Hey, why muffle your voice with a lavatory door if you don't have to?
"The dog comes in and hang out, sometimes I can see the TV and the game's on," Jax interjected. He then said something along the lines of "everybody poops with the door open." Lisa did not agree with this one bit. So much so, she made this face:
"In my house, we poop with the door open," Jax said. And that was that. Hey, Jax? You keep pooing you, dude. You keep pooing you.
Image: Nicole Weingart/Bravo; Bravo