Lisa & Stassi Face Off On 'Pump Rules' Reunion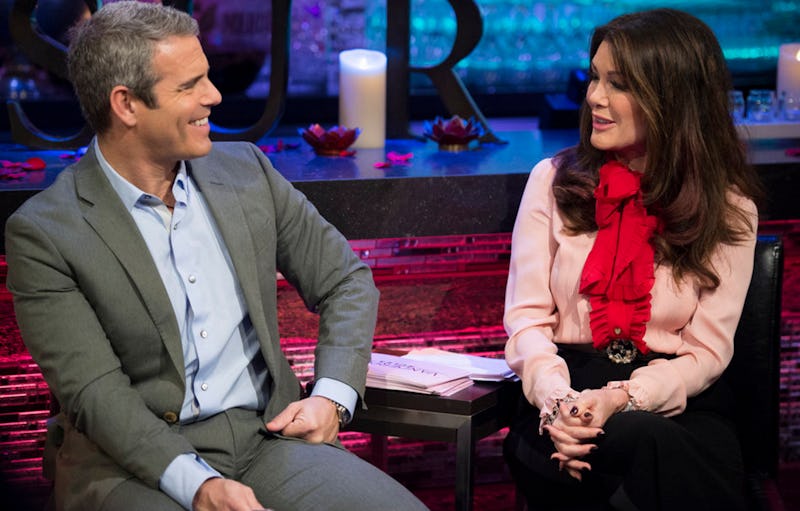 "I think if there wasn't this show, none of you would've ever heard from Stassi Schroeder again." When empress of SUR Lisa Vanderpump uttered that sentence on Monday night's installment of the Vanderpump Rules Season 4 reunion, a chill ran down my spine. In that moment, she simultaneously crushed what was left of the fourth wall and crushed what was left of my Stassi and Lisa reconciliation dreams. I was not prepared for such an ice cold dose of real talk.
In the final quarter of the second episode of the three-part reunion, host Andy Cohen welcomed ex-SURver Stassi to the hot seat. Just when I thought the Stassi versus James sniping was about as heated as it was going to get, Lisa Vanderpump interjected with the "I think if there wasn't this show..." dry ice bomb. I don't think I've ever been more riveted by a TV series than I was in that moment.
The restauranteur insisted that her former employee only mended fences with her friends-turned-enemies-turned-friends because she missed being a part of the Bravo reality series. And as far as the statements that Stassi made about Lisa, the restaurant, and her costars are concerned? The Real Housewives of Beverly Hills star did not accept Stassi's SUR-pology/failed cash handoff after all. Lisa was not buyin' what Stassi was sellin'.
"When she came to me [at SUR], I thought for a moment it was very genuine," Lisa explained. "I thought, 'Maybe she's changed.' But seeing you now, I see it was disingenuous."
The two women went back and forth about respect and apologies and opportunities and the TV show and not being wholeheartedly in love with one another.
"Do you still think right now that I've done nothing for you to put you where you are, to give you the opportunities?" Lisa asked.
"I feel that you hold things over my head," Stassi replied. "Like I owe the rest of my life to you all of the time."
The argued some more. Lisa repeatedly stated that she did not want Stassi to leave Vanderpump Rules: "I begged you not to walk away from all of the opportunities," Lisa explained, "and you came to me and said, 'Thank you so much,' and then you went and said, 'What has she ever done for me?' How does that make me feel?"
Oof. I'll tell you how that makes me feel:
"You went away, you trashed us," Lisa continued. "You were reconciliatory, and soon as the cameras were on you, you trashed me again."
But before any resolution (or non-resolution) could take place, the second part of the Pump Rules reunion drew to a close. Where, oh where will next week's episode take us? Is this really it for Stassi and Lisa? Or will someone pull a Brandi Glanville and hand over a Pump Lounge olive branch? We should be so lucky!
Images: Nicole Weingart/Bravo; bricesander/tumblr