7 Affordable Oval Brushes That'll Get The Job Done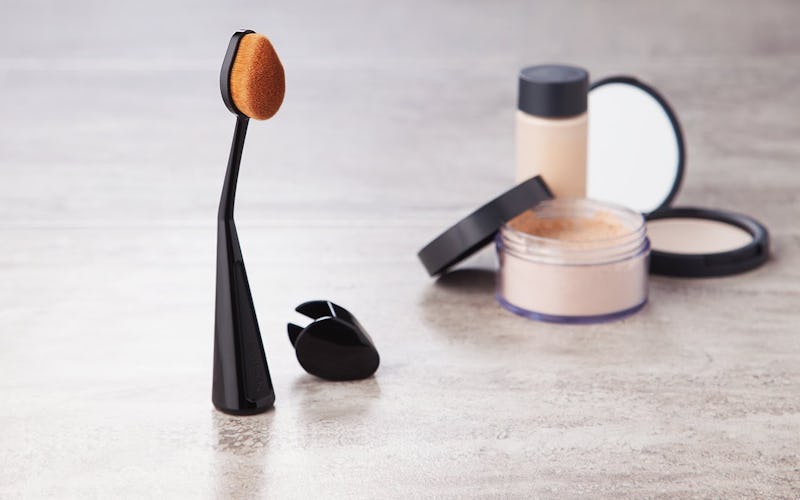 If you're a makeup guru like me, you have probably purchased at least one or two professional brushes before, but when it comes to applying foundation, the new beauty trend seems to be the oval brush. Tons of beauty publications are giving the Artis brush amazing reviews, but for those of us ballin' on a budget, a $65+ brush might out of the question. Worry not, however, and instead, shop these affordable oval brushes so you can try out the new makeup brush trend.
If you aren't familiar with the oval brush trend, despite their toothbrush-like aesthetics, they're great for blending and evenly applying foundation as well as concealer, highlighter and blush. While I haven't tried all of these myself, I scoured the Internet to find beauty bloggers who have tried and reviewed alternative versions of the Artis. Some of the brushes they tried were as little as $3 and seemed to get the job done pretty well. This just goes to show that for smart shoppers, there are always suitable alternatives to even the most popular products on the market!
Here are a few of the brands that might be worth a try before you pull the trigger on an Artis...
For just $17, Juana Jasso is more than happy with her purchase of the Owow! oval brush.
O! Wow Brush, $15, Amazon
In the above video, Youtube blogger nz0424 shows off the silk natural brushes she purchased for just $5. While they aren't perfect, they get the job done well — especially for the price!
Silk Naturals Oval Brush, $5, Silk Naturals
Cherly Ann Chong simply wasn't able to find the Artis in her country, so she went for the Etude House Secret Brush 121 and loved it.
Etude House Secret Brush 121, $10, Amazon
For less than $2, you really have nothing to lose by trying Bimmer's Pro Cosmetic Makeup Brush.
Bimmer's Pro Cosmetic Makeup Brush, $2, Amazon
5. Silah
While this set Silah 10 Piece Oval Brush Set will set you back a hundred, the price is still just 1/4 of the full Artis brush set.
Silah 10 Piece Oval Brush Set, $98, Silah
Even if you're on a tight beauty product budget, there are options out there and you, too, can have flawless, airbrushed foundation with any one of these alternatives!
Want more fashion and beauty tips? Check out the video below and subscribe to Bustle on YouTube!
Images: Owow!. Courtesy of Brands