Tamar Davis Can Win 'The Voice'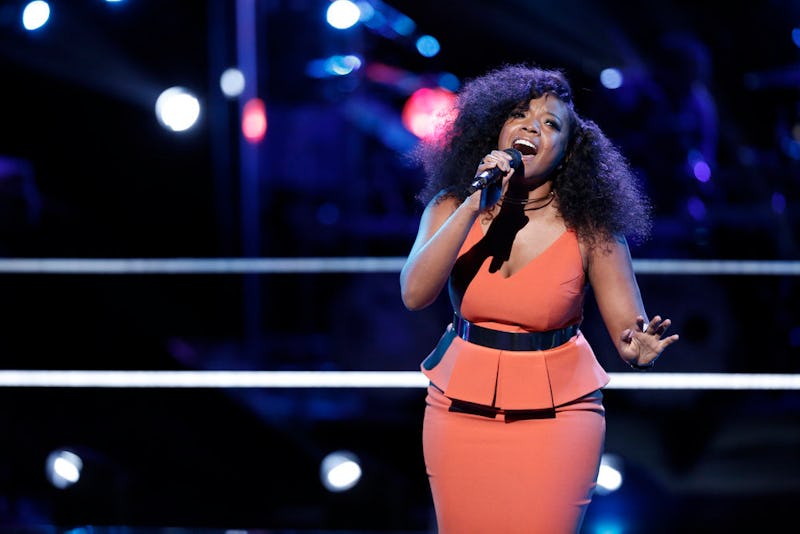 You guys, I am speechless. This season of The Voice has to be the best ever and we just heard the performance of the year. Tamar Davis transformed Sam Smith's "Lay Me Down" into a female power anthem that was unreal. Seriously, give this girl a recording contract now because she can sing. It was almost unfair to pair her against anyone, but Maya Smith was the unlucky victim. Smith gave the Knockout her best shot, but her fate was sealed from the start. Davis has true star power and has proved once again that she has a real shot at winning The Voice Season 10.
There's no denying that Davis has an unfair advantage in this game. The 35-year-old is no stranger to the music industry — she started her career over 20 years ago as one of the original member of Girls Tyme, which is better known as the group where both Beyonce and Destiny's Child got it's start. But despite her experience and talent, she has had trouble launching her solo career. That's why she came to The Voice.
Season 10 is absolutely the most talented season of The Voice yet — and Davis has contributed to that. Every single one of her performance so far has been mic-drop worthy, but her Knockout performance was by far the best. As Adam Levine noted, Davis's performance of "Lay Me Down" will "put her on the map." Her performance calls to mind some of the greats, like Whitney Houston, which she could soon join the ranks of. Davis's Knockout Round was an all-star performance that will serve as a major turning point for her in this competition.
So is The Voice the platform in which Davis will finally launch her solo career? Absolutely. Her talent shines against her talented, yet less experienced, competition. The Voice stage is also the first platform in which she gets to take centerstage, literally. This gives Davis the spotlight and attention she needs to make it big on her own. Whether she wins The Voice or not, there's no doubt that we'll be hearing a lot more from her. Watch out world, because Tamar Davis is just getting started.
Image: Tyler Goldern/NBC