Make A Caramelized Honey Latte Like A Pro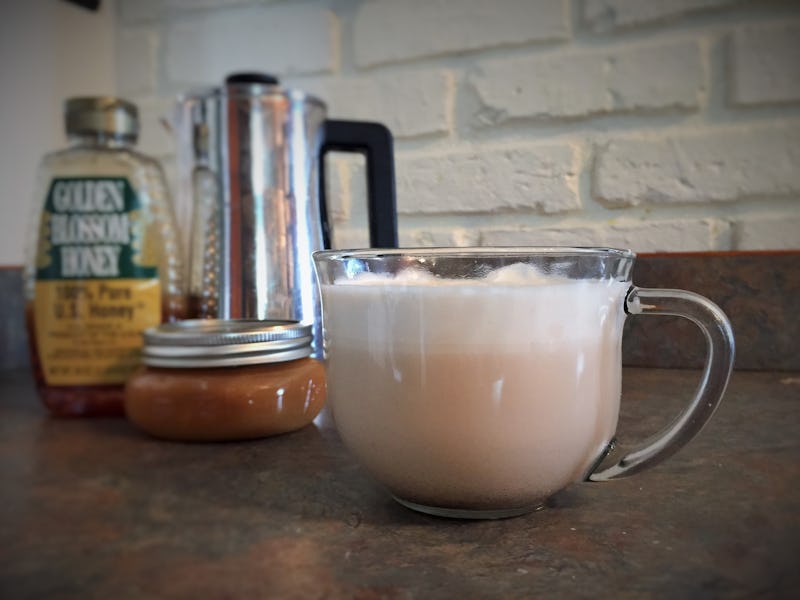 Another week, another new Starbucks drink, am I right? Just when you thought you couldn't get over the departure of the limited time only Cherry Blossom Frapuccino, the coffee gods gifted us with a new spring beverage, and once I tried it for myself, I immediately ran home to figure out how to make the Starbucks Caramelized Honey Latte myself.
Sweet, creamy, caffeinated, and yes, only available for a limited time, this is the perfect afternoon pick-me-up. The perfect combination of bold espresso, steamed milk, and Starbucks' new slow-cooked honey caramel sauce, this latte is both totally new and a little familiar. It's a little reminiscent in taste to Starbucks' other caramel-based drinks like everyone's favorite caramel latte, but the hint of sweet honey flavor and the rich profile of the caramel lets this beverage stand out from all the rest. It's smooth, compulsively drinkable, and surprisingly easy to make at home.
The basic recipe for the Caramelized Honey Latte is similar to other Starbucks latte recipes, which start with DIY steamed milk and a shot of espresso or strong coffee, but the slow-cooked honey caramel sauce was a brand new adventure. After two burnt pans and one minor caramel explosion, I was able to master the art of sauce making, and learned one very important thing in the process: never, ever walk away from a boiling pot of caramel.
Get out your coffee grinder and be prepared to get sticky, because here is everything you need to know so you can make a Starbucks Caramelized Honey Latte at home.
Ingredients
Honey Caramel Sauce
3/4 cup heavy whipping cream
1/2 cup granulated sugar
2 tbsp. water
4 tbsp. honey
1/2 stick (4 tbsp.) unsalted butter, softened
1/2 tsp vanilla extract
Latte
1 cup of steamed milk
2 oz. espresso or strong coffee
Directions
1. Start by making the honey caramel sauce. In a small sauce pan, heat whipping cream over medium heat until boiling.
2. In a separate medium sauce pan, combine sugar, water, and honey. Heat over medium heat until boiling. Reduce heat to medium-low, and let cook for five to eight minutes without stirring, until the mixture turns a dark amber color.
3. Slowly add in the heated whipping cream to the pan, and stir continually. It will bubble over, so be careful. Lower the heat and continue stirring for about 10 minutes, to give the mixture the slow-cooked taste. Set aside to cool.
4. In the serving glass, add two ounces of espresso or strong coffee. Mix in two tablespoons of honey caramel sauce.
5. Add in steamed milk. Serve immediately.
The Verdict
Thank goodness the recipe for the caramel honey sauce makes an entire cup, because you're going to want to make this recipe again. This delicious and irresistible espresso drink has everything you want from a steaming coffee beverage: sweet notes of caramel and honey, bold coffee flavor, and warm layers of steamed milk to tie it all together. Though I couldn't master the art of creating crunchy bits of caramel in my sauce, this DIY version of the Starbucks Caramelized Honey Latte is a fitting substitute for the real thing. Enjoy!
For more ideas, check out Bustle on YouTube.
Images: Sadie Trombetta