How To Make A Starbucks Smoked Butterscotch Latte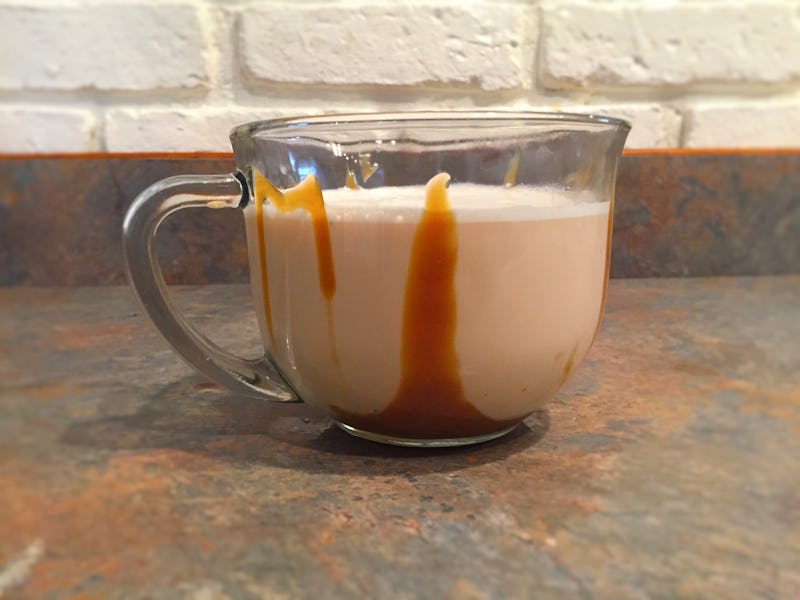 Sorry, chocolate lovers, but when it comes to candy, nothing beats that perfectly sweet, salty, and buttery combination of butterscotch — which is why, when Starbucks announced its newest limited-time beverages, I couldn't wait to get my hands on the Smoked Butterscotch Latte. I've tried a lot of coffee beverages in my day, but this one has officially stolen my heart, and since its release is limited, I had to try and figure out how to make a Smoked Butterscotch Latte for myself at home.
If you've already treated yourself to one, then you know that the Smoked Butterscotch Latte is a blend of creamy steamed milk and the smooth flavor of butterscotch with just a hint of smokiness and spices, all balanced out with a dose of full-bodied espresso. It's sweet without being too sugary, familiar in taste while still managing to stand out from Starbucks' other offerings, and it's just the thing your morning has been waiting for. Seriously, it's happiness in a paper cup, but you have to get it now, because the new Starbucks drink is only available until March 21.
You can get them while they last, or you could learn how to make your own version of Starbucks' Smoked Butterscotch Latte at home with this easy recipe. That way, you'll never have to say goodbye to your new favorite drink.
Ingredients
1 1/2 tbsp. of butterscotch syrup
1 cup of steamed milk
2 oz. espresso or strong coffee
Crushed butterscotch candy for topping (optional)
Directions
1. To make steamed milk without a machine, pour milk into a microwave-safe container with a lid. Add half a tablespoon of butterscotch syrup (like the kind you would use on ice cream). Shake vigorously for 30 to 60 seconds, until it becomes frothy and doubles in size. Microwave for 20 to 30 seconds, or until warm.
2. Drizzle one tablespoon of the butterscotch syrup all over the inside of a mug that is at least 12 ounces.
3. Add espresso or strong coffee to the cup.
4. Pour the steamed milk over the espresso until the cup is filled. Sprinkle crushed butterscotch pieces on top, and serve immediately.
The Verdict
While I couldn't make up for the smokiness that the original Starbucks drink offers — trust me, I tried and burnt a lot of butterscotch in the process — my at-home creation shared the sweet, smooth flavor profile of a store-bought Smoked Butterscotch Latte. The taste of bold espresso cut the sugariness of the butterscotch syrup and brought out its salty, buttery undertones to create a wonderful caffeinated beverage that blows any old cup of coffee out the window.
You might want to stock up on butterscotch now, because once you try this drink, you'll want to make it all the time.
Want more fun food ideas? Check out Bustle on YouTube.
Images: Sadie Trombetta