What Book To Read Based On Your Fave GG Character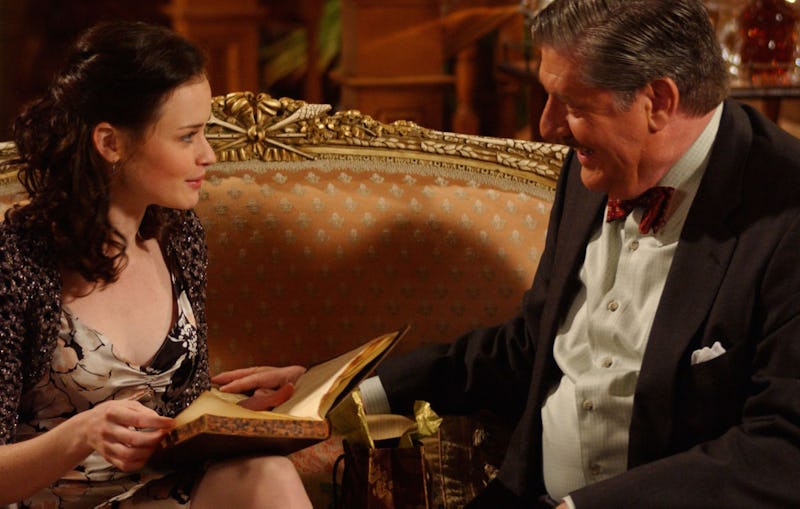 It's a good time to be a Gilmore Girls fan. First, Netflix added all seven seasons to its streaming list, so Stars Hollow fans could binge watch their favorite fast-talking, coffee-drinking mother-daughter duo. And that wasn't even the end of the story: I pretty much dropped my latte when I heard that Netflix would also be rebooting Gilmore Girls for a four-part special called Seasons (and then obsessively stalked social media for revival updates).
Of course, we still have to wait a little longer for the show's release, and if you, like me, have already watched the original seasons on Netflix, rewatched them, and then updated your wardrobe to channel Lorelai's best fashion moments, the best thing to do now is to turn to books. After all, if there's anything the characters of Gilmore Girls taught us, it's that reading is essential. So is coffee. And witty banter.
Rory reads a lot of books in the show, so a great starting place on your Amy Sherman-Palladino-inspired reading journey would be to read… everything on Rory's reading list. But maybe you're not looking to clear out the shelves of your library's classics section. Maybe you have a different favorite character from Stars Hollow, and you'd rather read something they would recommend. Never fear, we've got you covered. From Luke to Logan to Kirk, the characters of Stars Hollow all have literary equivalents to keep you busy until Seasons finally premieres.
This humorous novel follows the adventures of mother-daughter BFFs Bernadette and Bee, and Bee's search to find her mother when she goes missing. The witty language and charming, quirky characters will appeal to anyone who has a special place in their heart for independent Lorelai Gilmore.
A secret society. A competitive school. (Ex) boyfriends. Gender politics. Quick-witted dialogue. Rory Gilmore would DEFINITELY be into this young adult gem. Once you've finished off your probably extensive reading list, pick this one up for fun if your favorite Stars Hollow character golden girl Rory Gilmore.
Chef Lillian gives a cooking class in her restaurant every Monday night, but her eight students are seeking more than just recipes. Each of them have stories which intertwine in this culinary novel. Friendship and food? Sounds like something Sookie would adore.
Straightforward and informative, this nonfiction book chronicles the history of the American diner. It's complete with beautiful, historical photographs of classic American diners, alongside their stories. Lorelai would probably buy Luke a copy of Gil's All Fright Diner , but I'm thinking he would probably pick up this one instead.
This gorgeous book by illustrator Ricardo Cavolo features illustrations of musicians such as Bach. And Nirvana. I picked it up at the bookstore just because it was so beautiful, but it kept my attention because of the interesting anecdotes and trivia printed alongside the illustrations. Lane Kim, rock star and music aficionado, would definitely add this to the collection under her floorboards.
Renée is a cantankerous French concierge who seems rough around the edges, but actually is a cultured, intelligent person with a lot of heart. Sound familiar?? Michel would definitely be into the story of Renée as her life becomes intertwined with the tenants in her building.
Emily Gilmore: Emma By Jane Austen
Clever, handsome, rich — this describes both Emma Woodhouse and everyone's favorite matriarch, Emily Gilmore. Emily thinks she knows it all, and sometimes she goes a little too far... just like Emma Woodhouse. But truly, she has the best intentions. And naturally, if you adore the classy Mrs. Gilmore, you can't go wrong reading this timeless classic.
In the show, Richard reads the whole thing. I'm guessing that if the intellectual Gilmore patriarch is your favorite character, you might be up to the challenge.
Paris Geller: #GIRLBOSS By Sophia Amoruso
I imagine Paris's overflowing bookshelf probably has a lot of autobiographies of successful people, because she knows she's destined to be one of them. #GIRLBOSS, written by the CEO and founder of Nasty Gal, would no doubt find a way onto that shelf. After all, Paris would need to memorize all Amoruso's tips for ambitious young women, so she could complete her takeover.
Dean Forester: Flipped By Wendelin Van Draanen
Flipped is a lovely YA story about Bryce, the boy next door, and Juli, the intellectual and bold girl who falls for him. It's about first love, discovering who a person really is, and growing up — all themes present in Dean's plot arc.
Logan reminds me a bit of Newland Archer, protagonist in The Age of Innocence. Like Newland, Logan feels constricted by his wealthy family's expectations, and tends to showcase his rebellion in his romantic life.
Jess Mariano: On The Road By Jack Kerouac
Counterculture, jazz, poetry, the beat generation... The themes in this book sum up rebel Jass Mariano. Actually, he reads this book in the show, so you know he'd recommend it, along with some Hemingway and Bukowski. For a full list of Jess Mariano recs, check out this list on Goodreads.
Kirk Gleason: Welcome To Night Vale By Joseph Fink And Jeffrey Cranor
If you love Kirk's bizarre antics, you'll like this book based on the popular podcast. Set in the strange town of Night Vale, the book follows pawn shop owner Jackie Fiero and PTA treasurer Diane Crayton on a series of quirky adventures that would make Kirk proud.
The story of aspiring ballerina Mira in the 1977 world of the New York City ballet is perfect for Miss Patty fans. It's got just the right amount of romance and glamour to make the dramatic ballet teacher of Stars Hollow proud.
Image: Warner Bros Television (1)