10 Things To Do Instead Of Going To Your Prom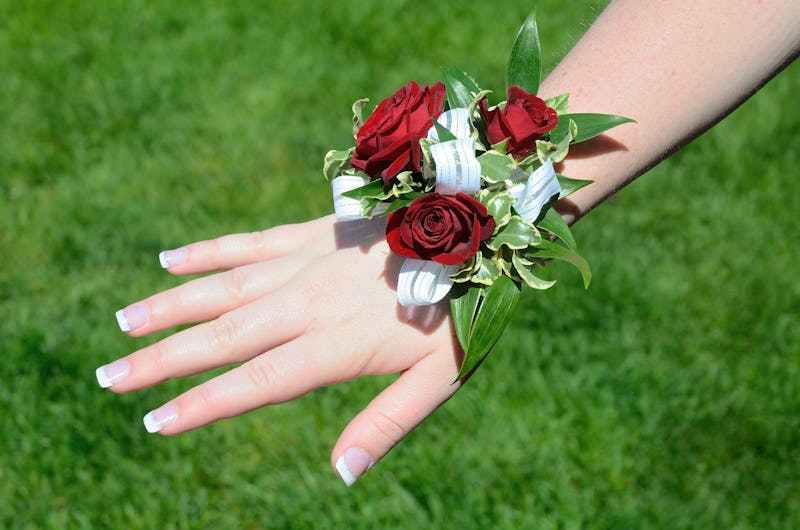 If you're on the fence about going to the prom, know that the indecision is totally natural — while it's fun to buy a pretty dress, and party with friends, it's kind of an expensive (and super over-hyped) high school tradition that may make you want to skip the dramatics and just do something that's way more fun for you. Luckily, there are plenty of things to do instead of prom that'll make you feel like you didn't totally miss out.
But first thing's first — here's some prom advice from someone who chose to go. (Albeit a million years ago, but I'm guessing that besides the new, scary tradition of promposals, not too much has changed. Promposals? Come on. Like a high school student doesn't already have enough pressure on their plate.) I spent like, maybe $60 on a dress that was kind of non-traditional, invited a guy friend I got along with super well, since I was eternally single, and had absolutely no expectations from the night, besides "I'm going to eat a dinner that's a step up from what I would have had if I stayed home." It was definitely fun, but the fond memories died the second I hit college — it was what it was, and while I like to reflect on pictures, it didn't make or break my high school experience.
Really, I could have skipped it. I could have planned my own adventure that didn't come with so much worry and tension over nail polish and hairstyles. The most important thing is using the night to do something that's memorable for you.
Here are a few alternate ideas if you're planning on ditching prom. (And, I'll make sure a few of them include dressing up, since it's really, really fun to dress up, and you don't have to attend a prom in order to do so.)
1. Go out to a fancy dinner with your best friends
If your best friends aren't going, rally them up and book a reservation to a fancy place that you've always wanted to try. This is a perfect excuse to pick out a new dress, but obviously that's optional if you're not into it. Bring a camera and make your own memories. After all, you'll be creating an experience that's pretty close to a prom, but way more exclusive, way less expensive, and with people you actually enjoy spending time with.
2. Book a spa day
Prom preparation can often be a nightmare — especially when you're trying to cram in a hair appointment, nail appointment, and the obligatory pre-prom photoshoot all in one afternoon. Instead of dealing with that headache, pamper yourself with a relaxing trip to the spa. Hey, when the rest of your high school is nursing their blistered feet based on shoes that were more fashionable than functional, you could be getting a full massage.
3. Take a small weekend trip
Nothing crazy, of course — unless you're an adventurous soul who is no stranger to long road trips. The best part about gathering your friends and hitting the road is that you'll feel a sense of absolute freedom. Or, you could even go solo, as long as you have a solid itinerary and let your parents in on it. If you've been aching to see a state landmark for years, or if you're planning on going to college out of state and want to have one last big memory of your hometown, this is the perfect excuse to fill up your tank and take a drive.
4. Dedicate the day to learning a new hobby
Knitting? Sewing? Basket weaving? Wherever your interests lie, this might be a good day to start working on a hobby that has always intrigued you. Consider picking up a craft that might turn out to be a really useful skill to have in college — after all, if you're into saving money, homemade scarves and hats make wonderful holiday gifts. If you've pushed aside learning a new hobby since you didn't have the time, remember that even if you don't go to the prom, it's still your night.
5. Tour your college of choice
You've been excited since application day, and you can't wait for the next step in your life — college. Unless your college of choice is a plane ride away, it'd make sense to get a great feel for the campus early on. If the college has shut down due to summer break, it's an even better excuse to walk around and try to get a feel as to where everything is, so you won't join the hundreds of other college freshman that are trying to navigate a campus map in a few months.
6. Prom dress bowling
If you already got your dress and plans fell through, or if you're just itching to look sparkly for a night, prom dress bowling is an awesome alternative to actually going to the prom. Gather up a "league," lace up your bowling shoes (which I'm sure will totally look amazing, since believe it or not, I honestly think bowling shoes look awesome with any ensemble), and have a fun time. If you stink at bowling, there's no shame in adding bumpers to your lane. In fact, it might make it even more fun.
7. Go to the movies
It's always a good night to catch a movie. See what's playing, and if nothing really floats your boat, choose the most ridiculous film you can find. Who knows? Maybe you'll stumble upon a hidden gem.
8. Get nostalgic
Part of the fun of prom is being able to reminisce over the last four years with the people you suffered through algebra with. Besides graduation, it's a good "farewell" event. Even if you're not there, it doesn't mean you can't get a little closure. Flip through old photos, laugh about old memories with friends, or goof on how naive you were as a freshman regarding hairstyle choices. (No shame. We've all gotten the "fashionable" cut before that turned into a nightmare.) If you can plan your own farewell "ceremony" at home, even better. In fact, you might as well make it a sleepover. Tell your friends to bring their very best photos and inside jokes, and make a night out of it.
9. Have a fun (insert your fave actor here) movie marathon at home
Scroll through IMDB, and see how far back you can go. Chances are, your favorite actor was probably in some strange movie back in 2007 playing "Bartender 1," and it was likely a stunning performance that you shouldn't miss. Grab some popcorn, and enjoy the film.
10. Host an outdoor photo shoot with your best friends
Whether it's new dresses, or just something you have in your closet that makes you feel fabulous, gather your friends and take your own amazing photos of you guys looking your best. By taking your own photos, you're in total control over poses and expressions, and you'll likely get a few amazing shots that you'll be able to cherish for quite some time. You don't even need a fancy camera, if you've got a reliable smartphone.
Images: Giphy (10), Fotolia