11 Things Girls HAD to Wear to Prom in the 2000s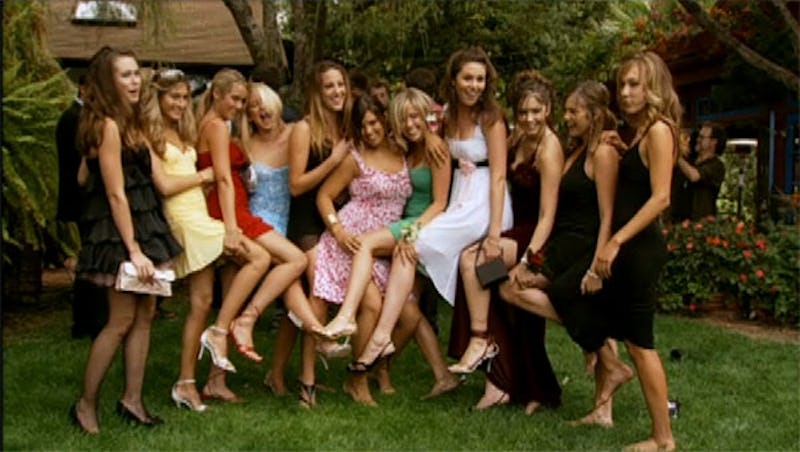 Prom is basically a high school girl's wedding day. With a limited number of chances to get hair and makeup professionally done and splurge on the perfect dress, it's no doubt for one night girls wanted to wear these 11 things to prom in the early 2000s. Lets us not forget, however, trends in the early 00s were much different than they are today. Instead of two piece, high-waisted dresses, the prom-goers of the 2000s preferred A-line dresses with straps and shawls for warmth. Regardless of style preferences, these 11 items were a staple at every 00s prom.
For my junior prom, my older sister decided to come home from college and help me get ready for my "big day." She wanted to help with my makeup, and at the time, she was very excited about her new love for gel eyeliner and a desire to look like the women in Mary Kay catalogues. Although I so appreciated her coming home and her efforts, I instead ended up looking like an overdone Barbie Doll. And looking at photos from my friends' proms, that seemed to be a common theme.
My night was not ruined, though, because I still had these 11 items that were basically staples in the 2000s prom. And an awesome date and group of friends, of course.
1. A Ballgown
Although she did not wear this to her prom, Rory Gilmore's dress she wore to the Daughters of the American Revolution Annual Debutant Ball was the perfect ball gown for a 2000s prom dress. Dresses during that time had high necklines, spaghetti straps, and visible boning for an extra layer of class. Oh, and of course you had to pair it with fluffy accessories, just like Rory did.
2. Spaghetti Straps
Whether in a halter form or spaghetti, tiny little straps were a major staple of the 2000s prom dress. At least, it was a major staple on the main characters of "Laguna Beach." For both seasons.
3. Clothes Made Of Duct Tape
This couple went a little awesomely over the top, but duct tape bow ties and corsets were a major staple of the early 2000s prom. Today, organizations like The Stuck at Prom Scholarship program provides scholarships for students who, like these two, go above and beyond with duct tape for their prom attire.
4. Shawls
Even Cat, the rebellious main character from the classic 10 Things I Hate About You, brought a shawl along to her prom to protect her from the nightchills. These shawls looked ~very classy~ in photos, so it didn't really matter how annoying they were to deal with at the actual dance.
5. Flowers In An Updo
Another aspect of teen life Rory Gilmore did well: her private school prom. With a mom who made her dress and a friend who did her hair, how could she not? But what really topped off this look were the white flowers laid gently in her updo. What's the point of an updo if you don't have an entire garden peeking out?
6. Corset Lace Up Backs
I'm not sure why this was ever a popular trend. It took approximately a million years to get the dress on and off because of the lace up corset. Admittedly, it did look fanciful.
7. Updos With Wisps
No 2000s 'do was complete until you pulled two face-framing strands out of the front — and that included your prom hair. It's like part of you wants to be formal, but the front part of you can't let go of your real self. Generally, though, these prom wisps were curled to make them look a little fancier.
8. Shutter Shades
LED Shutter Shades, $7, shuttershades.com
In the 2000s, after a couple songs into prom, it was difficult to find someone not wearing shutter shades. The LED lights were optional.
9. A Shimmery Smoky Eye
Despite the dozens of makeup brushes and blenders we have today to make achieving the smoky eye much easier, it was a common trend for any and all formal events in the early 2000s. And, taking a cue from our best girl Britney, the more shimmer that smoky eye could have, the better.
10. Nude Lips
Because nothing goes better with a smoky eye than lips that blend right into your face.
11. Clear Light Up Heels
Kiss-208lt, 6'' Stiletto Heel Sandal, $32.70, jet.com
These were THE COOLEST shoes to own in the early 2000s. And if you didn't wear them to prom, you lost any chance of wearing them ever.
Ah, prom. You truly were the best.
Images: Warner Brothers (2); Courtesy Stuck At Prom (1); MTV (2); Touchstone Pictures (1); Courtesy Brands