18 Caramel Recipes For National Caramel Day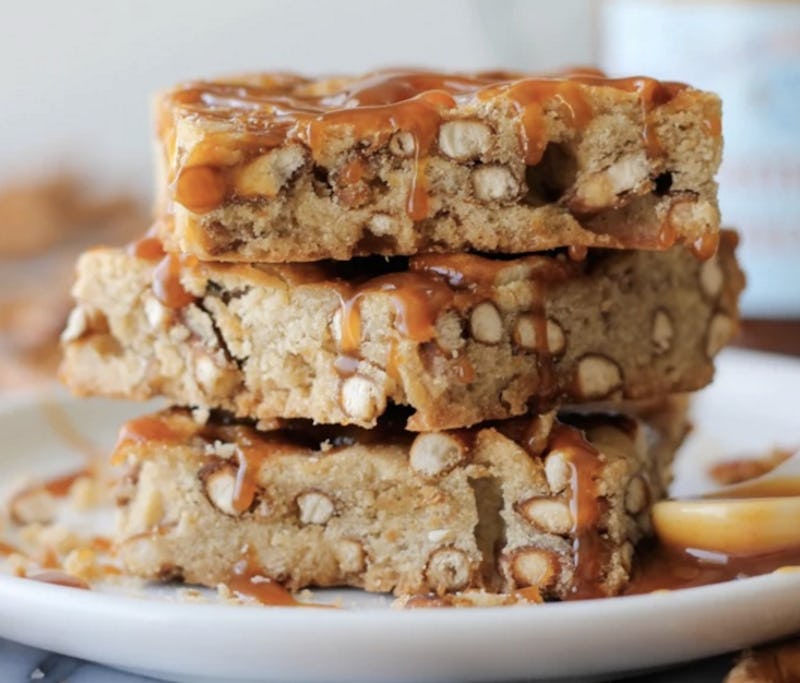 April 5 marks an important day in the lives of candy lovers, dessert enthusiasts, and those who consider themselves to have a sweet tooth — it's National Caramel Day. While it may be easy enough heading over to the candy aisle to celebrate this momentous holiday, why not get crafty in the kitchen with some unique caramel recipes? This sweet, milk-based treat isn't all that hard to make at home, but you can always use store-bought to make your baking adventures even easier.
While classic caramel apples may be one of the most well-known ways to use this sugary concoction, you can get even more creative than that. Caramel popcorn is always a favorite, but you can make it even better with some bacon and cayenne pepper. Or, you can give your oven some lovin' by whipping up a sweet, caramel-doused loaf of bread. Perhaps most unexpectedly, you can even make caramel risotto for a dessert that's really worth writing home about. It's just all about the salted caramel mocha these days.
This sometimes-salty, always sweet treat is sure to brighten your day no matter what form you enjoy it in. Give into your dessert craving with these 18 recipes and celebrate.
1. Salted Caramel Fondue
The best thing about fondue is that once you whip up a pot, you can have lots of fun choosing what to dip into it. A Beautiful Mess shows that mini waffles and apples make a tasty treat, but you can get creative with other fruits, pretzels, marshmallows, and more.
2. Salted Caramel Buttery Crumb Bars
Imagine the lovechild between crumb cake, sugar cookies, and salted caramel — that is precisely what Averie Cooks has concocted. They're way easier to make than you'd assume, too.
3. Spicy Caramel Bacon Popcorn
Movie night just got a whole lot more exciting. A Cozy Kitchen adds cayenne pepper to this homemade caramel to give a batch of popcorn some oomph.
4. Banana Pudding Caramel Cream Trifles
Mel's Kitchen Cafe is all about the layers. Vanilla pudding, crumbled Nilla wafers, bananas, cream, and caramel prove together that the sum is greater than the parts of a whole.
5. Caramel S'mores Fudge
It's not quite a s'more, and it's not your typical batch of fudge — Inside BruCrew Life's sweet creation uses caramel frosting for a shortcut to absolutely divine fudge.
6. Twix Sugar Cookie Cups
These Twix-inspired cookies by House of Yumm are made from a combination of melted caramel and a homemade milk chocolate frosting — no candy bars required.
7. Potato Chip Salted Champagne Caramels
If you consider yourself to have a mix of high and low tastes, then this is the candy for you. How Sweet Eats shows that potato chips make the ideal salty topping for champagne-infused candies.
8. Salted Caramel Pretzel Blondies
Pretzels not only add a crave-worthy crunch to Damn Delicious' blondies, they also help balance out the levels of salty and sweet. Drizzle 'em in even more caramel, and you've got a stellar dessert.
9. Caramel Risotto
If you held the belief that risotto is just for dinnertime, think again. The Kitchn cooks arborio rice in a mixture of sugar, milk, butter, and cream to make a dessert that makes rice pudding look tame.
10. Salted Butter Caramels
Sometimes simple is best. A Beautiful Mess' salted caramel candies are made with just five basic ingredients. If you're a newbie to candy making, let this be your first project.
11. Vanilla Bean Caramel Blondies
Blondies have become coveted desserts as an alternative to brownies, but Averie Cooks proves that these bars deserve a spotlight of their own. A thin caramel glaze makes these treats next-level good.
12. Salted Caramel Thumbprint Cookies
Forget jam or fruit preserves — a pool of salted caramel in the center of A Cozy Kitchen's shortbread cookies is positively decadent.
13. Caramel Crunch Bars
Looking to amp up your homemade candy game? Mel's Kitchen Cafe layers club crackers, graham cracker crumbs, peanut butter, butterscotch, and a few more sweet ingredients to make this chocolatey, caramel-y candy.
14. Salted Caramel Brownie Brittle Ice Cream Cake
Forget everything you know about ice cream cake. Inside BruCrew Life takes the warm weather dessert to the next level with a coffee-caramel-chocolate creation. Plus, it only takes six simple ingredients to make this masterpiece at home.
15. Caramel Bacon Pull-Apart Bread
Caramel and bacon have easily proved to be a match made in culinary heaven. But put that combination on a loaf of utterly soft, tender pull-apart bread, and you've got a treat that is perfectly divine. Thanks, House of Yumm!
16. Caramel Apple Grilled Cheese
Who says lunchtime can't have a little sugar high? How Sweet Eats drizzles some caramel onto an apple-brie grilled cheese, proving that savory and sweet is always a winning combination.
17. Caramel-Filled Brownies
You don't have to give up chocolate just to get your caramel fix. In Damn Delicious' brownies, a layer of caramel on the inside mixes with brownie batter in the gooiest, most delicious way.
18. Sticky Caramel Pecan Babka
Caramel and pecans mix together to create the crunchy, sweet, slightly salty filling for The Kitchn's babka. While assembly may be a little complicated, the effort is by far worth it upon first bite.
For more ideas, check out Bustle on YouTube.
Images: A Beautiful Mess (2); Averie Cooks (2); A Cozy Kitchen (2); Mel's Kitchen Cafe (2); Inside BruCrew Life (2); House of Yumm (2); How Sweet Eats (2); Damn Delicious (2); The Kitchn (2)