This Starbucks Fan Fave Is Making Its Return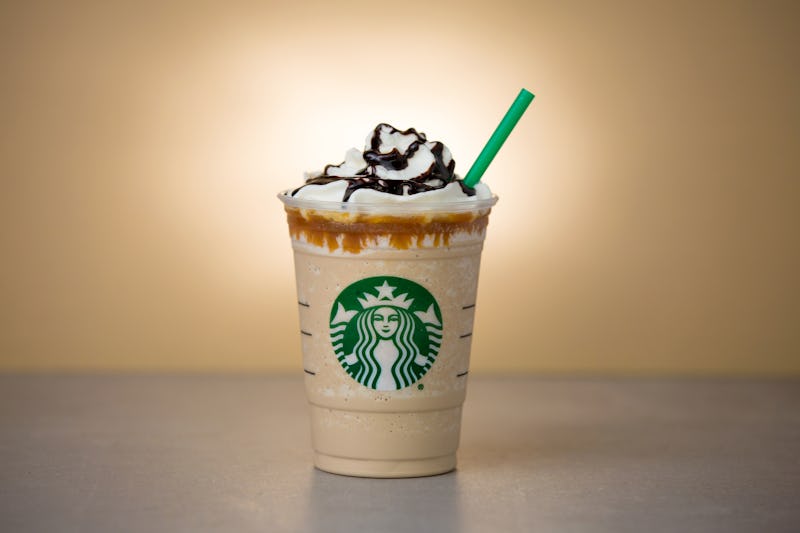 National Caramel Day is one of those food holidays that's probably not marked on your calendar, but that doesn't mean you shouldn't celebrate. In honor of April 5, aka National Caramel Day, a day apparently dedicated to your favorite ice cream (and coffee!) topping, the Starbucks Caramel Cocoa Cluster Frappuccino is hitting stores for a limited time only. See? I told you you'd want to celebrate.
Let's cut straight to the caramel-swirled chase, shall we? The Caramel Cocoa Cluster Frappuccino (I'm giving myself permission to call it the CCC Frapp from here on out) is your usual blend of Frappuccino Roast Coffee, milk, and ice, blended with toffee nut syrup. But then — then — Starbucks says it's "topped with a layer of caramel sauce, finished with whipped cream, and a drizzle of mocha sauce." Caramel sauce and mocha? This is not a joke. In fact, this is one of the most beautiful things I've heard all morning. Also, it sounds perfect for celebrating National Caramel Day, which, I'm happy to report, is quickly becoming one of my favorite foodie holidays of all time. (It doesn't take much, y'all. It doesn't take much.) If you're still not completely sold on the CCC Frapp, it might be helpful for you to see all those beautiful caramel, mocha, and whipped cream layers up close for yourself. Just take a good, long hard look.
Glorious, right? The decadent, icy treat might sound familiar — it first dazzled our taste buds last summer when it was introduced as one of six limited time fan favorite Frappuccinos inspired by popular customer requests for different flavor combinations. (Cupcake, Cinnamon Roll, and Red Velvet were among some of the other contenders, in case you were wondering.) If you didn't have a chance to try the CCC Frapp then, know that the coffee gods are on your side. The CCC Frapp will be available in participating U.S. and Canada stores from April 5 until April 11, and a tall will cost between $4.25 and $4.95, depending on the market. In other words, get 'em now while you can.
Still looking for your caramel fix after all that? Check out Starbucks' Caramelized Honey Frappuccino while it's still in stores. Like the CCC, it won't be around forever, but it's definitely a sweet treat to keep you satisfied as the weather gets ever warmer. Frappuccino season is a wonderful time to be a live, people. A wonderful time to be alive indeed.
Images: Courtesy of Starbucks (2)